1st Place Underwater Conservation Catherine Holmes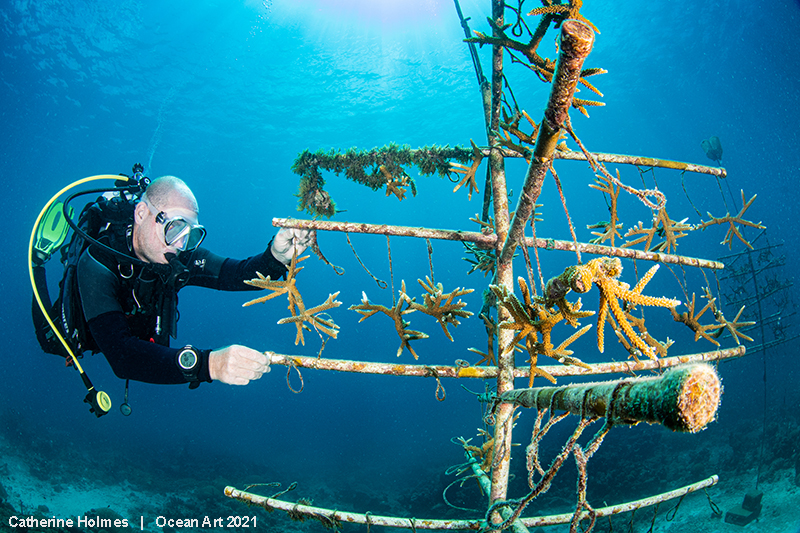 1st Place Underwater Conservation
Catherine Holmes
"Coral Tree"

Catherine Holmes won a
SeaLife Sea Dragon 2000F Photo/Video
Light with a Flex Arm & Tray
The Story: In this image, a diver examines the progress of coral fragment growth on a coral tree, set up by CORALL, Coral Reef Restoration Alliance in Barbados to propagate new coral growth from live fragments.
As highlighted at COP26 this year, coral reefs are the superstars of the ocean, being one of the most biodiverse ecosystems, home to almost half the fish species, absorbing 97 percent of wave activity protecting land masses and critical to the livelihoods of millions worldwide.
Coral restoration projects have been set up in many locations across the world, trying to combat the unprecedented loss of habitat forming hard corals over recent decades caused by rising water temperatures, pollution, disruptive fishing practices, disease, and local predators like crown of thorns starfish. Global warming causing coral bleaching after high water temperatures has however had the most profound negative effect of all.
Restoration projects vary in methodology. In Barbados, like the Caymans and Maldives, coral gardens have been constructed to act as nurseries for the growing fragments of coral prior to transplantation back onto the damaged reefs. Artificial trees are suspended from the surface by flotation devices allowing the fragments of coral attached to the branches to be bathed by moving currents.
There is a high percentage of success in the growth of branching corals and a survival rate of 66 percent, but there is a need for global efforts for restoration on a large scale. At present the many fragmented local efforts, that whilst effective in the short time, long term do not yet have sufficient impact, and are always susceptible to climate disasters.
Location: Barbados
Equipment Used: Nikon D500 Camera, Nauticam Housing, Dual Inon Z330 Strobes. Nikon 8-15mm Fisheye Lens
Camera Settings: F13, 1/250, ISO 400