1st Place Black & White Tom St George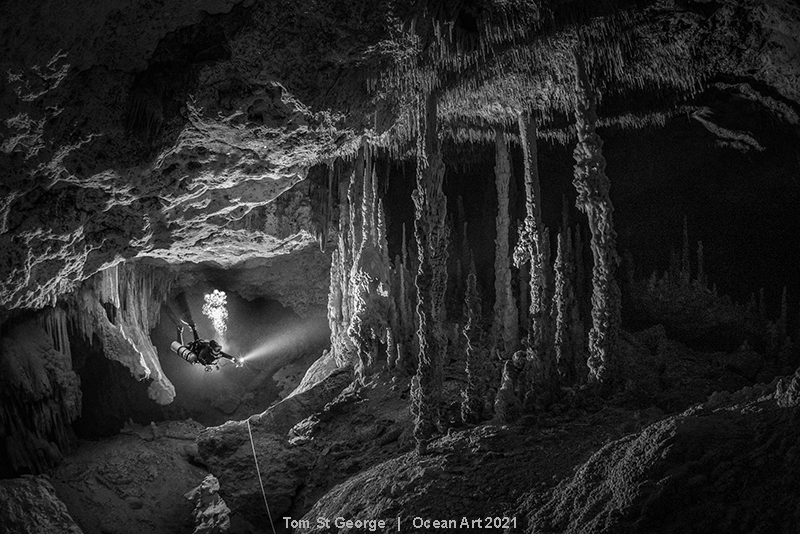 1st Place Black & White
Tom St George
"Ancient Caves"

Tom St George won a
7 night dive package in
Puerto Galera, Philippines
The Story: I joined Ellen Cuylaerts and my partner Julia Gugelmeier for a cave dive at Cenote Zacil Ha. After spending some time swimming through some very small passages the cave suddenly opens up and presents you with these giant speleothems which took millenia to form. The diver, Ellen, is dwarfed by the massive columns as she hovers awestruck and motionless, while Julia uses a video light to expertly backlight her and stay completely hidden from the camera (photographing in underwater caves is always a team effort!).
This image worked particularly well for me in black and white with the interplay of light and shadow, and the incredible textures revealed by the backlighting - most of the light is coming from the off-camera video light with the on-camera strobes used to add just a touch of fill.
Location: Cenote Zacil Ha, Tulum, Quintana Roo, Mexico
Equipment Used: Sony A7SII, Sigma 15mm fisheye (with Metabones adapter), Nauticam Housing, Nauticam 8.5" Dome Port, 2 x Inon Z330 Strobes, Big Blue 30K Lumen Video Light
Camera Settings: F8, 1/125 sec, ISO 6400