Honorable Mention Place Portrait Ocean Art 2020 Catherine Holmes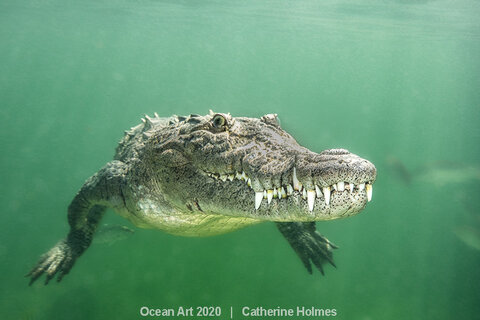 Honorable Mention Place Portrait
Catherine Holmes
"Never Smile at a Crocodile"
The Story: In March 2020 I was able to spend time in the water with this endangered saltwater crocodile in the marine reserve of Jardins de la Reina, with its pristine reefs and mangroves.
I had intense feelings of excitement and fear being faced with this majestic and unpredictable apex predator. We were instructed to enter the water gently, keeping eye contact with the crocodile at all times, keeping hands on our camera housing as a barrier. The crocodiles are very territorial and move quickly to fight off other crocodiles entering the area, as I witnessed during my brief time in the water.
I have tried to convey my very close encounter, menacing sharp teeth and glint in the crocodiles eye, as he sized me up!
Location: Jardines de la Reina, Cuba
Equipment Used: Nikon D500 Camera, Nikon10-24mm f/3.5-4.5 Lens, Nauticam Housing, Zen Dome Port, Dual INON Z330 Strobes
Camera Settings: 1/160, F9, ISO 250