2nd Place Underwater Conversation Ocean Art 2020 Celia Kujala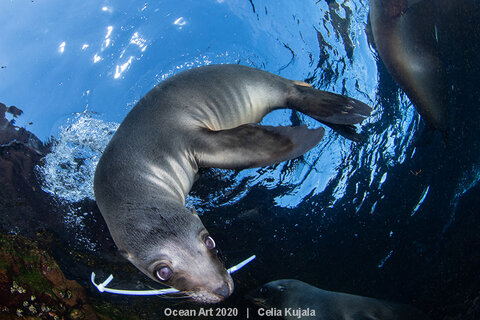 2nd Place Underwater Conservation
Celia Kujala
"Playing with Plastic"

Celia Kujala won a YS-D3 Strobe from Sea & Sea
The Story: California sea lions are very curious and playful and everything in their environment is a potential toy. When I was diving in the Coronado Islands this fall photographing their development, it was not uncommon to observe them playing with rocks, sticks and seaweed. Tragically, it is becoming much more common to see them playing with another type of toy. Human garbage is entering the ocean and arriving at their uninhabited island on ocean currents. One day this sea lion pup was playing with a large plastic tie. I was able to grab this "toy" when the opportunity arose and remove it from the water. Unfortunately, much more garbage remains in the oceans all over the world. It is extremely sad to see the far-reaching effects of our waste and is a reminder that we must do better.
Location: Coronado Island, Mexico
Equipment Used: Nikon D500 Camera, Tokina 10-17mm Fisheye Lens, Nauticam NA-D500 Housing, Dual Sea & Sea YS-D3 Strobes
Camera Settings: 1/250, F11, ISO 320