1st Place Wide Angle Ocean Art 2020 Gaetano Dario Gargiulo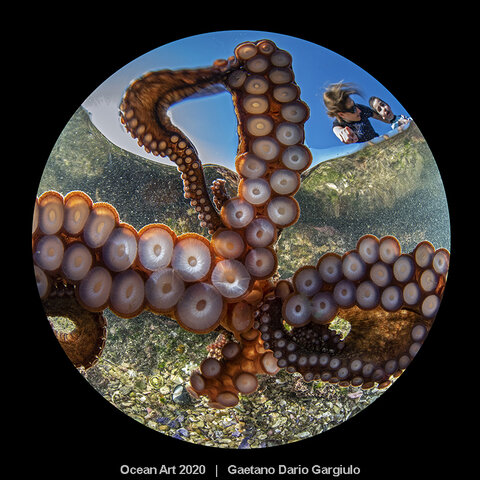 1st Place Wide Angle
Gaetano Dario Gargiulo
"The Day of the Tentacle"

Gaetano Gargiulo won a 7 nights liveaboard diving package for one to the Solomon Islands
The Story: On the day of the photo, I remained in the tide pool as the tide was too low to venture outside of its boundaries. In one of the shallowest parts of the pool I noticed an octopus. I placed my camera near its den and the octopus started interacting with it. It came completely out of the den and to our amazement it started shooting pictures! My son (3 y.o. in the background) was very curious about the octopus.
Location: New South Wales, Australia
Equipment Used: Nikon D850+ Camera, Nikon 8-15mm Lens, Isotta Housing. Dual Backscatter Mini Flash
Camera Settings: 1/20, F22, ISO 320