4th Place Mirrorless Wide-Angle Ocean Art 2016 Jim Catlin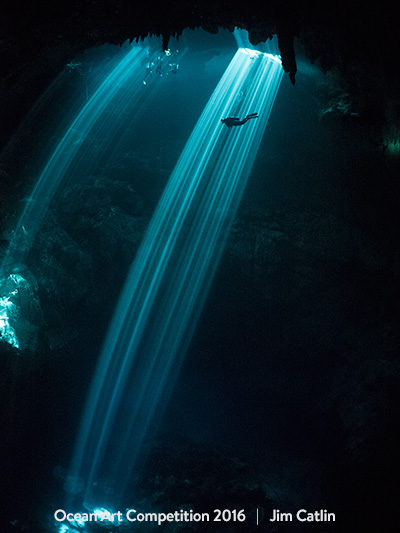 4th Place Mirrorless Wide-Angle
Jim Catlin
"Light Extraordinary"

Jim won a $100 gift certificate from Bluewater Photo or Bluewater Travel
The Story: A diver hovers in the light beams of The Pit Cenote, Tulum, Mexico. This is first 30m from the surface but the Cenote itself extends to 119m deep. We arrived first thing to have the Cenote mostly to ourselves and I agreed with my buddy that she would ascend first into the beam on our ascent, to model for the shot. The very low light provided a challenge to capture the image requiring a high ISO and manual focus. I had to back up quite along way to capture the entire light beam in the frame but was very pleased with the sense of scale this gave the shot.
Location: Tulum, Mexico
Camera: Olympus EM5 Mark II and Panasonic 8mm Fisheye Lens (F3.5, 1/60, ISO 6400)