HM Cold Water Ocean Art 2015 Thomas Heckmann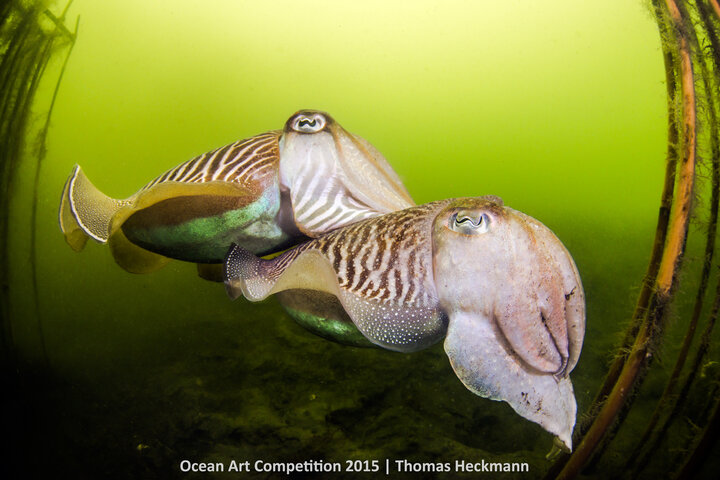 Honorable Mention Cold Water
Thomas Heckmann
"Wedding Dance of the North Sea Elves"
Thomas won a gift certificate with Bluewater Travel!
The story: In spring the common cuttlefish Sepia officinalis starts a long voyage for having their annual mating ritual. The animals have to pass a storm surge barrier in the Netherlands. During normal weather conditions this possible border is open and the North Sea is able to pass by. Behind the surge barrier, this Dutch part of the North Sea is called "Oosterschelde". The spawning place arrived the animals have their "Wedding Dance" within larger groups to form single couples. Has a couple formed once, the male defends his sweetheart compared to other males, if necessary with a wild fight.
The picture is showing a special behaviour like this. The animal above is the male, protecting his female on the way for fixing a single egg on a stick. Underwater Photography in the Oosterschelde is always a challenge. Shore diving with bad visibility, often less than 1 meter/ three feed. Climbing up a dike, walking in heavy dry suit equipment together with a wide angel camera setup and climbing down the dike is real sports diving. Most of the dives are tide dives with current. You need a dive plan for diving during low tide and high tide to protect yourself against too strong current.
It is a challenge to get a clear image like this. You have to take extra care for backscatter, for example using snoots, strobe position and low strobe power. While using a fisheye I was able to shoot this couple a few centimetres in front of my mini dome. At least, you have to be lucky with the weather conditions during the "mating weeks" and the behaviour of other European divers, the bottom is only slick. I had only one dive like this in the last four years..
Location: The Oosterschelde, a part of the Dutch North Sea. The Netherlands, Region Zeeland.
Camera: Nikon D800E, Seacam housing, Tokina fisheye 10-17mm @ 14 mm behind a small fisheye macro port. Two "Subtronic Pro 160" strobes with handmade snoots.
Settings: 1/50 sec, f13, ISO 400. Strobes - Manuel power setting – 1/16.