HM Compact Wide-Angle Ocean Art 2015 Sarah Stein Greenberg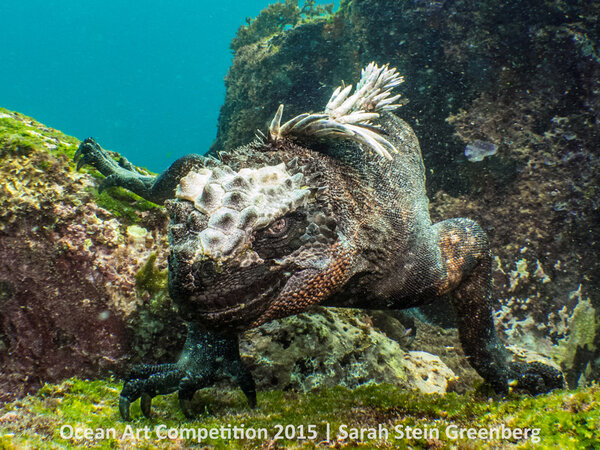 Honorable Mention, Compact Wide Angle
Sarah Stein Greenberg
"Imp of Darkness (Marine Iguana)"
Sarah won a gift certificate from Bluewater Travel!
The story: In the late morning, after the sun has warmed them up, Galapagos marine iguanas start diving into the shallows to eat vivid green algae off the rocks. I was lucky to spend enough time close to this one to capture its surprisingly complex eye. Max depth on this dive was only 20 feet, but the surge and the mediocre vis made for challenging shooting. Some people find these iguanas hideous (Darwin isresponsible for the Dz imp of darkness dz description) but I think they are spectacular looking! One of my favorite dives from an overall incredible destination.
Location: Cabo Douglas Fernandina Island, Galapagos Islands
Camera: Canon G16 in a Nauticam housing, Dyron Super Wide Angle Lens 1 Sea & Sea YS-01 strobe
Settings: ISO 400, f/6.3, 1/250 sec