3rd Place Pool-Conceptual Ocean Art 2015 Dennis Vandermeersch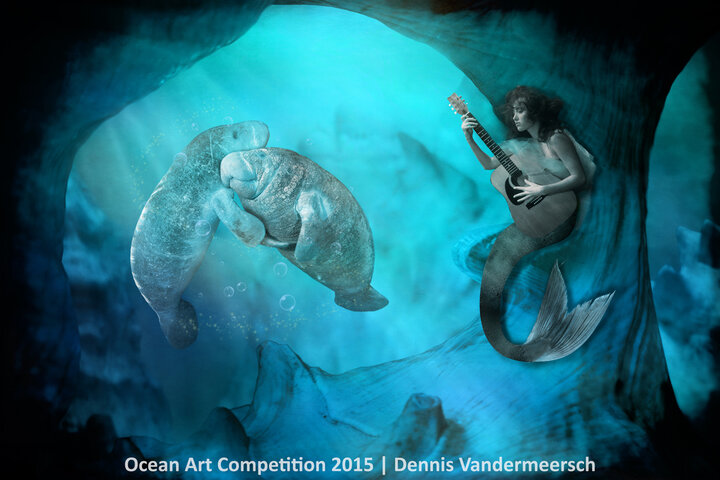 3rd Place, Pool-Conceptual
Dennis Vandermeersch
"The Dancing Manatees"
Dennis won a gift certificate from Bluewater!
The story: I came up with the idea of that shot in Florida, where I was swimming with these gentle creatures. They were in mating behaviour so it looked like a dance. The shot is an artistic composite of quite a few shots. The cave itself is actually also a composite of multiple shots of an ocean animal. Can you guess it? Then I've created a mermaid world by adding some shots of a monument I shot on previous holidays. It took many hours putting it al together, but I ended up with the mermaids kingdom. The photoshop part was quite a challenge but it was a good learning experience. After all, trying new things is a part of photography.
On to the manatees themselves. I needed them in a hugging position. That was the easy part, since they just needed some bubbles to create the illusion of dancing. For dancing one needs music, so I added the mermaid model playing music. The model is Lies Hendrix from Belgium. She was shot underwater with a guitar with weights in the guitar to keep it down.
Location: This picture is quite international with pictures shot in Florida, Belgium, Abu Dhabi... But imagination shouldn't know any borders or boundaries. Let it run free! I hope you enjoy the Dancing Manatees.
Camera: Nikon D300 in Sealux housing, Nikon D810 in Nauticam housing, Tamron 90mm macro, Nikon 10.5mm fisheye, Sigma 17-70mm, Nikon 16-35mm, Housed Nikon sb800, Housed Nikon sb900