3rd Place Mirrorless Behavior Ocean Art 2015 Cornelia Thieme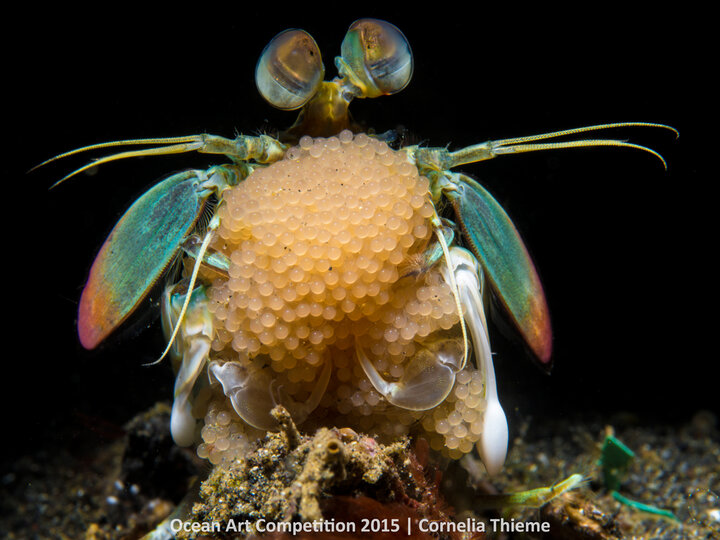 3rd Place, Mirrorless Behavior
Cornelia Thieme
"Motherhood"
Cornelia won a $125 gift certificate from Ultralight Control Systems!
The story: The Lembeh Strait is situated off the Eastern Tip of North Sulawesi Province, on Sulawesi Island, Indonesia. It's some kind of muck-diving capital of the world and in no other place you have such a great assortment of critters. The area of Lembeh is rich in dark volcanic sand with small scattered patches of sponges, coral rubble or anemones, which is partially responsible for the rich marine life. So these places are heaven for macro photographers. On the headlands you also find rocky or coral divesites which provide wide-angle opportunities.
The Pink-eared Mantis Shrimp is a powerful hunter. They are well known for the extremely fast punching motion that they do with their front appendages to kill and break apart their prey. The eyes are the most complex in the animal kingdom, which can see ultraviolet and polarized light. They reproduce via internal fertilization, and after laying the eggs, the females carry them around on their front appendages until they hatch, protecting them and keeping them clean.
Jahir, the divesite where I took the shot, is such a typical Lembeh strait spot. A muck site that can be exceptional rich in critters. Coral patches on the shallow sandy flat to about 5 meters depth and a black sandy slope that continues down to 28 meters. Few concrete blocks that the mooring line is attached to and some sponge areas along the slope attracts a lot of interesting finds. On these dives everything can happen and this dive was no exception. We started with some bizarre nudibranchs like Melibe fimbriata and found the rare Randall's frogfish. In the middle of the dive the pink-eared Mantis shrimp was peeking out of its hole, so I approached slowly and get this guy curious. As soon as she get used to it, I took a couple of nice shots.
Location: Lembeh Strait, Indonesia
Camera: Olympus OM-D E-M5, Olympus 60mm macro lens, Nauticam housing, one Inon D2000 strobe with iGoScuba snoot