2nd Place Pool-Conceptual Ocean Art 2015 Sarah Teveldal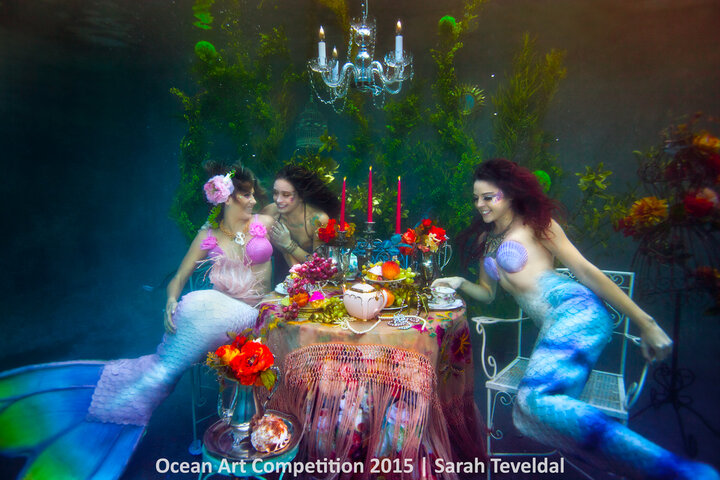 2nd Place, Pool-Conceptual
Sarah Teveldal
"A Most Equisite Underwater Mermaid Tea Party"
Sarah has won a 5-day dive package at Scuba Club Cozumel!
The story: This image is the result of a creative collaboration between myself, Sarah Teveldal of Flashpool Productions, Sophie Parrot of The Marvelous Vintage Tea Party Co., and Maria Russo of Sirenalia. Together we designed and staged a tea party at the bottom of a 12 ft. deep pool. It took 5-6 hours to set up as we carefully placed each thought-out prop in place. An old chandelier was hung from the diving board. We used fishing line and fishing weights to tie, space out, hang and weigh down the greenery to create a lush background. Real fruit and the table cloths were also weighted by small fishing weights.
Unfortunately for all of us, especially the mermaids, the pool's heater was broken and the pool was turn-your-lips-blue cold! Our total shooting time only lasted approximately 15-20 minutes. In that short amount of time we achieved A Most Exquisite Underwater Mermaid Tea Party!! Just like every little girl imagines!
I have so much admiration for the mermaids who toughed it out in the freezing water and still managed to look fabulous and natural all while their legs were bound in 30 lbs. of silicone.
In order to not distract from the actual detail and artistry everyone contributed to, I chose to make only slight edits to the image. Lighting, color and contrast adjustments were all added in post and a few minor details such as the flames on the candles and blending of the mermaid tail.
Credits:
Photographer: Sarah Teveldal of Flashpool Productions
Mermaid Tails: Maria Russo, Jason Darling of Sirenalia
Tea Party Decor: Sophie Parrot of The Marvelous Vintage Tea Party Co. LLC
Models from left to right: Maria Russo, Kaitlyn Amaral, Ashlie Snyder
Assistant: Matt Seabaugh
Location: Private residence at Commander's Point Estates in Austin, Texas
Camera: Canon 5dmarkii, Canon 17-40mm lens, Sea & Sea housing, 2x Sea & Sea YS-110a on camera, 2x Fantasea Nano Flashes of to each side