2nd Place Mirrorless Macro Ocean Art 2015 Christian Gloor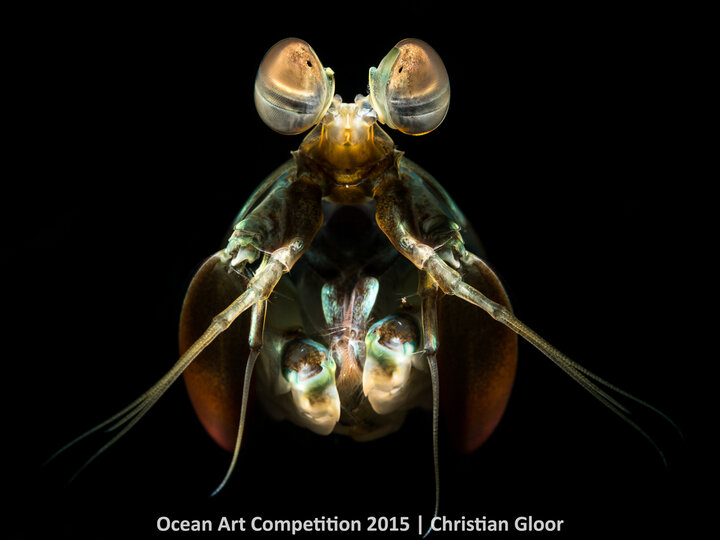 2nd Place, Mirrorless Macro
Christian Gloor
"Spooky"
Christian won a 4-night dive package at Maluku Divers in Indonesia!
The story: Although everybody knows the peacock mantis shrimp for its beautiful colours, this smaller specie (Odontodactylus latirostris) is not overly colourful. I decided to use the snoot to give it a very dramatic look, thinking about the game we all played as children, lighting our face from below with a torch to spook friends. Mantis shrimps are usually very skittish and they tend to run away and jump in the first hole they find in the blink of an eye. I took my time to approach it and fortunately, it was very, very patient with me. It was standing still on the sand 15cm away from my port. I had time to take at least 10 different shots, repositioning my strobe, trying to get both eyes in a symmetric position and having the light falling where and how I wanted.
This shot was the last of the series. When I reviewed it on my screen, I must have gotten a bit too excited and I scared the shrimp away. That was it. The moment was gone, but this was probably one of the best photo opportunities of my life.
Location: Air Bajo III, Lembeh strait, Indonesia
Camera: Olympus OMD E-M5, Olympus 60mm Macro, Nauticam NA-EM5, 1x Sea & Sea YS-110a with Retra snoot