3rd Place Shipwreck Ocean Art Safe Under The Sea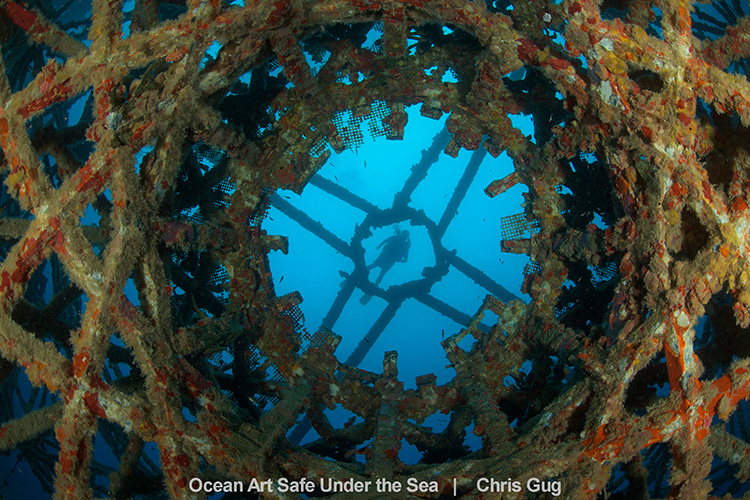 3rd Place Shipwreck Ocean Art Safe Under The Sea
Chris Gug
"Geometry"
The Story: While booking with the dive boat operator, they were confused by me requesting to do the same site twice in a row for two days, and nothing else. Apparently, others choose a single day of a wreck then a reef. But that's not how a photographer works, and after all, the Vandenberg is 523 feet long and 100 feet high, so 4 dives, to me, seems like just enough time to barely skim the surface! When I stumbled upon this spot, and the vision for the shot emerged, I had to find my girlfriend (now wife) Suzanne, so I could give her the "will you model for me?" mumble and hand-signal, but finding each other is not always an easy task for two highly-independant divers, and even then, I often have to convince her to let go of her underwater video rig. Since she was my underwater model long before we even began dating, we have 15+ years of working together, and she has an uncanny way of understanding my vision, seeing herself in the composition before I even click the shutter. Indeed, she is the most important piece of equipment in my camera bag!
Location: The Vandenberg shipwreck, Off Key West, Florida, USA
Equipment Used: Nikon D810 Camera, Sigma 15mm Lens, Nauticam NA-D810 Housing, Dual Ikelite DS-161 Strobes
Camera Settings: 1/125 sec, F10, ISO 250
SUPPORT THE UNDERWATER PHOTOGRAPHY GUIDE:
The Best Service & Prices on u/w Photo Gear
Visit Bluewater Photo & Video for all your underwater photography and video gear. Click, or call the team at (310) 633-5052 for expert advice!
---
The Best Pricing, Service & Expert Advice to Book your Dive Trips
Bluewater Travel is your full-service scuba travel agency. Let our expert advisers plan and book your next dive vacation. Run by divers, for divers.
---