2nd Place Coldwater Ocean Art Safe Under The Sea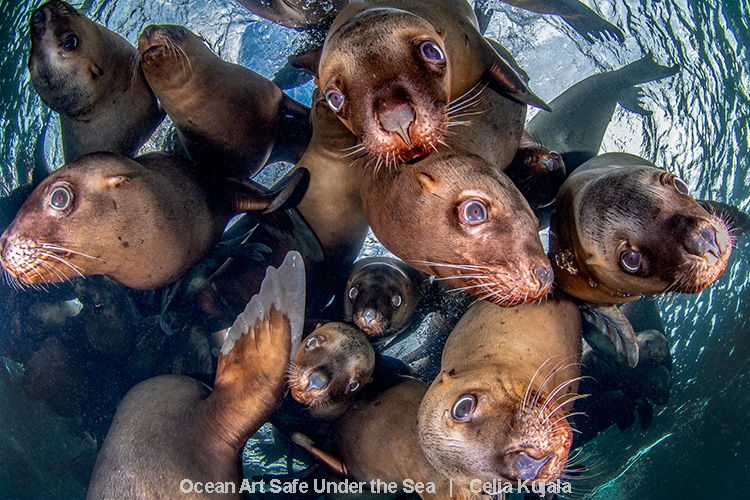 2nd Place Coldwater Ocean Art Safe Under The Sea
Celia Kujala
"Descending from Above"
The Story: Juvenile Steller sea lions are extremely curious. When I was diving at Norris Rocks in British Columbia, I watched large groups of them appear seemingly out of nowhere. It was a lovely sunny day and I wanted to capture a group of them in a unique way. Steller sea lions are good at holding their breath but still need to breathe air and would often go to the surface for a breath as a group before descending again. In this moment, everything came together. I took this photo directly upward as they were descending toward me and was able to capture the group inside of Snell's window showcasing their curiosity and energy. Steller sea lions are listed as Near Threatened on the IUCN Red List. I hope this image will inspire people to want to protect them.
Location: Hornby Island, Canada
Equipment Used: Nikon D500 Camera, Tokina 10-17mm Fisheye Lens, Nauticam NA-D500 Housing, Dual Sea & Sea YS-D2J Strobes
Camera Settings: 1/250 sec, F11, ISO 500
SUPPORT THE UNDERWATER PHOTOGRAPHY GUIDE:
The Best Service & Prices on u/w Photo Gear
Visit Bluewater Photo & Video for all your underwater photography and video gear. Click, or call the team at (310) 633-5052 for expert advice!
---
The Best Pricing, Service & Expert Advice to Book your Dive Trips
Bluewater Travel is your full-service scuba travel agency. Let our expert advisers plan and book your next dive vacation. Run by divers, for divers.
---