1st Place Underwater Conservation Ocean Art Safe Under The Sea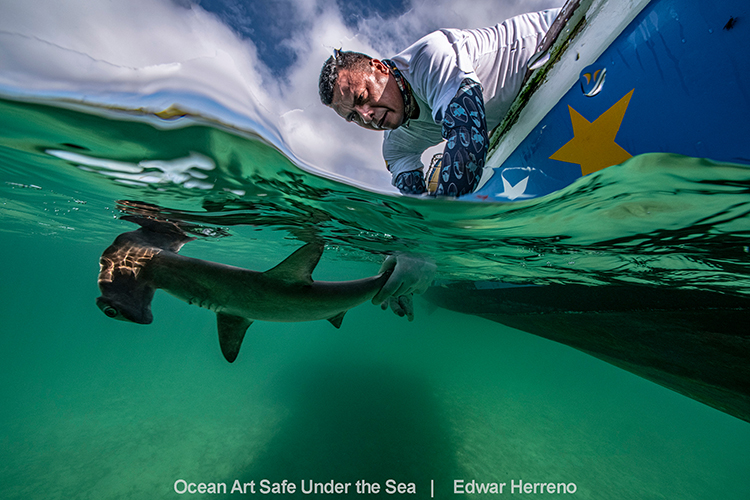 1st Place Underwater Conservation Ocean Art Safe Under The Sea
Edwar Herreno
"Releasing Hope"
---
Edwar won a dive trip from Atlantis Dive Resorts
---
The Story: Eduardo Espinosa, a Marine Biologist and Galapagos island park ranger discovered this unique hammerhead shark nursery area in Galapagos National park a few years ago and it is truly a unique place. He is working on a manageable plan for the conservation of this important species, now critically endangered species (IUCN list). I was on a work assignment for a conservation organization. In order to get there we can only go in high tide. Eduardo and his team were working tagging and studying hammerheads, that day we captured 12 pups. I've been in different shark nursery areas but I've never seen anything like this one. Besides hammerheads, we saw blacktips, whitetips, babies turtles, eagle rays... it was just like in a movie.
Location: Galapagos Island, Equador
Equipment Used: Nikon D850 Camera, Hugyfot housing, Nikon 14mm Lens
Camera Settings: 1/160 sec, F22, ISO 800
SUPPORT THE UNDERWATER PHOTOGRAPHY GUIDE:
The Best Service & Prices on u/w Photo Gear
Visit Bluewater Photo & Video for all your underwater photography and video gear. Click, or call the team at (310) 633-5052 for expert advice!
---
The Best Pricing, Service & Expert Advice to Book your Dive Trips
Bluewater Travel is your full-service scuba travel agency. Let our expert advisers plan and book your next dive vacation. Run by divers, for divers.
---