Nikon Z5: Initial Thoughts & Review
The Nikon Z5 full-frame mirrorless camera is the newest, most affordable entry level full-frame camera on the market with 24.3MP of resolution!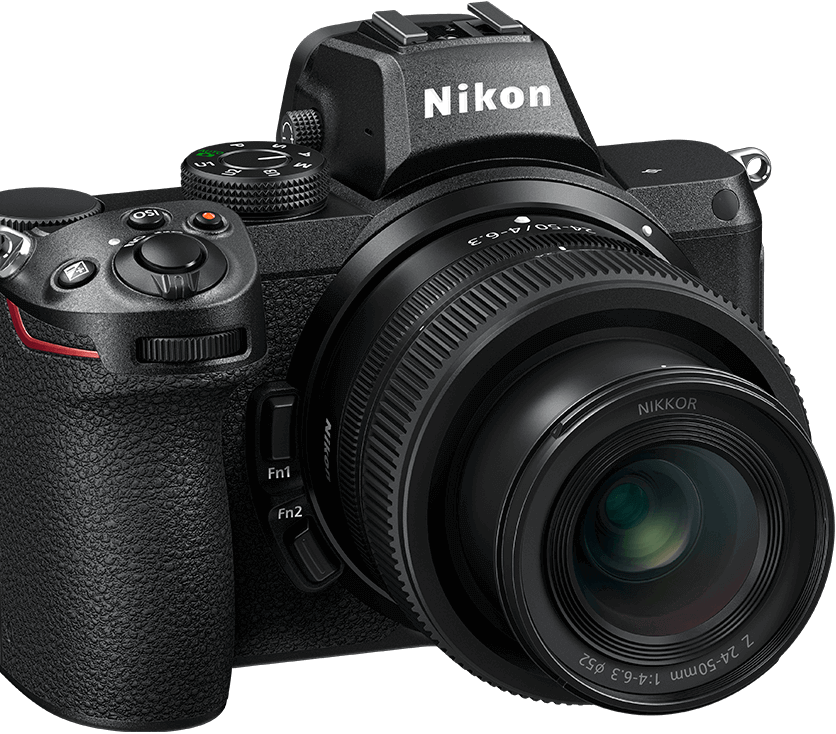 In the heart of the full-frame mirrorless camera arms race, entry level cameras are increasingly overlooked. But for an underwater photographer looking for their first full-frame underwater camera, mirrorless technology is the way to go - with benefits like edge to edge focusing points, great live-view autofocus systems, and quicker shooting speeds. The Nikon Z5 is Nikon's first entry-level full-frame mirrorless camera packed with great features at a very affordable price. It features a 24 megapixel sensor, 5-axis In-Body Image-Stabilization, eye and animal eye AF tracking, and 4K video @ 30 fps (with a 1.7X crop). Considering the extremely affordable price, we think it will be a top choice, even for shooters upgrading from a compact camera system.
Status: Available Late Summer 2020
U.S. MSRP: $1399.95
---
Pre-Order a Nikon Z5 underwater housing at Bluewater Photo:
Nauticam Nikon Z5 Underwater Housing
Ikelite Nikon Z5 Underwater Housing
Sea & Sea Nikon Z5 Underwater Housing
Aquatica Nikon Z5 Underwater Housing
Isotta Nikon Z5 Underwater Housing
---
The Nikon Z5 vs The Nikon Z6/Z7
Nikon designed the Z5 as a more affordable version of the Nikon Z6 and Z7 full-frame mirrorless cameras. Of course, there are always going to be a few features lost with a lower price point. The most noticeable difference is that the Z5 is a little more plasticy and less durable than the Z6 and Z7. For underwater photographers and videographers it won't matter all that much as the camera will sit inside an underwater housing. The body is still weathersealed which is some additional protection against water damage.
The sensor on the Z5 is also not backside illuminated like in the Z6. Therefor, the Z6 is the best Nikon mirrorless camera for lowlight situations and low light autofocus. The Z5 also has a slower burst shooting rate of 4.5 fps - which is still reasonably fast for many situations.
Perhaps the largest downside of the Z5 compared with the Z6 and Z6 is that the 4K video is cropped 1.7X. If you plan on shooting underwater video, it might be worth upgrading to the Z6 for a few hundred dollars more.
The Nikon Z5 is very similar to the Z6 in that it has a similar resolution, in-body image-stabilization, and autofocus system. These are all features that many other entry level full-frame cameras don't have - putting the Z5 at the top of our list in this category.
The Nikon Z5 does have one "upgrade" to the Z6 and Z7 - dual card slots!! With two UHS-II card slots, you won't have to worry about losing photos because of a corupt card.
Nikon Z5 Specifications
24.3 MP CMOS sensor (not backside illuminated)
Expeed 6 image processor
273 point hybrid phase/contrast detect autofocus system
Animal Eye AF tracking capbility
ISO 100-52,200
4K UHD video @ 30 fps with a 1.7X crop
In-Body Image-Stabilization
3.69 million dot electronic viewfinder (EVF)
4.5 fps max burst shooting speed
UHS-II dual card slots
Size: 134 x 100.5 x 69.5mm
Weight: 675g with card and battery
Nikon Z5 for Underwater Photography
The Nikon Z5 is a really excellent camera for underwater photography - especially considering where it's priced. In fact, with current trends in the camera market, some compact cameras can be similarly priced to the Z5's body - albeit with a lens.
Although it's marketed as an "entry level" full-frame camera, Z5 features many technologies that are by no means entry level. 24.3 MP of resolution is plenty of resolution for most underwater photography situations. If you want really large prints or need to crop macro photos then the Z7 would be a better choice. But for most photography, the Z5 will be sufficent. The autofocus and autofocus tracking capability of this camera are on par with professional cameras like the Z6 and Z7, thought less capable compared to the Sony A7R IV or EOS R5. We think the autofocus tracking on the Z5 will be moderately useful for tracking large, quick subjects. However, because the sensor is not backside illuminated, it is possible that the camera will suffer autofocus performance slightly in low light conditions. We do expect the in-body image-stabilization system to be the same as what is found in the Z6 and Z7. Therefor, we expect it to be particularly useful for wide angle photography when you're trying to capture colorful backgrounds at low shutter speeds in low light shooting situations.
Although 4.5 fps isn't a particularly fast burst shooting speed, most underwater strobes would not keep up with speeds much quicker than that. So we think that the Z5 is a capable camera for shooting quick subjects, but recomend the Z6 if you are planning on shooting shallow water quick subjects like dolphins, sharks, or sealions.
Nikon Z5 for Underwater Video
Considering that the Nikon Z6 not much more expensive than the Z5, we recommend the Z6 if you are a dedicated underwater video shooter. The 1.7X crop will affect your field of view and makes it difficult to take full advantage of full frame lenses. That being said, casual video shooters with be very happy with the video from the Nikon Z5. The Z5 will maintain the excellent Nikon Z series color science and the white balance capability.
Recommended Underwater Lenses with the FTZ Adapter
Macro
Nikon 60mm 2.8G Macro: Great all around lens and especially great for blackwater diving
Nikon 105mm 2.8G VR Macro: Great for small and shy subjects, giving you more working room than the 60mm and essential for super macro
Nauticam Super Macro Converter: the Nauticam super macro converter (SMC-1) is a wet diopter perfect for taking sharp super macro images. In fact, it is the strongest, sharpest diopter on the market. For the best super macro results, use it with the Nikon 105 mm 2.8G VR lens.
Wide Angle Fisheye
Wide Angle Rectilinear
Nikon 16-35mm 4.0: Great for large animals and extremely sharp lens, but requires a larger dome to get sharp images
Nikon 20mm 1.8G: Small, compact, sharp, doesn't need as big a dome as the 16-35 mm
For further reading, check out Bluewater's guide to the best Nikon lenses for underwater.
We anticipate housings to be produced for the Nikon Z5 from all leading underwater housing manufactures. Therefor, there will be great aluminum housing options from Isotta, Sea & Sea, Aquatica, and Nauticam. An excellent polycarbonate option can be expected from Ikelite. Due to differences in camera design, we anticipate that the Nikon Z5 will require a separate housing from the Nikon Z6/Z7.
Sample Nikon Z7 Underwater Images (Until We Take the Z5 Underwater)
Conclusions
The Nikon Z5 is a very solid entry level full-frame mirrorless camera designed with technologies normally reserved for higher end cameras - like autofocus tracking and IBIS. We think it's an excellent choice for underwater photographers looking to upgrade from a compact camera or learn how to take photos with a full frame camera. However, we think underwater video shooters would be better suited with the Nikon Z6.
SUPPORT THE UNDERWATER PHOTOGRAPHY GUIDE:
The Best Service & Prices on u/w Photo Gear
Visit Bluewater Photo & Video for all your underwater photography and video gear. Click, or call the team at (310) 633-5052 for expert advice!
---
The Best Pricing, Service & Expert Advice to Book your Dive Trips
Bluewater Travel is your full-service scuba travel agency. Let our expert advisers plan and book your next dive vacation. Run by divers, for divers.
---