Nauticam Releases New TTL Converters
Several TTL converters now available for Canon and Nikon DSLR cameras with several new features, including TTL with Sea&Sea YS-D2 strobe
Nauticam has just announced several new TTL converters for Canon and Nikon DSLR housings. This anouncement comes at the perfect time, fixing several big issues and inconvenices, plus upping the game for upcoming D5 and D500 housings.
The first announcement is a new TTL converter that allows optical TTL for Canon DSLRs in Nauticam housings. It's backwards compatible with the latest Canon DSLRs and finally works with Sea&Sea's wildly popular YS-D2 strobes. Advanced users shooting manual strobe power can now trigger the strobes in full continuous shooting (14fps with the 1DX II).
The second is a new UW Technics converter for optical TTL with Nikon DSLRs in Nauticam housings. This also allows TTL use of the YS-D2 strobes.
The third annoucement is that the Nauticam Nikon D5 and D500 housings will ship with a new manual LED flash trigger as standard equipment - no more extra $$ to purchase a flash trigger. Users are then able to remove the flash trigger in favor of a TTL converter (purchased separately).
Why use a TTL Converter?
TTL converters have two main benefits. The first is to allow TTL shooting, of course! This means that your camera will send a preflash to determine how much strobe power is needed to properly light the scene, and then trigger the strobes with the correct intensity. This is popular with many new photographers and some more experienced photographers who do not want to worry about controlling strobe power manually.
The second reason to use a TTL converter is to bypass the camera's pop-up flash. This means that you can fire the strobes as fast as they can recycle without waiting for the camera pop-up flash to recycle. I was borrowing Bluewater Photo's rental Nauticam 7D Mark II housing in Anilao, Philippines for a recent workshop and missed (didn't nail the exact composition) incredible shots of fish feeding on spawning corals because of the 7D Mark II's on-board flash recycle time. I was limited to firing one frame every 6 seconds, whereas a TTL converter would have allowed me to fire a frame or two per second during the heat of the action.
The TTL converter also allows use of fiber optic cables by cameras with no pop-up flash, like the Canon 5D Mark III. If you've had to maintain sync cords, then you really appreciate the convenience and zero maintenance required by fiber optic cables.
Nauticam TTL Converter Summary
With several new TTL converters availble on existing and upcoming Nauticam housings, things can get a little confusing. If you're interested in more info, be sure to contact the team at Bluewater Photo for all the details, including compatibility with your housing.
Nauticam TTL Converter for Canon

#26321 $495

Backward compatible with Nauticam housings for 1DX Mk II, 1D X, 5DS R, 5D S, 5D Mark III, 6D, 7D Mark II and 70D cameras

Communicates with Sea&Sea YS-D2 strobes
Nauticam TTL Converter for Nikon

#26307 $430

Remove the LED flash trigger in new D5 and D500 housings and replace it with this TTL converter

Communicates with Sea&Sea YS-D2 strobes
Have questions? Email sales@BluewaterPhotoStore.com or call +1 (310) 633-5052.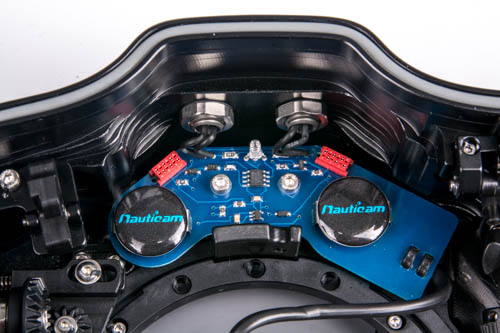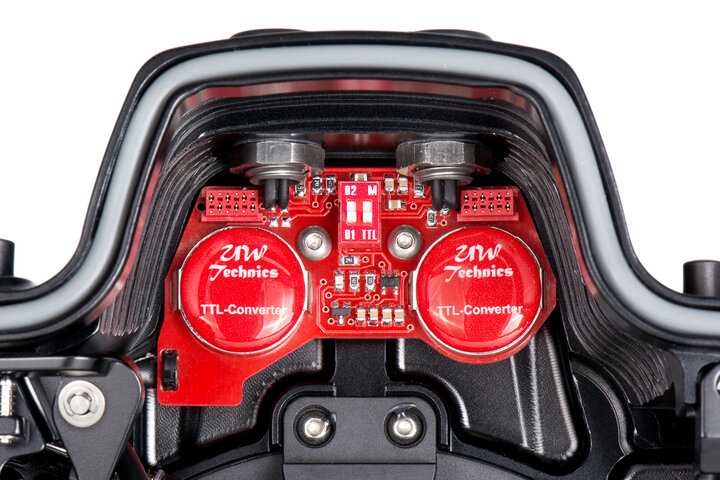 SUPPORT THE UNDERWATER PHOTOGRAPHY GUIDE:
The Best Service & Prices on u/w Photo Gear
Visit Bluewater Photo & Video for all your underwater photography and video gear. Click, or call the team at (310) 633-5052 for expert advice!
---
The Best Pricing, Service & Expert Advice to Book your Dive Trips
Bluewater Travel is your full-service scuba travel agency. Let our expert advisers plan and book your next dive vacation. Run by divers, for divers.
---