GoPro Launches new HERO4 Session Camera
50 Percent Smaller and 40 percent lighter - Let's look at the HERO4 Session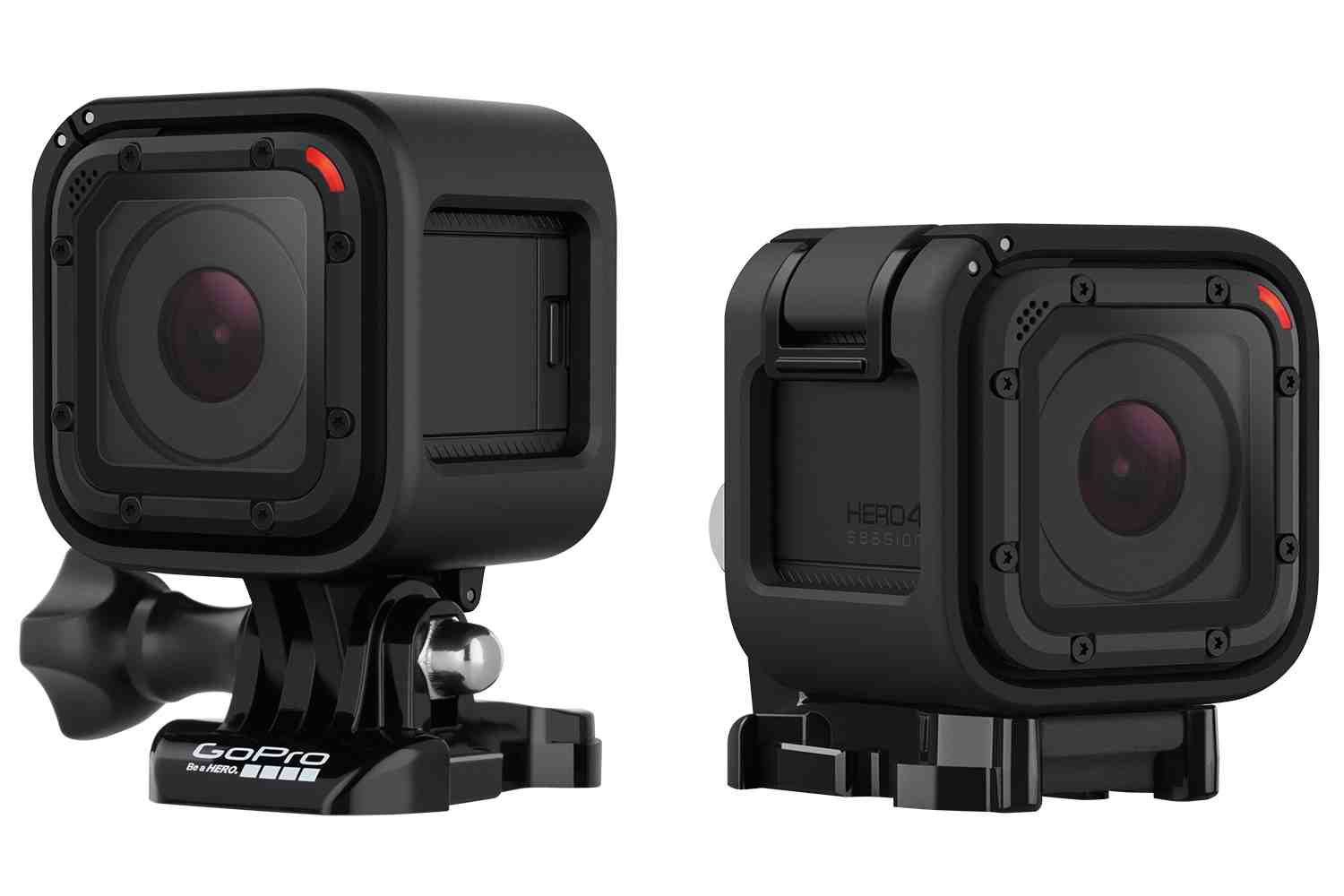 GoPro has announced a brand new camera to expand an already impressive lineup: The GoPro HERO4 Session.
The new HERO4 Session is the smallest, lightest and most convenient-to-use GoPro yet. Priced at the same level as the HERO4 Silver (less than the HERO4 Black), it has different features to make it easier to operate and use in capturing day to day activities. Below are some of the new spec highlights.
GoPro HERO4 Session New Features
50% Smaller

40% Lighter

No water housing - one single unit

Single button operation

1080p60, 720p100, 1440p30 video

8MP single, burst and time-lapse camera

Waterproof to 33' (10m)

WiFi and Bluetooth connectivity to GoPro app and remote

Same mounting as other models
GoPro HERO4 Session for Underwater Video
The GoPro HERO4 Session looks like a great camera, however with the 33' (10m) depth rating, it is not suitable for scuba diving. That said, this will be a great camera for watersports like surfing and shallow snorkeling.
For scuba divers, we recommend the HERO4 Silver or HERO4 Black, especially since the HERO4 Session is the same price as the silver model (which comes with more features and an LCD screen). But if you only shoot waves, surfers or shallow, sun-filled images, then the new HERO4 Session should do the trick.
Also, if you find current GoPros to be a bit complicated to use and don't plan to take the camera on scuba dives, then the one-button simplicity of the HERO4 Session is the way to go. For more questions on GoPros and water accessories like filters and handles, contact the team at Bluewater Photo.
UWPG's GoPro Tutorial Series
PRESS RELEASE:
50% Smaller and 40% Lighter – HERO4 Session Combines Ultra-Compact Waterproof Design with Easy One-Button Control for Simple Yet Powerful Life-Capture Solution
SAN MATEO, CALIF. (July 6, 2015) – GoPro, Inc. (NASDAQ:GPRO), enabler of some of today's most engaging content, is proud to announce HERO4 Session, the smallest, lightest, most convenient GoPro yet. 50% smaller and 40% lighter than GoPro's best-selling HERO4 Black and Silver cameras, HERO4 Session packs GoPro's Emmy® Award-winning image quality and performance into an exciting new low-profile form factor. HERO4 Session benefits from a durable waterproof design that eliminates the need for a separate housing and features simple one-button control to make capturing immersive photos and video quicker and more convenient than ever before. HERO4 Session is compatible with existing GoPro mounts and will retail for $399.99 MSRP at authorized GoPro retailers around the world and on GoPro.com beginning July 12, 2015.
"With HERO4 Session, we challenged ourselves to produce the smallest, lightest, most convenient GoPro possible," said Nicholas Woodman, GoPro founder and CEO. "HERO4 Session combines the best of our engineering and user-experience know-how to deliver our most convenient life-capture solution, yet." Woodman adds, "I'm so excited about the launch of HERO4 Session because now I can finally use mine in public!"
HERO4 Session captures GoPro-quality 1080p60, 720p100 and 1440p30 video along with eight megapixel photos in Single, Burst and Time Lapse modes. It features many of the same innovative features found in GoPro's best-selling HERO4 Black and Silver cameras, including SuperView™, Protune and Auto Low Light recording modes. An expanded set of controls and settings can be accessed when using the GoPro App or Smart Remote.
Operating HERO4 Session is very simple. A short press of the shutter button quickly powers the camera on and video recording begins automatically. A long press of the shutter button powers the camera on and triggers Time Lapse photo capture. Press the shutter button again to save video or photo content and power the camera off. This simple one button design drastically improves the speed and convenience of capturing life moments as they happen.
HERO4 Session is built to GoPro's famous rugged standards and is waterproof to 33 feet (10 meters). It features a sleek frame mounting system that is compatible with GoPro's expansive array of mounts. An innovative dual microphone system dynamically switches sound recording between microphones to reduce wind noise during activities. Audio performance during water-based activities has been dramatically improved thanks to HERO4 Session's waterproof design that eliminates the need for a separate waterhousing, which can often muffle sounds.
"At GoPro, sound quality is as important as image quality and we're very excited about the stunning audio advancements we've made with HERO4 Session during water-based and windy activities. It's incredible what this little GoPro can capture," remarked Woodman.
HERO4 Session $399.99 MSRP
Stunning 1080p60, 720p100, and 1440p30 video

Waterproof to 33' (10m), no separate housing required

Easy one-button control: short press of shutter powers camera on and begins capturing video, long shutter button press powers camera on and begins capturing time-lapse photos

Captures 8MP Single, Burst, and Time Lapse photos

Compatible with GoPro mounts and accessories

Dual Mic system captures enhanced audio during high wind and water-based activities

Built-in WiFi and Bluetooth® enable easy connectivity to GoPro App and Smart Remote

Auto image rotation corrects image orientation during recording

Includes standard and low-profile frame mounts for increased mounting versatility

New Ball Joint Buckle mount is included
SUPPORT THE UNDERWATER PHOTOGRAPHY GUIDE:
The Best Service & Prices on u/w Photo Gear
Visit Bluewater Photo & Video for all your underwater photography and video gear. Click, or call the team at (310) 633-5052 for expert advice!
---
The Best Pricing, Service & Expert Advice to Book your Dive Trips
Bluewater Travel is your full-service scuba travel agency. Let our expert advisers plan and book your next dive vacation. Run by divers, for divers.
---