Dispatch from Anilao
An inside look at new photos and trendy critters from Anilao resident and pro photographer Mike Bartick, including insight into capturing each image
In Anilao, the ever-changing seasonal cycle slightly resembles the changes seen on land. Each of the dive sites comes back to life after the rainy season, bringing with it a certain cast of characters to find and photograph. Water temperature and life cycles come into play with the timing of certain subjects, but for the most part the pool is open for exploring. Here's what we have been seeing and photographing over the last several weeks.
Editor's note: Mike Bartick is the resident photo pro at Crystal Blue Resort, spending much of the year closely observing and photographing critters in Anilao.
Mike's gear: Nikon D7100, Sea&Sea D7100 housing, Sea&Sea YS-D2 and Inon Z240 strobes.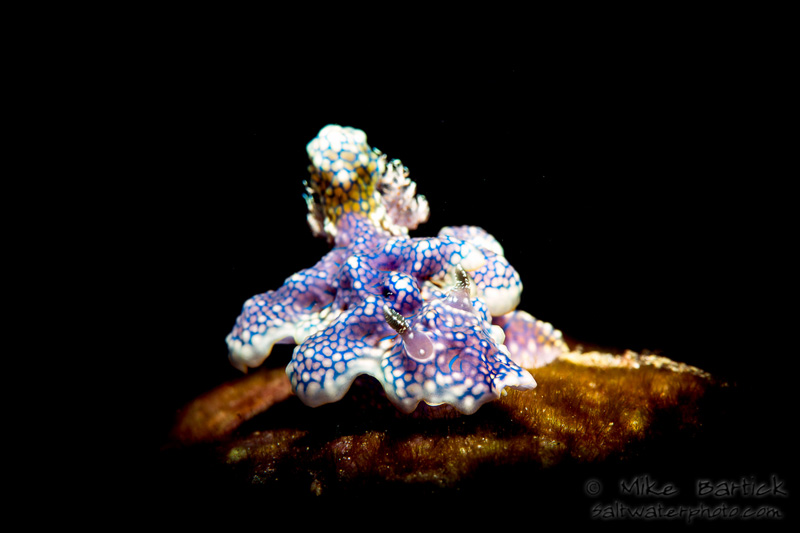 January brings cooler waters, which helps the corals and sponges to re-vitalize. Many of the oddball nudis show up to eat, meet and mate. Im using a snoot to isolate this Ceratosoma nudi from the rocks directly behind it.
Learn more about underwater snoots.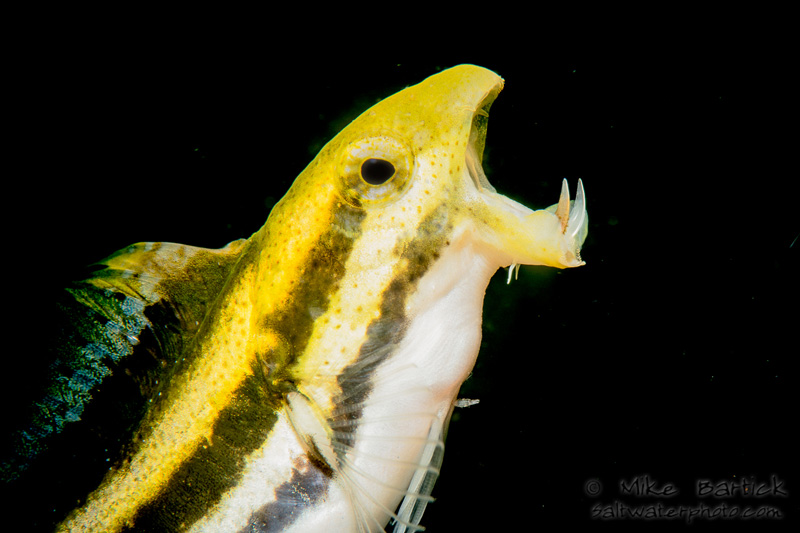 Empty dive sites means long bottom times with your subjects. Fang blennys can become quite aggressive when they are protecting their eggs flashing their fangs as a warning sign. Relax.. I get it bro!!
This happens quickly, so wait, anticipate and nail it!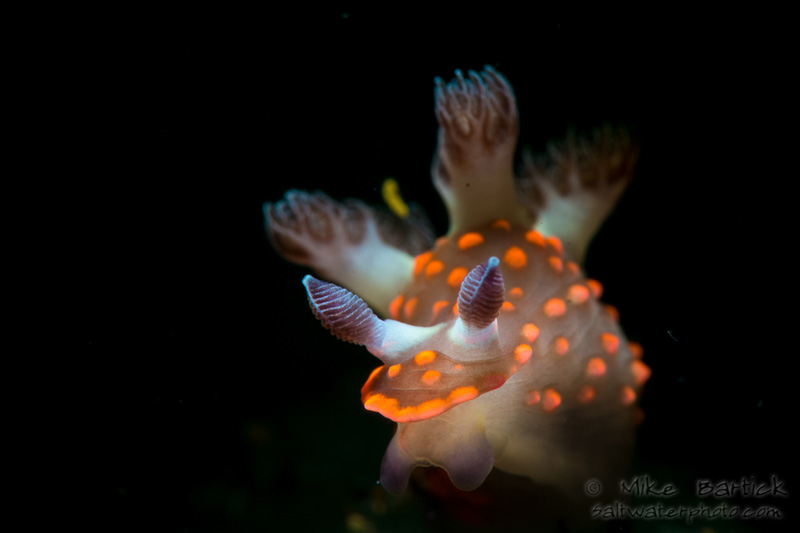 These tiny Nembrothas live on the tunicates growing right out of the sand. The tunicates slightly resemble mushrooms and each solitary unit is comprised of thousands of individual tunicate organisms. These nudis can be as small as a grain of rice living on the stock of the tunicates.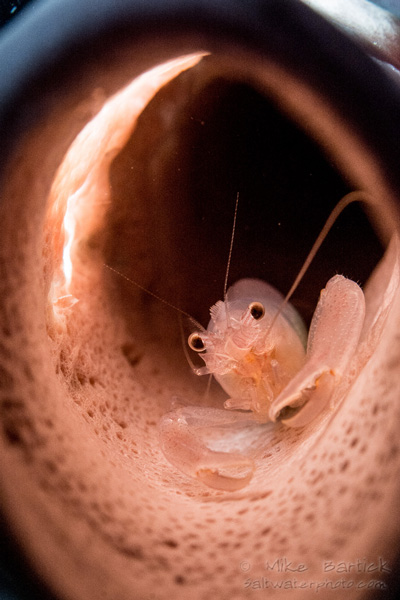 Snapping shrimp are easier to see on a night dive. They live in the base of vase sponges and will venture towards the opening after dark to feed on an opportune meal. Using an indirect light source, try back and side lighting the sponge as this will help you to get the shot, direct lighting is nearly impossible.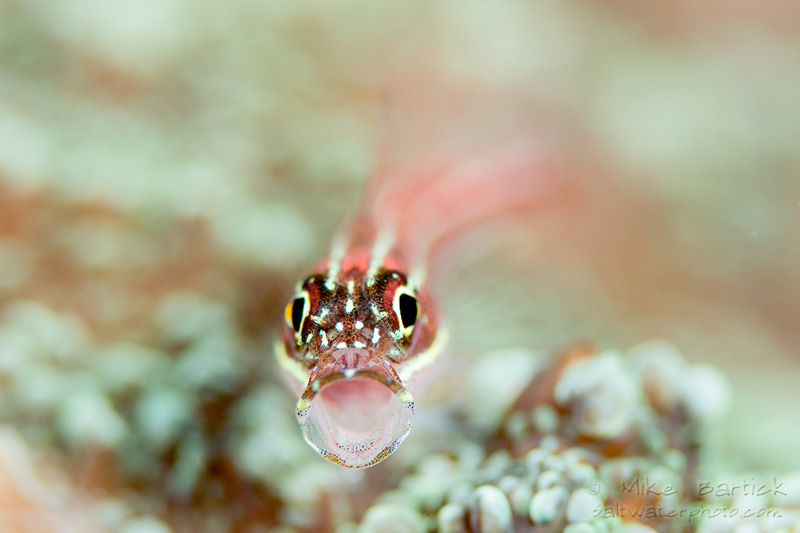 I love shooting gobies. They are without a doubt one of my favorite and diverse fish to photograph. One thing you will notice about them is that they do a little barking movement like a small dog. In fact, they tend to remind me of the yappy-yorkie on a dive site. Its not too uncommon to see a goby act like it's barking or exhibit the yawn-like movement. Having observed this in almost all other fish, I'm convinced that it is a sign of defensive posturing.
Shooting at a very wide open Fstop and nearness to your subject will have dramatic effects on the bokeh that can be created with your lens (read my article Macro Wide Open). When you use the right lighting, common subjects can become uncommon images.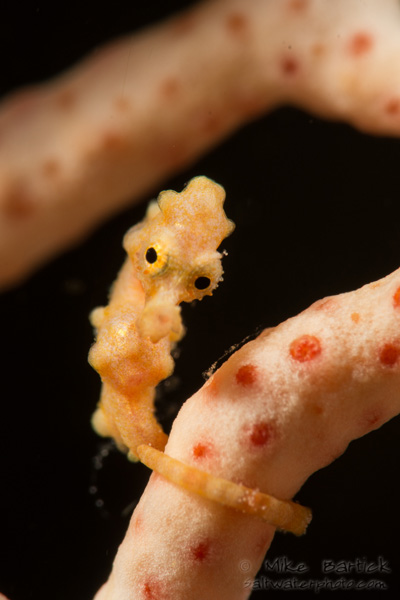 Season Bonus - One of the things I loved the most when I first came to Anilao remains the same today: discovering new or unusual subjects. In fact, this is what Anilao is all about to me. Exploring with the guides to find the special subject like this denise pygmy (Hippocampus denise) seahorse. Perhaps only 2 centimeters, I used my Nikkor 105mm lens and Nauticam SMC magnifier to shoot the image. I think this is the first one ever seen in Anilao but who knows?
Motivated? Now get out here and have an adventure!
Join us in Anilao!
UWPG is running two intensive photo workshops at Crystal Blue Resort in Anilao this April/May. Join us for some of the best macro diving in the world! Workshops are hosted by Bluewater Photo owner Scott Gietler, UWPG Editor Brent Durand and Mike Bartick. Only a few spots left.
SUPPORT THE UNDERWATER PHOTOGRAPHY GUIDE:
The Best Service & Prices on u/w Photo Gear
Visit Bluewater Photo & Video for all your underwater photography and video gear. Click, or call the team at (310) 633-5052 for expert advice!
---
The Best Pricing, Service & Expert Advice to Book your Dive Trips
Bluewater Travel is your full-service scuba travel agency. Let our expert advisers plan and book your next dive vacation. Run by divers, for divers.
---