Dive Logs, Photos and Social Media Combined
Sync your photos to your digital dive profile through the Deepblu social platform and COSMIQ dive computer
WiFi and NFC are being built into most modern cameras, from compact to DSLR, as photographers look to share images to social media while the action is still unfolding. Even the pro-level Canon 1DX Mk II has a wireless file transmitter! The next step is (naturally) to start syncing your photos with your digital dive log.
Deepblu has released an iOS dive log and social media app as well as the COSMIQ Dive Companion computer to do just that.
The Deepblu iOS app allows users to create immersive dive logs that can be shared in the Deepblu social community, exported to the major social networks, or kept private. The logs display all the relevant log information in an easy-to-naviate interface designed around social media interactions. If shared in the Deepblu community, other users can like the dive, leave a comment, or share the dive. You can also tag dive buddies and rate dive sites on an interactive dive site map.
The brand new COSMIQ Dive Companion computer is a very affordable recreational dive computer with a bright pixel-less display, making it very easy to read underwater. Simple navigation via just two buttons and Bluetooth 4.0 technology make exporing your dive profile to your Deepblu dive log a snap.
What about the photos?
Sync the time and date on your COSMIQ computer with your camera, and the Deepblu app will syncronize and integrate the data! This means that you will be able to see the exact depth, time into your dive profile, water temp and other log info that relates to the exact moment your photo was captured. You can then share it for friends to see.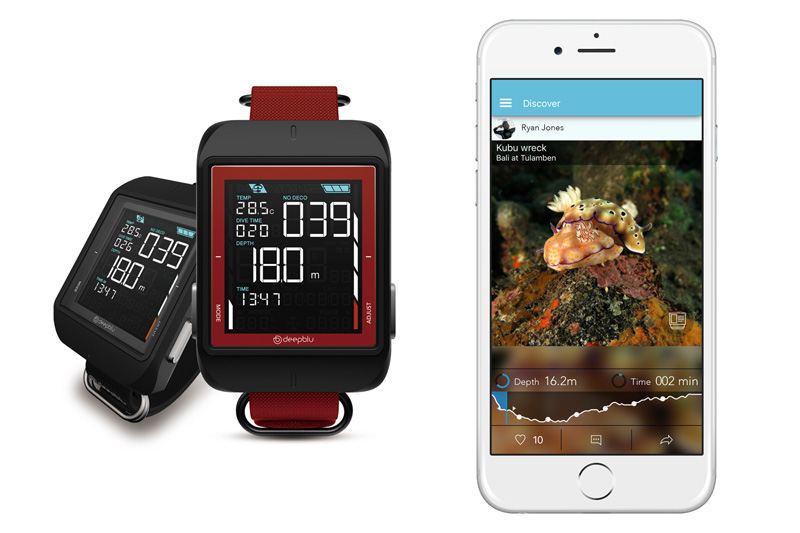 Why is the Deepblu app so cool?
First, keeping a dive log is great practice. Not only can you track things like the relationship between wind, currents, upwelling and visibility at specific dive sites, but you can also track the ideal conditions for finding marine life.
Many marine biologists and citizen scientists will record all the essential info when finding an interesting species: depth, water temp, habitat, moon phases and more. They record this in a dive log and then can later match the data with photos. With the Deepblu app this is all handled automatically... and can then be easily shared.
Not only is it fun to geek out on this new social technology, but it should prove a great resource for many divers who keep detailed logs. The interactive dive site map will help you plan out exactly which dive sites to visit on your next trip.
Video: Revolutionize Your Dive
Deepblu is currently developing a far more comprehensive social platform for divers, which will be available for both iOS and Android users. We can't wait to see it.
Check out the Deepblu website for more info.
SUPPORT THE UNDERWATER PHOTOGRAPHY GUIDE:
The Best Service & Prices on u/w Photo Gear
Visit Bluewater Photo & Video for all your underwater photography and video gear. Click, or call the team at (310) 633-5052 for expert advice!
---
The Best Pricing, Service & Expert Advice to Book your Dive Trips
Bluewater Travel is your full-service scuba travel agency. Let our expert advisers plan and book your next dive vacation. Run by divers, for divers.
---