Deepblu 2.0 and COSMIQ+ Announcement
DEMA: Deepblu announces new online social platform for sharing photos and videos integrated into dive logs plus the Cosmiq+ dive computer
Deepblu has just announced a robust social dive log platform and new dive computer at the DEMA tradeshow in La Vegas. The company has been making waves over the last year with popular dive log app that integrates your underwater photos and videos into your online dive profile. You can then share the profile in the online social community.
Deepblu has announced a new version of their dive computer, the COSMIQ+, which syncs easily with the Deepblu dive log app. They have also announced an expansion to the Deepblu app into an online platform. This should make the social community more availabile for divers and photographers who would rather interact on their laptops and desktops instead of mobile devices.
Full details are included in the press release below.
PRESS RELEASE
Harnessing the Power of Technology and the Internet to Revolutionize the Diving Industry
November was a big month for Deepblu Inc. The company that built the world's first dive computer featuring social integration made waves at the DEMA Show 2016 in Las Vegas with a series of surprise announcements and product launches.
Introducing COSMIQ+
Deepblu upgraded its product line with a new addition, the COSMIQ+, introducing a brand new performance feature for technical divers in two new lines. Available in two distinct color families—Noir and Lumin— the COSMIQ+ comes in five new colors. Staying true to its roots as the best price-to-performance dive computer on the market, COSMIQ+ is priced at the same US $299 as its COSMIQ predecessor.
As for tech specs and operability, the COSMIQ+ builds on all the existing features of the COSMIQ with the introduction of Bottom Timer Mode. This feature specifically targets the needs of tech divers for a secondary device and will expand Deepblu's customer base to include an important niche in the diving community.
Slated for a Black Friday (November 25th, 2016) release in North America, the COSMIQ+ will be available globally in December 2016.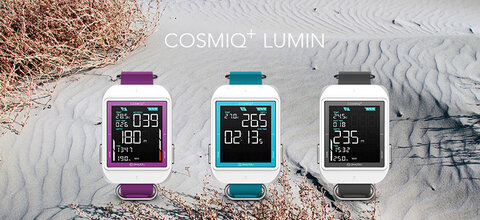 Deepblu 2.0-Everything Under the Sea in the Cloud
Deepblu also announced a beta launch of Deepblu 2.0—a major expansion of the Deepblu online platform. Accessible across mobile and desktop devices, the new and improved Deepblu platform offers the enhanced connectivity of a modern social network and numerous powerful features for social sharing and interaction.
This all-new social network for scuba divers, freedivers, underwater photographers and other ocean lovers features all the functions expected of a leading social network platform. Profile, trending, following, and community pages allow users a breadth of options to discover, share, and interact with like-minded people. It also has an integrated map function, Planet Deepblu, that provides users with an intuitive and seamless user experience as they explore diving and the blue planet.
Deepblu has opened the platform to everyone. For divers without a COSMIQ, the platform is compatible with Subsurface™. This software allows users to upload dive information from their 3rd party dive computers to the Deepblu platform.
Check out the new Deepblu platform at www.deepblu.com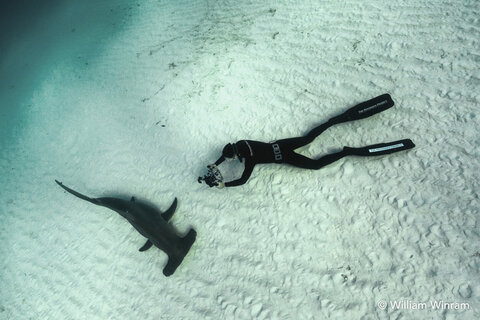 William Winram Becomes Deepblu Brand Ambassador
At DEMA, Deepblu also announced its cooperation with world record-holding freediver, conservationist, and founder of The Watermen Project William Winram. Winram has joined the Deepblu team as Brand Ambassador.
"Deepblu admires William's lifelong devotion to diving, ocean conservation and his unrivaled contributions to shark preservation," says Deepblu co-founder and CEO James Tsuei, "I'm pleased to announce this partnership and to support William's initiatives with the power of the Deepblu platform."
Winram discovered competitive freediving as a sport in 2005 and quickly rose through the ranks, winning several medals at the World Championships and setting countless records in nearly all disciplines. A natural born ocean explorer, in 2007 he became the first man to swim the Arch of Dahab's blue hole, without fins, on one breath of air.
While Winram's ocean conservation roots were instilled in him by his father - a scuba instructor and search and rescue diver - it was in 2012 upon the founding of the non-profit organization (NPO) The Watermen Project that his most enduring legacy began to take shape. The Watermen Project was created to assist those passionate about the ocean to inspire respect, preserve, conserve, and demonstrate a love for all things in the ocean. It is Winram's commitment to ocean conservation that saw him named Ocean Ambassador for the Global Marine and Polar Programme of the IUCN
"We want to connect divers," concludes Tsuei, "and strongly believe William's life work will help inspire all of us to induce positive, meaningful change to what binds us all together—the ocean. This is only the beginning, and speaking on behalf of all of us at Deepblu, we're excited for what's in store."
###
SUPPORT THE UNDERWATER PHOTOGRAPHY GUIDE:
The Best Service & Prices on u/w Photo Gear
Visit Bluewater Photo & Video for all your underwater photography and video gear. Click, or call the team at (310) 633-5052 for expert advice!
---
The Best Pricing, Service & Expert Advice to Book your Dive Trips
Bluewater Travel is your full-service scuba travel agency. Let our expert advisers plan and book your next dive vacation. Run by divers, for divers.
---