2021's Top Deals for Underwater Photographers
The holidays are upon us! Here are our favorite deals on underwater photo & video gear & travel destinations.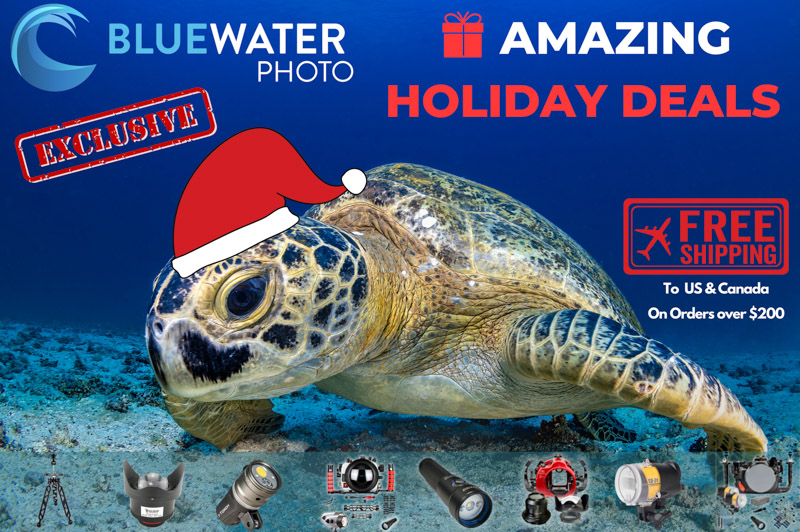 It's the most wonderful time of the year.....if you're an underwater photographer, that is! Black Friday and Holiday deals make a very pricy passion just a little more affordable. Often the best deals are found in the small things like underwater strobes, video lights, and lenses. But sometimes, large camera packages can have incredible savings (like this Sea & Sea R5 package with over $900 in savings!). We've also found some great deals on dive travel so you can put your new camera to the test. These are some of our favorite holiday deals this year at Bluewater Photo & Bluewater Travel:
---
Sea & Sea YS-D2J Strobe: 28% Off
The YS-D2J is the world's most popular strobe. It features a guide number of 32, 1.5 sec recycle time (full power), a colorful glowing control panel, an LED target light, and AA battery compatibility. The YS-D2J is capable of DS-TTL II, Slave TTL, and 11 steps of exposure control!
20% Off All Kraken Video Lights, Lenses, and Housings

$399.99
$275.00
31% OFF!!
Includes a ball mount and tons of great lighting features!
The Kraken Sports Hydra 2500 video light is our favorite underwater video light for new video shooter, GoPro video shooters, and macro video shooters. It comes with a ball mount and YS-mount and is packed with an incredible mount of features - including a 100 degree flood beam, a red beam for sneaking up on critters, a blue beam for viewing fluourescence, and a burst mode for photography.
Read our full Kraken 2500 Video Light Review
$499.00

$399.20

$699.00

$559.20

$799.00

$639.20

$1,150.00

$920
$169.99
$135.99
Read Our Full Reviews For:
Kraken Hydra 4000 & 6000 WRGBU Video Light Review
Kraken Hydra 8000 WRGBU Video Light Review
Great Deals on Kraken Wet Lenses!!!
15% Off All Aquatica Housings, Domes, and Arms
Discounts on Ikelite TTL Systems that work with any camera and housing
$1,580.00
$1,510.00
This Ikelite DS 160 Mark II and TTL converter package opens the gateway to a world of creativity and gives you the ultimate freedom to compose your photos without worrying if you have proper exposures. Ikelite's TTL electronics are designed specific to every camera model so that every time you hit the shutter, the Ikelite DS 160 strobe knows exactly how much light you need. You can still shoot in TTL when you are on manual mode on your camera, so you still have full control over your photos. TTL allows you to focus on composition and capture photos with good exposures on subjects that are constantly moving. Combined with insanely fast recycle times from the Ikelite DS 160, you couldn't be better equipped for any lighting situation.
20% OFF Big Blue Video Lights
Big Blue underwater video lights deliver a high-lumen output at a great price.
$936.54 Savings on the Sea & Sea Canon EOS R5 Package
$6,641.10
$5,802.61
$500 Savings on the Nauticam Sony A1 Package
$7,017.34
$6,517.34
An Incredible Price on the Canon SL3 Camera, Lens, and Housing
---

Top Travel Deals

#1 FIJI - GREAT DEAL AT LUXURY RESORT VOLIVOLI. FREE NIGHTS, DIVES, NITROX
Only $2,256 for 7 nights with lots of diving at one of Fiji's top dive resorts. Dive the Bligh Waters - the best diving in Fiji! Full details here
Book by Decmeber 4, 2021

#2 PHILIPPINES AMUN INI LUXURY RESORT AWESOME DEAL
Only $2,480 for 8 nights split between 5-star Amun Ini and Salaya beach houses, with lots of dives included. Once in a lifetime deal! Full details here
Book by January 31, 2022

#3 WORLDWIDE: MASTER LIVEABOARDS 20% off in 2022
Almost all dates in the Bahamas, Galapagos, Raja Ampat, Palau, Philippines, Myanmar, Truk, Solomons, Thailand Egypt, Maldives are 20% off. Full details here
Book by November 30, 2021

#4 MEXICO - 20% OFF ALL TRIPS WITH PRODIVE
Best deal in Mexico! Dive Cozumel, Playa Del Carmen, Cancun, and the Riviera Maya at an exclusive 20% discount on hotel and dive packages! Full details here
Book by November 29, 2021

#5 AGGRESSOR BOATS GROUP SPECIAL $500 OFF + Free Spots 2022 - 2024 WORLDWIDE
$400 to $500 off almost all trips and a free spot if you have five paid guests. Share the savings or send someone for free. Not traveling with friends? Contact us for individual specials with Aggressor Fleet. Grab some friends and don't miss this crazy good deal. Full details here.
Book by November 30, 2021

#6 FIJI: WAIDROKA with Shark Dives, Cave Tubing Tour
Incredible deal for 7 nights - only $1,869. Get two shark dives & cave tubing package included only by booking with Bluewater! Full details here


#7 PHILIPPINES: ATMOSPHERE RESORT - SUITES WITH PRIVATE POOLS
Your own swimming pool! 5-star resort starting at $2,750/week packages for pool suites. Full details here
Book by Decmeber 31, 2021

#8 ANILAO, PHILIPPINES - EXCLUSIVE SAVINGS AT AIYANAR
Stay and dive macro heaven in Anilao at a lovely resort with an infinity pool overlooking the water.. Full details here


#9 ROATAN, HONDURAS 50% OFF
At Anthony's Key Resort, save 50% for almost any date in 2022. Full details here


#10 RAJA AMPAT, INDONESIA: MERIDIAN DIVE RESORT FOR $200/night
Take advantage of great discounts at Meridian Dive Resort in Raja Ampat and enjoy some of the best diving in the world!. Full details here


View 20 more amazing specials here.
Or contact us to help you plan and book your next cuztomized dive vacation!


Deals on Group Trips & Photo Workshops
Book either of these great group trips and photo workshops and get $300 OFF! Book by December 3rd to get your discount.
Galapagos Photo Workshop 2022

Epic trip to see hammerheads, mantas, penguins, batfish, seahorses, Galapagos sharks and more.

Trip timed for best water temperatures and visibility + land-based tours
Excellent chances for encountering marine iguanas and hammerhead sharks

NOW $300 OFF


10 N starting from

$8,800

$8,500
Excellent chances for encountering various species of reef sharks and dolphins
Diverse dive sites including wrecks, caves, walls, and more!
Great amenities and spacious cabins on a modern luxury liveaboard

NOW $300 OFF


10 N starting from

$3,095

$2,795
SUPPORT THE UNDERWATER PHOTOGRAPHY GUIDE:
The Best Service & Prices on u/w Photo Gear
Visit Bluewater Photo & Video for all your underwater photography and video gear. Click, or call the team at (310) 633-5052 for expert advice!
---
The Best Pricing, Service & Expert Advice to Book your Dive Trips
Bluewater Travel is your full-service scuba travel agency. Let our expert advisers plan and book your next dive vacation. Run by divers, for divers.
---