Honorable Mention Novice DSLR Ocean Art 2016 Edoardo Errani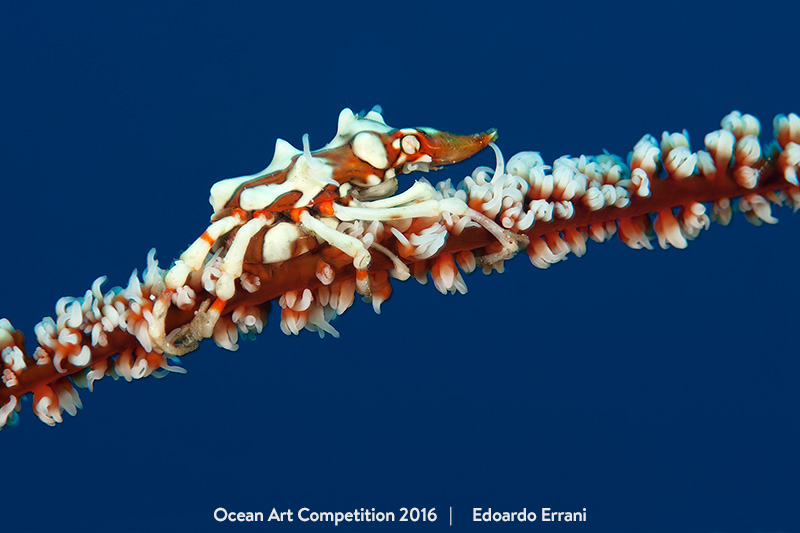 Honorable Mention Novice DSLR
Edoardo Errani
"Mimetism"

Edoardo won a $100 gift certificate from Bluewater Photo or Bluewater Travel
The Story: I shot this image in Raja Ampat at Cape Gam dive spot in September and I have been shooting by a reflex camera for one year.
When my guide indicated me this wire coral crab, I was immediately surprised by its perfect mimetism and by the polyps which had grown up on its carapace.
It was the first time I saw this subject and it looked me nearly like an alien!
The main difficult for me during the shots was to maintain a good neutral buoyancy in order to not touch the wire coral with the strobes and the lens of my housing.
I did some shots with the black background, but because behind the subject there was the water and not the wall of the reef, I tried also some shots with a time of exposure sufficiently long to obtain a blue background in order to have in the same photo two complementary colors, the blue of the water and the orange of the crab.
I shot about twenty images and this one is the nearest to my idea.
Location: Raja Ampat, Indonesia
Camera: Nikon D700 and Nikon 105mm Macro Lens (F25, 1/30, ISO 200) with EasyDive LEO II Housing and Dual Sea & Sea YS-D1 Strobes.