4th Place Reefscape Ocean Art 2016 Pier Mane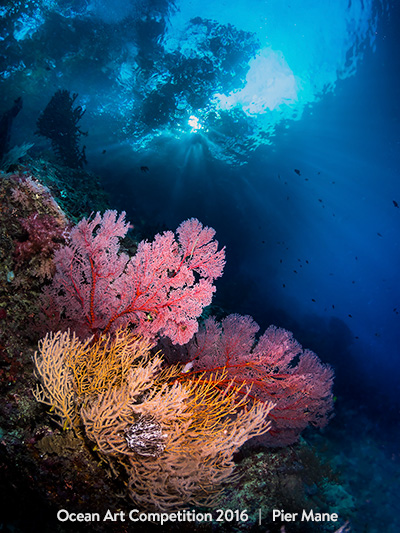 4th Place Reefscape
Pier Mane
"Flowers in the Sky"
Pier won a 4-night dive package from El Galleon Beach Resort Puerto Galera, Philippines
The Story: With the attempt to find diver less areas away from the groups, I developed a passion to explore the very shallow areas 1-5 meters depht. While diving in a channel in the Solomon Islands, near a mangrove area, I run into a strip of large colourful gorgognas very shallow. These gorgognas were the size of the ones usually found at much greater depth. I was intrigued, I wanted to capture a compelling picture that leveraged the beautiful offsetting warms colors. Looking up, the surface of the water was right there, with stunning reflection of the high jungle trees creating a transcended backdrop. With a bit of trial and error, I align the sun between the tree branches projecting rays down to this shallow gorgognas. With the surface of the water so close and using strobes to single out them out, flowers in the sky were painted.
Location: Solomon Island
Camera: Olympus EM1 and Panasonic 8mm Fisheye Lens (F11, 1/125, ISO 400) with Dual Subtronic Strobes