1st Place Compact Behavior Ocean Art 2015 Jack Berthomier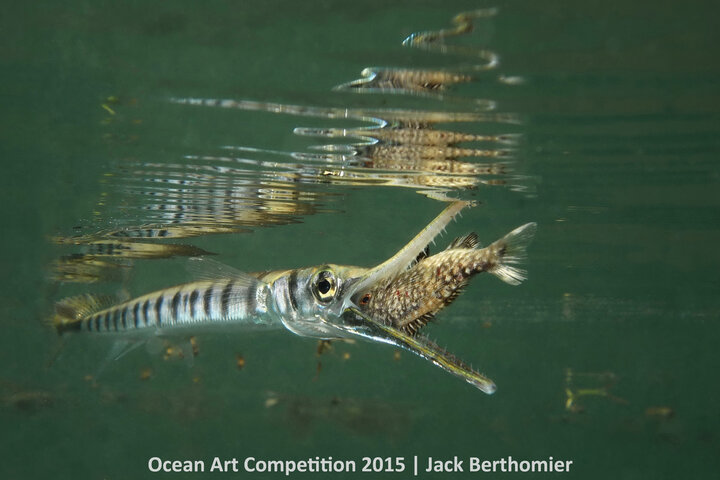 1st Place, Compact Marine Life Behavior
Jack Berthomier
"Fast strike of a Tylosorus crocodilus on a juvenile kyphosus vaigiensis"
Jack won a gift certificate from Bluewater!
The story: The picture has been taken in Ouemo's Mangrove where I take 90% of my pictures and where I dive, always in freediving .This Tylosorus crocodulis was 20-25 centimeters long. The fish got used to me by swimming with him for multiple hours and days.I saw him attacking some other small fishes on surface around 6 times. Those where hidden in floating algaes.I managed to take pictures of three of those attacks Those attacks are very rare and go very fast. I had to follow the subject for at least 3 hours a day.when the batteries of my camera were empty , he still hadn't managed to swallow his prey which were from my point of view, too big for him.At that time, he wasn't moving anymore and as I never saw him again, I think he might have been eaten by a bigger predator as he looked vulnerable to me.Those fishes do only attack just living preys on surface and I'm not sure it could be possible to feed them.
Note: Shot while freediving.
Location: Ouemo Bay, Noumea, New Caledonia
Camera: Sony RX100, Nauticam housing, internal flash only
Settings: f 7,1, 1/1000, ISO 200