December News Roundup
A roundup of underwater photography news from December
December News Roundup

New items from Dyron, Hugyfot, Nauticam, Recsea, Sealife, Polar Filters and more! Plus dive resort news...
By Travis Ball
Nauticam Releasing New Housings
Nauticam will be releasing housings soon for the Panasonic GH3 micro-four thirds camera, Canon EOS M mirrorless camera, Canon 6D full-frame camera, and the Canon G15. 
Hugyfot puts out new housing for GoPro Hero 3                                     

Hugyfot, the high-end housing company from Belgium has just announced their new GoPro housing.    This new all aliminum housing allows for the attachment of an external monitor, great for people who choose to mount their GoPro on the end of a pole cam.    This allows you to see what you are shooting from up to 3meters away while underwater.  Another unique feature is the new Hugyfot battery that can allow the camera to run with an lcd attachment for up to 6 hrs.   This is a major improvement on the existing battery that dies within an hour while using and LCD bacpac.  The external battery is also a great tool for those who like to do very long duration time lapses.   The housing is supposed to be retailing in the $650 range.
Dyron has new items 
Dyron has a couple cool new items, the first being a new set of filters designed to snap right on your GoPro Hero3. These filters are high quality Red, Orange and Violet and can be purchased individually or as a set.
Secondly they also released a priority filter fo the Recsea RX100 camera which screws directly onto the RX100 port.
Last, they have a new wide angle lens for compact cameras. This new "super wide angle" lens ends up being the equivalent of a 13mm lens on a compact camera. It features a rotating and removeable shade, gives a field of view of 140 degrees and is great for over / under shots.
Reefnet Announces Threaded Diopters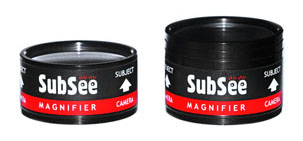 Reefnet is coming out with threaded +5 & +10 subsee diopters so filters or other diopters can be added to front of the lens
New Sea & Sea MDX-D600 Housing for the Nikon D600
Available around Jan 28th. Includes 2 fiber optic mounts, leak detector. Price will be $3200. Sync cord for $100 more. Part # SS-06165, SS-06165A with sync cord.
Polar Pro Releases "Cube" Filters
Our friends over at Polar Pro have just announced that the new Hero3 "snap on" filters will start shipping next week!   Polar Pro filters produce some of the best results we have seen in a filter for the GoPro cameras.   They have tested many colors before selecting their current line which allows for excellent light transfer.   They will have a red filter(tropical/blue water), magenta(green water), and a polarizing filter to be used when shooting on the slopes or in direct sunlight.  Stay tuned for a full review on these filters in the near future.   They retail for only 29.99 and are made out of an almost indestructible acrylic.  
Nightsea X Front Plate for Sola 4000 from Light and Motion
Already own a Sola 4000 Video Light?   You can convert it to a blue flourescent light by adding a Nightsea X Front Plate.    You simply attach the X Plate to your Sola 4000 and poof you have yourself an instant 4000 lumen blue flourescent  light.  You can easily switch the face plates in the same way that you remove the light for air travel.  Nightsea X Front Plate Retails for just $699.00
Dive Resort & Liveaboard News
Palau Dive Adventures Completes First Trip
Despite the fact that Palau was still recovering from Typhoon Bopha, Palau Dive Adventures, located at the Sea Passion Resort in Palau, successfully completed their first dive trip at the end of December.  Congratulations!
Seafari International Expands to Turks & Caicos Islands
Seafari is investing in new equipment, a Nitrox membrane and new excursions to West Caicos and French Cay, all in an effort to bring a new level of diving services to the region.  A photo workshop with Kimmo Hagman is being planned for April 2013
Sunset House Photofest in May
From May 11th to May 18th, 2013, Cathy Church will be hosting a Photo Fest at the Sunset House in Grand Cayman.  Separate photo contests for every level and classes with Cathy and her staff.  For more information, visit the Sunset House event page.  It's all about bottom time on sites that are pretty, interesting, fun and photogenic.
Underwater Workshop at Yap Pacific Dive Resort
Yap Pacific Dive Resort is hosting a "Creative Big Fish" workshop for intermediate to advanced photographers.  The objective of this event, running from April 30 - May 7, 2013, is to "develop a creative, individual style of Underwater Photography that will attract (an) audience."  Click here for more information.
New Products out now:
Nauticam Nikon D600 housing

Nauticam Canon S110 housing

Nauticam Sony NEX-5R housing - with 2 control dials!

Olympus housing for the Olympus E-PL5 - fits the Olympus 60mm lens!

Recsea Canon G15 housing

Recsea Canon S110 housing

Ikelite Canon 6D housing

Sealife AquaPod - could be a great polecam

Zen 100mm dome port for the Canon 8-15mm fisheye with removeable shade

Sea & Sea leak detector for dSLR housings
About the Author
Travis Ball is a travel blogger and underwater photographer who recently finished 30 straight months of travel. He believes everyone should enrich their lives with travel and all the experiences it has to offer. Hisphotography and writing can also be seen at his blog Flashpacker HQ. 
---
Where to Buy
Please support the Underwater Photography Guide by purchasing your underwater photography gear through our sister site, Bluewater Photo & Video. Click, or call them at (310) 633-5052 for expert advice!
---
SUPPORT THE UNDERWATER PHOTOGRAPHY GUIDE:
The Best Service & Prices on u/w Photo Gear
Visit Bluewater Photo & Video for all your underwater photography and video gear. Click, or call the team at (310) 633-5052 for expert advice!
---
The Best Pricing, Service & Expert Advice to Book your Dive Trips
Bluewater Travel is your full-service scuba travel agency. Let our expert advisers plan and book your next dive vacation. Run by divers, for divers.
---