Ocean Art Underwater Photo Competition
Ocean Art Safe Under the Sea Competition Announced!
Ocean Art

Safe Under the Sea

Underwater Photo Competition
This is a different kind of photo competition.
Times are tough, and we would like to thank our diving community for doing their part in staying home and staying healthy. As underwater photographers, perhaps now is the most opportune moment to self-reflect, learn, reminisce, edit photos, and support our extended human family. The Underwater Photography Guide has teamed up with Bluewater Photo and Travel to present a special edition of our prestigious underwater photography competition - Ocean Art: Safe Under the Sea. The goal of this photo competition is to bring our global underwater photographic community together, provide an outlet for creative expression, and to raise money to help fight Covid-19 for the benefit of all.
One quarter of the proceeds will be donated to the CDC Foundation and WHO Covid-19 Response Fund to Help Fight Coronavirus!
Ocean Art is one of the most highly regarded underwater photo contests in the world.
Winning photos will be featured by hundreds of media outlets throughout the world, and winning photographers will have over $10,000 in prizes to choose from!
Please see our guidelines for submission before entering. Entries can only be submitted through our online portal.
The competition will be open for entries from April 14th to June 30, 2020.
Be sure to follow us on Facebook, Instagram and Twitter for updates.
You can view past winning Ocean Art images through the links below:
You can contact the Ocean Art team at contest@uwphotographyguide.com with any questions.
12 Categories
This isn't a normal Ocean Art Competition, so we decided to mix up the categories!
Mirrorless camera technology advanced at lightspeed scince 2018 and many new systems are as good or better than DSLR's. Therefore we have merged our mirrorless categories into the "open" categories. We are excited to announce the continuation of our very successful Blackwater and Underwater Conservation categories. We are also introducing one new category - Shipwrecks. We can't wait to see what this amazing community of underwater photographers produces!
Wide-Angle
Macro
Marine Life Behavior
Portrait
Cold Water
Shipwrecks
Blackwater
Underwater Conservation
Compact Wide-Angle
Compact Macro
Compact Behavior
Underwater Art
Platinum Sponsors
( see full prize descriptions )
Ocean Art Safe Under the Sea Competition Announced!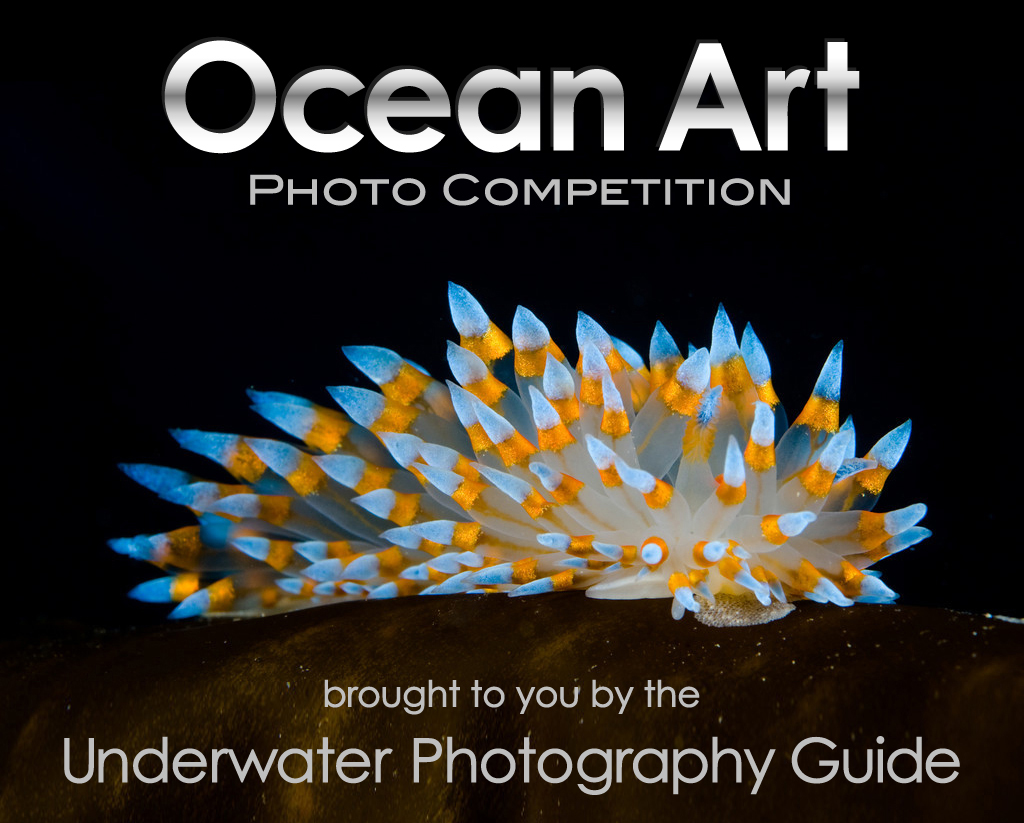 SUPPORT THE UNDERWATER PHOTOGRAPHY GUIDE:
The Best Service & Prices on u/w Photo Gear
Visit Bluewater Photo & Video for all your underwater photography and video gear. Click, or call the team at (310) 633-5052 for expert advice!
---
The Best Pricing, Service & Expert Advice to Book your Dive Trips
Bluewater Travel is your full-service scuba travel agency. Let our expert advisers plan and book your next dive vacation. Run by divers, for divers.
---