Honorable Mention Conservation Ocean Art 2019 Rafael Fernandez Caballero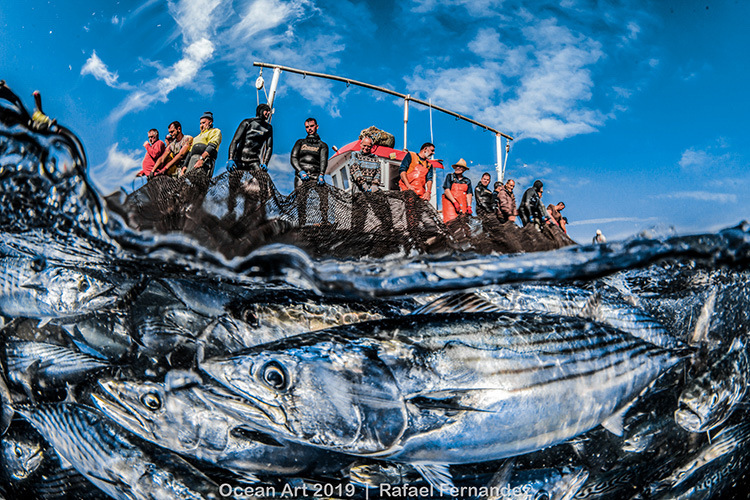 Honorable Mention Conservation
Rafael Fernandez Caballero
"Both Worlds of Fishing"
The Story: This picture shows both sides of a tuna fishery. This way of fishing is really ancient and it consists of a whole of nets which work as a pawn and which leads the fishes to the central circle where the finally are captured when the nets are rised.
The picture was taken during the moment in which fishermen are rising the nets in order to get all the edible fishes. During this process the commercial divers start rising the nets so the central circle of nets gets smaller, at the very last moment the circle if full with thousands of fishes mostly tunas and it was at that moment when this picture was taken.
In the upper half of the picture you can see all fishermen rising the nets and in the part below you can see those fishes. The fishes that are not edible are thrown away by the commercial divers in order to avoid their death, this happens with fishes such as the sun fish which are counted by hundreds every week.
Also, animals such as the turtles that get inside accidently are quickly thrown away even if that day are not going to rise the nets.
Several years before this tuna fishery in Ceuta is an example of how things can be done in the right in fishing without killing animals that are there by accident.
Location: Tunna Fishery - Ceuta, Spain
Equipment Used: Nikon D850 Camera, Nikon 8-15mm Lens, Isotta D850 Housing, Isotta 6.5" Dome Port, Dual Sea & Sea YS-D2 Strobes
Camera Settings: 1/250 sec, F18, ISO 640