Honorable Mention Place Blackwater Ocean Art 2019 Fabien Michenet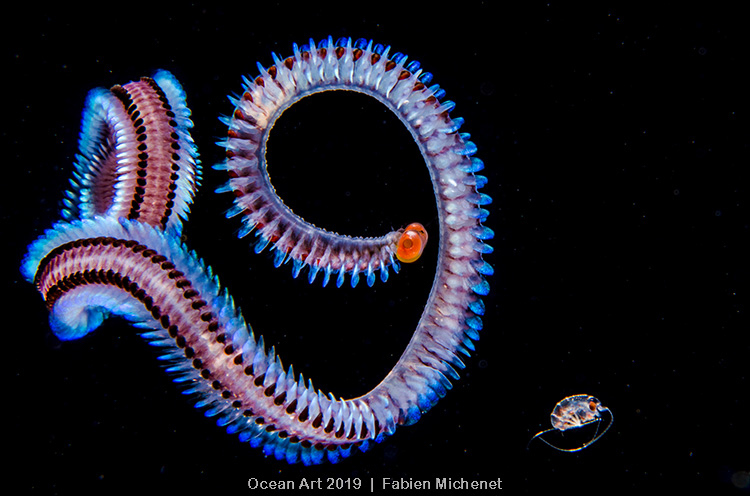 Honorable Mention Blackwater
Fabien Michenet
"Alciopid Worm"
Pelagic Fleet is sponsoring a Great White Shark trip aboard the new Socorro Vortex!
The Story: I crossed while a drift dive off Tahiti this Alciopid worm. Theses worms are not uncommon offshore in open-ocean but most often have a threadlike body and are not very photogenic.
This individual belongs to a species with a large and fleshy body that I have only encountered on rare occasions. He swam constantly circling rapidly and his body sparkled with electric blue reflections. When it hit small crustaceans attracted by my lights, it sent small lures which emitted a particularly intense green bioluminescent light.
The Alciopid are characterized by their enormous globular eyes which are unique in worms. These eyes are particularly advanced with an iris, a cornea and a lens… they allow these nocturnal predators to find preys and to hunt in the pelagic environment.
Location: Tahiti Island, French Polynesia
Equipment Used: Nikon D810 Camera, Nikkor 60mm Macro Lens, Nauticam NA-D810 Housing, Dual Inon Z-240 Strobes, Nauticam CMC Diopter
Camera Settings: 1/320, F32, ISO 64