5th Place Novice Wide Angle Jeongin Kim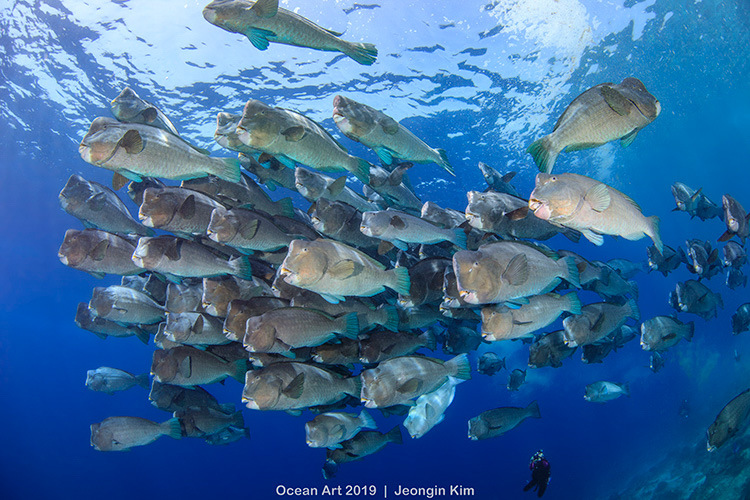 5th Place Novice Wide Angle
Jeongin Kim
"Humphead Parrotfish and Diver"
The Story: The guide found humphead-parrotfishs and signaled me. I looked in the direction the guide directed me and there was a huge number of humphead-parrotfishs. I approached them carefully so as not to be surprised. At first they seemed to be wary of divers, so I took pictures from a distance. After some time passed my distance with them was less than 1m. I don't remember if they approached me or if I approached them, but I was swimming with them as if I were part of their group. They seemed to feel that I was not a threat. I swam with them as part of the Humphead-parrotfishs for about 5 minutes. I was surrounded by them and I could touch them if I reached out. Realizing that the distance with them was so close that I could not get a good picture, I stopped taking pictures for a while and enjoyed swimming with them.
After having a good time with them, I began to move away from them. And I pressed the last shutter. Luckily, the divers shooting the Humphead-parrotfishs were filmed together and made a great model.
After the dive we climbed onto the boat and we cheered.The happy memories of swimming with hundreds of Humphead-parrotfishs can never be forgotten.
Location: Barracuda Point - Sipadan Island, Malaysia
Equipment Used: Canon 5D Mark IV Camera, Sigma 15mm Lens, Aquatica 5DIV Housing, Saga 6.5" Dome Port, Dual Sea & Sea YS-D2 Strobes
Camera Settings: 1/125 sec, F11, ISO 250