5th Place Blackwater Ocean Art 2019 Tianhong Wang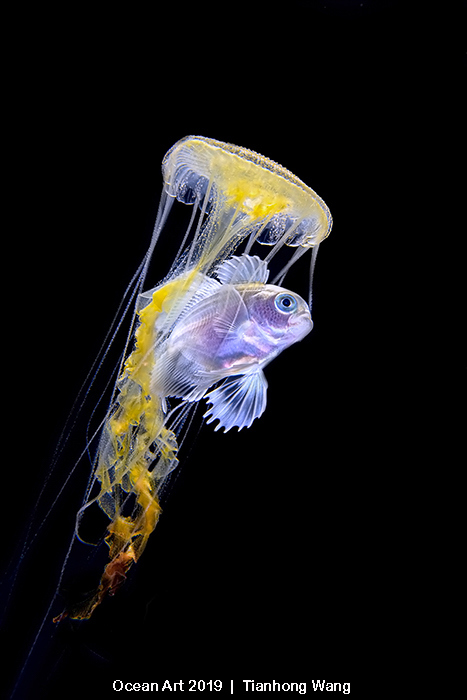 5th Place Blackwater
Tianhong Wang
"Bride"
The Story: Amakusa jellyfish (Sanderia malayensis)'s oral arms and tentacles are covered with venomous nematocysts. They are notorious for frequent assaults. While the most dangerous place happens to be the safest place. Some fish, like juvenile driftfish, seek refuge among the jellyfish. These fish adopt highly agile swimming to physically avoid tentacles. They mainly use their developed pectoral and pelvic fins to swim. But this juvenile banded driftfish(Psenes arafurensis) was swimming through the tentacles of a jellyfish, undeterred by nematocysts. How?
We knew about them only by previous report. Juvenile driftfish has a complex skin design and at least one antigen to the jellyfish's toxin. They seem to be more resistant to the toxin than other fish. They are reported to frequently "nibble" on jellyfish's tentacles. Young fish seem can eliminate the amphipod parasites on jellyfish, but mostly feed on hapless prey.
These observations are still not enough to explain the full mystery of driftfish. The Amakusa jellyfish seemed too small to be benefited from symbiotic relationship with the juvenile banded driftfish. when fish grow up, they'll leave the jellyfish alone and head deep into the ocean. All this is a game as well as a cooperation.
Location: Anilao, Batangas, Philippines
Equipment Used: Canon 5D Mark III, Sea & Sea Housing,
Camera Settings: 1/125 sec, F11, ISO 160