4th Place Conservation Ocean Art 2019 Nicole Helgason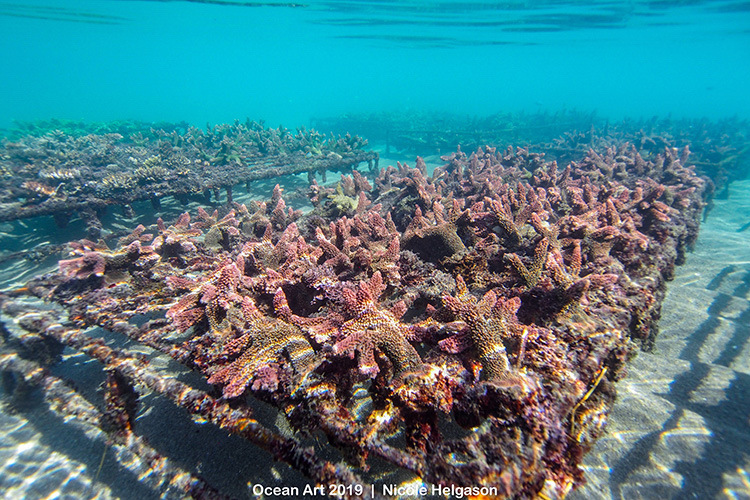 4th Place Conservation
Nicole Helgason
"Acropora Robusta Coral Fragments at the Ocean Gardener Coral Nursery in Candidasa Bali."
The Story: This image was taken early in the morning on an extremely low tide at the Ocean Gardener coral nursery in Candidasa Bali Indonesia. The particular nursery is located in a shallow bay so that the corals can be easily cleaned and fragmented during low tide. I went out to the site just after sunrise when the water was calm and the tide was low. I was in knee-deep water and was swimming around the corals with a mask and snorkel. I love the way the light reflects off the corals when the tide is this low and the water is clear. I wanted to line up the shot from the corner of the coral frame giving a nice depth of field and view of several other tables in the background.
These Acropora robusta corals grow into impressive colonies, and the mother colony for these fragments is over 15 feet wide, and 5 feet tall! Acropora robusta is an important coral that lives in the shallowest parts of the reef. This species of coral grows into robust sturdy branches that not only provide habitat for many marine creatures but also act as a buffer for wave energy. It takes about 12 months for fragments to grow to sufficient size before they can be replanted on the reef. The corals in these pictures are ready to be planted! Ocean Gardener is actively replanting this and other coral species around the reefs of Bali Indonesia.
Location: Ocean Gardener Coral Nursery - Candidasa, East Bali, Indonesia.
Equipment Used: Olympus EPL-5 Camera, Olympus PT-EP10 Housing, Olympus 9-18mm Lens
Camera Settings: 1/400 sec, F10, ISO 200