3rd Place Compact Wide Angle Ocean Art 2019 Benhur Sarinda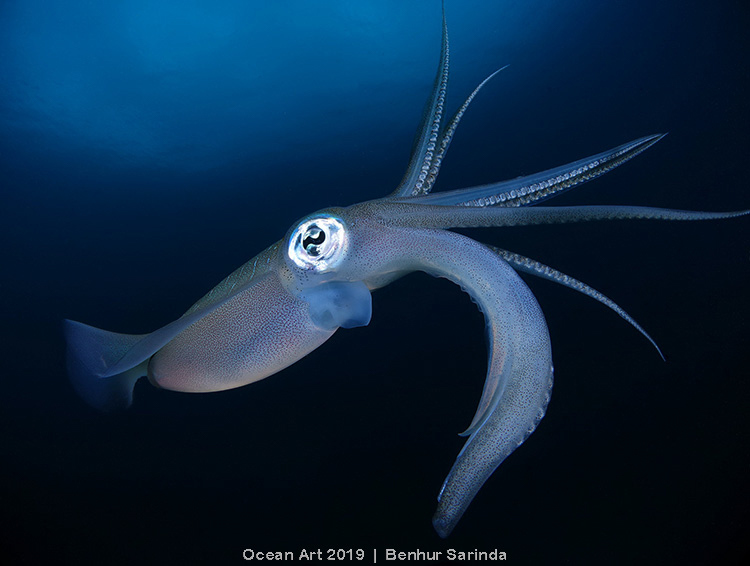 3rd Place Compact Wide Angle
Benhur Sarinda
"Stretching"
Think Tank is sponsoring five PhotoCross 13 Sling Packs!
The Story: There is always a surprise when you dive in lembeh strait. Lots of underwater behavior can be observed on a dive. The day I took this photo I was so lucky to see group of longfin squid laying eggs. I moved slowly and positioned myself about 1-2 meters from the rope were they laying their eggs.I needed to be close to get a close focus wide angle of the subject . After waiting for about 10 minutes four couples and a few single males start coming closer and began placing their eggs on the mooring rope. I managed my breathing to make sure that I am not moving too much so that they will still cooperate with me while I am photographing them. I tried a couple of test shot and then set my strobe as far away as possible from my lens. Finally I managed to get the perfect setting of my camera and lighting.
This photo shows the female stretching her tentacle to alert the male that she is ready for mating.
Location: Retak Larry - Lembeh Strait, Indonesia
Equipment Used: Sony RX100 IV Camera, Nauticam NA-RX100 IV, Sea & Sea YS-01 Strobe, Scubalamp V6K Pro, Mini Gear UWL-28TG 28mm
Settings: 1/500, F10, ISO 125