1st Place Novice Macro Ocean Art 2019 Julie Casey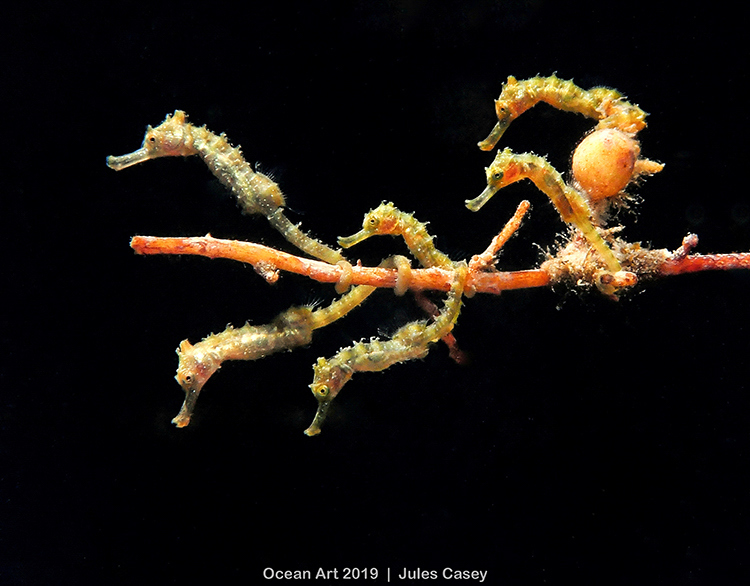 1st Place Novice Macro
Jules Casey
Rising Star Photographer Award
Best of Show runner up
"Seahorse Bus"
Bilikiki Cruises is sponsoring a 7 night trip on a liveaboard in the Solomon Islands!
The Story: I've been taking videos of baby seahorses for about 3 years but only recently changed over to still photography. I picked up a second hand TG4 early in 2019 & I've spent almost every day in the water with it since.
Capturing 6 baby seahorses all facing in the same direction while sharing a piece of weed is an extremely challenging shot. These babies will often pull in different directions & face away from the camera. So I'm absolutely delighted to be able to share such a split second in time before this scene changed dramatically.
Under Blairgowrie Marina has become a popular nursery for the birth of these baby Short Head Seahorses and also the Bigbelly Seahorses. I've seen as many as 20 babies sharing the same weed. You only have a short window of opportunity to capture this because their survival rate is so low.
Location: Blairgowrie marina. Victoria, Australia
Equipment Used: Olympus TG-4 Camera, Sea & Sea YS-03 Strobe
Camera Settings: 1/250, F6.3, ISO 200