South Africa Sardine Run Photo Workshop 2020
Sardine Run Photo Workshop in South Africa on June 23 - July 3, 2020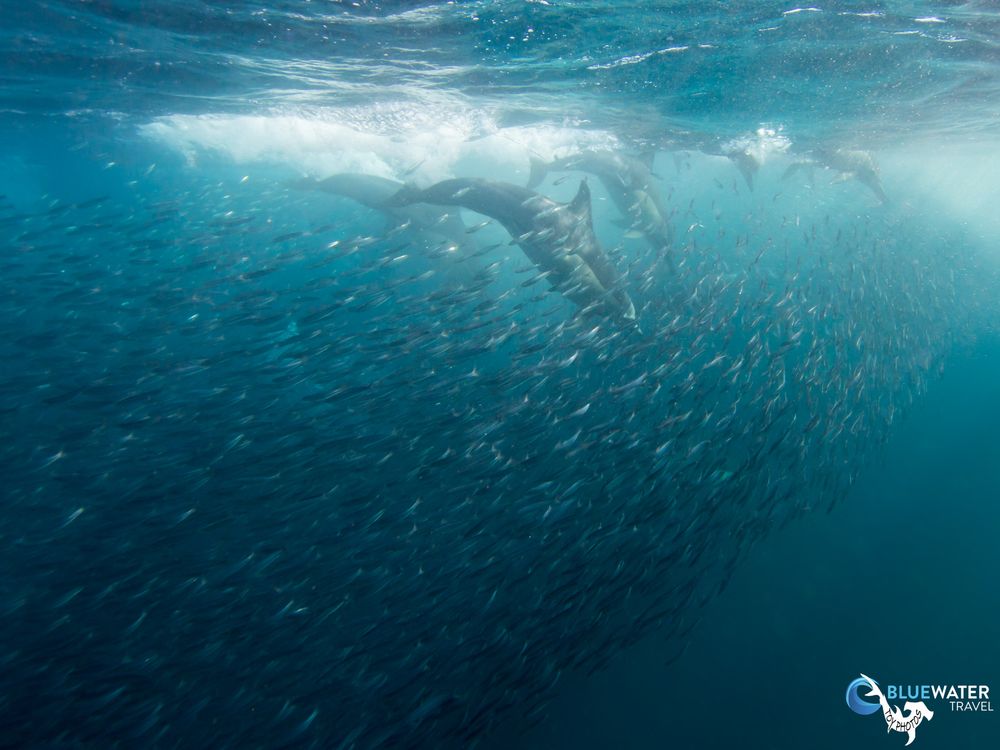 South Africa Sardine Run Photo Workshop
Join this amazing specialty trip to see the famous sardine run, several species of sharks and a land-based open vehicle African safari.
June 21 - July 3, 2020
Led by Craig Dietrich
Price:
12 Nights for:

$4,499 pp

(double occupancy) |

$5,299 pp

(single occupancy)
Why Join This Trip? - Why Travel with Bluewater?
Trip Information - Package Details - Itinerary - Accommodations
Trip Leader - How to Get There - Payment - Photos
Why Join This Trip?
✓ 25% off rental photo gear from Bluewater Photo
✓ Best time to witness the Sardine Run: see dolphin super pods, sharks, and humpback whales!
✓ 5 full days on the water chasing the Sardine Run
✓ 2 days diving Aliwal Shoal, home to Oceanic Blacktip Sharks, Whales, Dolphins, Turtles, Rays, and more!
✓ 3 days of land-based African safari to see the Big 5: Lions, Leopards, Elephants, Rhino, and Buffalo
✓ Daily photo workshops by photo pro Craig Dietrich
Why Travel with Bluewater?
✓ We book resorts/ liveaboards that offer the best overall value
✓ Leaders who care about their guests' experiences
✓ Great support if flight/weather issues occur
✓ "Bluewater helped me out when I needed it most, the airline wouldn't let me board because of a Visa issue. They saved my butt" - Ray Tsusuki
Trip Overview
Over the years, the Sardine Run has provided excitement across the globe with numerous shark species, Humpback whales and dolphin super pods joining in the migration. Throw the hyperactive Cape Gannets into the mix and we have "The Ultimate Marine Migration" during the Sardine Run.
This trip includes all accommodations, 5 full days on the water chasing the Sardine Run, and 2 days diving Aliwal Shoal. Your South African experience finishes off in the stunningly picturesque Nambiti Private Game Reserve, a 21,000 acre, Big 5, malaria-free game reserve. The Safari Lodge epitomizes the perfect safari experience with beautiful, luxurious tented suites, excellent service, superb cuisine and prolific wildlife - ensuring an unforgettable experience. Nestled in the heart of the KwaZulu-Natal battlefields, the lodge offers guests a chance to unwind in a picture-perfect setting.
Marine Life to Photograph
Aliwal Shoal is home to Oceanic Blacktip Sharks, Ragged Tooth Sharks, Dusky Sharks, occasional Tiger Sharks, Whales, Dolphins, Turtles, Rays, Eels, Game Fish, and more.
During the epic sardine run, you'll be surrounded by dolphins, sharks, diving birds, whales, game fish, seals, and of course millions of sardines that make this one of nature's most awesome events. You'll likely witness passing humpbacks as well.
Read the reviews on diving South Africa and the recap on our previous South Africa trip.
Diving Conditions
Mid June - mid July is the best time to witness the Sardine Run.
Water temperature: Ranges between 15 – 22ºC (59 – 71ºF)
Avg. visibility: 2 – 30m
Wetsuit needed: 5 – 7 mm wetsuit is recommended
Topside temperature: 14 – 25 ºC (58 – 76 ºF)
Minimum dive qualifications: The minimum requirement to join Sardine Run is Open Water Diver with at least 150+ Dives
Package Details
Inclusions:
✓ Dinners, Bed & Breakfast.
✓ 1 night at 32 On Harvey Guesthouse
✓ 7 nights at Port St John's River Lodge
✓ 4 nights of Luxury Tented Accommodation at Nambithi Game Reserve's lodge
✓ Cylinder and weights needed for all Sardine Run & diving days.
✓ Snack Lunch Boxes on the boat for Sardine Run water days.
✓ All transfers during your stay as mentioned in the itinerary.
✓ Experienced Dive Master & Skipper.
✓ Two (2) 4 hour Game Drives per person per day at the designated times in Nambithi Game Reserve. ALL GUESTS TO HAVE A WINDOW SEAT TO ALLOW FOR PICTURE TAKING.
✓ Welcome drink on arrival.
✓ Tea, coffee, homemade biscuits & rusks from the Tea Station.
Exclusions:
✗ All bar services
✗ Curio & personal purchases
✗ Flights & Taxes
✗ Passports & Visas
✗ Dive Gear (can be hired)
✗ Gratuities (budget for approximately R200 per person per day)
✗ All additional activities not listed and items of a personal nature
✗ Travel Insurance: click here to learn more about our preferred plan
About Port St. John's River Lodge
Situated on the mighty Umzimvubu River, Port St. John's River Lodge provides luxury accommodation, personal attention, and excellent cuisine. With tastefully decorated en-suite hotel rooms and comfortably furnished chalets, guests are assured of comfort in a relaxed and peaceful environment. The River Lodge offers a comprehensive A la Carte Restaurant, fully licensed bar, sparkling pool and exceptional scenic views.
About the Trip Leader
Craig Dietrich is an award-winning underwater photographer based in Jupiter, Florida. From an early age Craig felt the need to express himself artistically and the first time he picked up a camera, he knew he had found the perfect outlet for his creativity and sparked what would become a life-altering passion for photography. Craig served our country as a Naval photographer during both Operations Desert Shield and Desert Storm, when he was given the opportunity to travel the world and his thirst for adventure was born.
After the Navy, Craig learned to scuba dive. Upon breaking the surface the first time, he knew this was a world he wanted to be a part of and a second passion was ignited. Longing to share that world with others, he put together his two greatest loves and ventured into the world underwater photography.
Craig's underwater photography has been featured in multiple dive publications, won multiple awards and has been sold in upscale galleries from Carmel, California to Fort Lauderdale, Florida. He now makes his living teaching underwater photography and selling his photography at art shows throughout the southeastern United States.
To learn more about Craig's work, visit www.dietrichunderwater.com.
Travel Information
International flights: Guests should fly into and out of King Shaka International Airport (code: DUR). Departure flight on July 3 must be after 4pm.
Airport transfers on arrival and departure: Transfers are included in the price.
SUPPORT THE UNDERWATER PHOTOGRAPHY GUIDE:
The Best Service & Prices on u/w Photo Gear
Visit Bluewater Photo & Video for all your underwater photography and video gear. Click, or call the team at (310) 633-5052 for expert advice!
---
The Best Pricing, Service & Expert Advice to Book your Dive Trips
Bluewater Travel is your full-service scuba travel agency. Let our expert advisers plan and book your next dive vacation. Run by divers, for divers.
---