2022 ROATAN UNDERWATER PHOTO WORKSHOP
Join us on an epic 7-night adventure to Roatan, with the best possible itinerary and at the best time of the year!

2022 Roatan Underwater Photo Workshop
Come join this amazing 7-night trip and explore Roatan, known as the last undiscovered dive destination in the Caribbean. Roatan boasts a wide variety of Caribbean reef life along with exquisite corals, various species of reef sharks, and the occasional whale shark. We shall explore Roatan aboard the Roatan Aggressor.
May 28 - June 4, 2022
7 Nights for:
Deluxe Cabin:
$3,095

Now $2,495 per person
Trip Leader: Craig Dietrich
Why Join this Trip? - Why Travel with Bluewater?
Trip Overview - Package Details - Itinerary - Accommodations
Trip Leader - How to Get There - Booking & Payment - Underwater Photos
Why Join This Trip?
✓

FREE daily photo workshops
✓

Excellent chances for encountering various species of reef sharks and dolphins
✓

Diverse dive sites including wrecks, caves, walls and more!
✓

Great amenities and spacious cabins on modern luxury liveaboard, the Roatan Aggressor
✓

Trips timed for best water temps and visibility
Why Travel with Bluewater?
✓ We book resorts/ liveaboards that offer the best overall value
✓ Leaders who care about their guests' experiences
✓ Great support if flight/weather issues occur
✓"Bluewater helped me out when I needed it most, the airline wouldn't let me board because of a Visa issue. They saved my butt" - Ray Tsusuki
↑
Back to Menu
Check out this amazing video about diving in Roatan!
Trip Overview
Diving in Roatan is sure to be an unforgettable experience. The Caribbean reef life boasts something to be discovered in every corner, from as many as 15 species of reef sharks to interesting macro such as lettuce slugs and arrow crabs. This 7-night cruise will be aboard the dependable Roatan Aggressor which operates out of the French Harbor in Roatan.
Guests aboard the Roatan Aggressor will experience the best diving in the Bay Islands of Honduras which is both easy and exciting. Accommodations aboard the Roatan Aggressor include 9 deluxe staterooms, 7 with a double and single berth, one with 2 twin beds and 1 with a queen bed. All staterooms have climate controls, private bathrooms, and showers. The Roatan Aggressor sleeps a total of 18 guests in privacy and comfort. The vessel's various amenities include an air-conditioned salon and dining area, a sun deck complete with a hot tub and lounge chairs, and a shaded wet bar and grill.
The Roatan Aggressor's dive facilities do not disappoint. The vessel has a complete photo center with a camera table equipped with low-pressure air hoses, individual dive lockers, and a full line of Aqualung rental gear available onboard. Guests can avail of unlimited Nitrox for the week or for 10 nights for the 10-night trips.
Read the great reviews of the Roatan Aggressor and the reviews on diving in Roatan.
Marine Life to Photograph
Roatan, Utila, and Gunaja boast a wide variety of Caribbean reef life along healthy reefs covered in encrusting, elkhorn, and pillar corals, impressive sea fans, sponges, and unique patches of black coral. Expect to spot trumpetfish, groupers, parrotfish, and triggerfish going about their business while grunts, tang, and wrasse add splashes of color in the foreground. Small schools of chromis mingle just above the coral heads, and spotted drum, octopus, and moray eels loiter in crevices and overhangs. Divers can also expect to see squid, porcupine fish, pufferfish, eagles rays, and turtles on a good number of dives. Rarer spots include barracuda and nurse sharks.
There is also some interesting macro to be found, in particular around Guanaja. Lettuce slugs, arrow crabs, lobsters, flamingo tongue cowries, numerous crustaceans, and the occasional seahorse are waiting to be discovered.
Whale sharks are occasionally seen in Utila, and if one is spotted word quickly spreads through the Utila resorts. These huge filter feeders gather along the banks to the north of the island, and are most often spotted between March and May, and again between August and October.
Diving Conditions
Water Temperatures: Warm throughout the year, around 81-88°F (27-31°C).
Diving Difficulty: Suitable for all levels.
Visibility: Averages at 66ft (20m).
Depth Range: 33 - 131 ft (10 - 40m).
Package Details
✓ Accommodations aboard the yacht
✓ Daily photo workshops
✓ All meals and snacks, non-alcoholic beverages, local beer, and wine
✓ Up to 5 dives per day
✓ Tanks, weights, and weight belts
Exclusions
✗ Mandatory: Each guests must pay a $145 port fee (7 nights) including tax & park fee
✗ Airport transfers - $30 round trip
✗ Airfare
✗ Dive insurance and travel insurance
✗ Equipment rentals
✗ Nitrox
✗ Dinner on the final evening
✗ Crew gratuity
About the Roatan Aggressor

The Roatan Aggressor is a part of the prestigious Aggressor Fleet, known as a leading global dive and adventure operator in today's competitive travel industry. With a fleet of 23 liveaboard yachts accessing the best liveaboard diving in over 19 countries, their luxury brand and service-focused approach make them popular with discerning divers the world over. The Roatan Aggressor operates from the dock located at Romeos Restaurant on Roatan in French Harbor.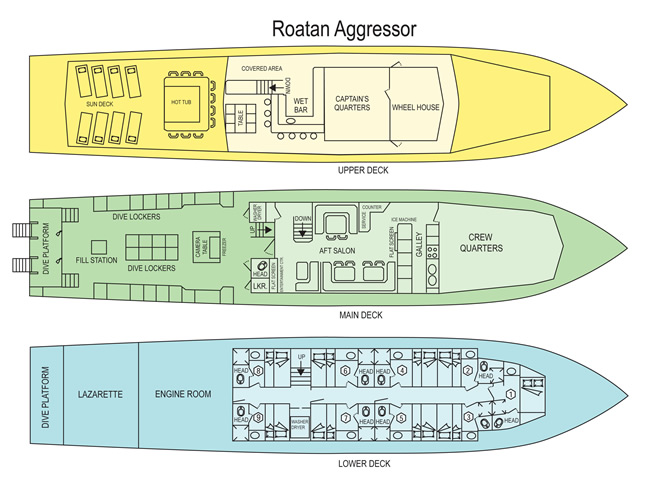 About the Trip Leader
Craig Dietrich is an award-winning underwater photographer based in Jupiter, Florida. From an early age Craig felt the need to express himself artistically and the first time he picked up a camera, he knew he had found the perfect outlet for his creativity and sparked what would become a life-altering passion for photography. Craig served our country as a Naval photographer during both Operations Desert Shield and Desert Storm when he was given the opportunity to travel the world and his thirst for adventure was born.
After the Navy, Craig learned to scuba dive. Upon breaking the surface the first time, he knew this was a world he wanted to be a part of and a second passion was ignited. Longing to share that world with others, he put together his two greatest loves and ventured into the world of underwater photography.
Craig's underwater photography has been featured in multiple dive publications, won multiple awards, and has been sold in upscale galleries from Carmel, California to Fort Lauderdale, Florida. He now makes his living teaching underwater photography and selling his photography at art shows throughout the southeastern United States.
To learn more about Craig's work, visit www.dietrichunderwater.com.
Flight Information
Guests going to Roatan can fly directly from the US to Juan Manuel Gálvez Roatán International Airport (RTB) from various cities including Houston, Miami, New York, and Atlanta. The Roatan Aggressor operates out of the French Harbor.
Payment & Booking
Payment Schedule
Deposit: $1,200
Final Payment - February 1, 2022
Got Questions? Ready to Book?
Call Bluewater Travel at +1-310-915-6677 or email info@bluewaterdivetravel.com(link sends e-mail) and let them book your dream vacation at the best price!
Underwater Images
Photos courtesy of the Roatan Aggressor
SUPPORT THE UNDERWATER PHOTOGRAPHY GUIDE:
The Best Service & Prices on u/w Photo Gear
Visit Bluewater Photo & Video for all your underwater photography and video gear. Click, or call the team at (310) 633-5052 for expert advice!
---
The Best Pricing, Service & Expert Advice to Book your Dive Trips
Bluewater Travel is your full-service scuba travel agency. Let our expert advisers plan and book your next dive vacation. Run by divers, for divers.
---