Raja Ampat on the Damai 2019
Raja Ampat Underwater Photo Workshop on Nov 24 - Dec 4, 2019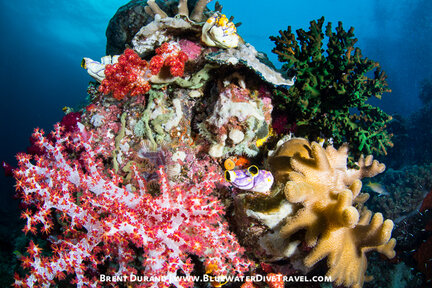 2019 Raja Ampat Underwater Photo Workshop
Join us Nov 24 - Dec 4, 2019 for some of the most amazing diving in the world on one of Indonesia's most luxurious liveaboards with a maximum of only 12 divers!
November 24 - December 4, 2019
Led by Erik Lukas
10 Nights for:
Double Cabin -

$6,120 pp
Master Cabin -

$6,750 pp
Single Cabin -

$7,870 pp
*Prices are all-inclusive of harbor fees, dive gear, massages, and laundry. Guests will still pay the park fee separately onboard. Read the package details here
Why Join This Trip? - Why Travel with Bluewater?
Trip Overview - Package Details - Itinerary - Accommodations - Trip Leader
How to Get There - Booking & Payment - Underwater Photos
Why Join This Trip?
✓ 25% off rental photo gear from Bluewater Photo
✓ One of the best diving in the world: highest number of fish and coral species in the world, great macro, amazing reefs and much more
✓ FREE daily photo workshops
✓ Great itinerary with unlimited diving covering Raja Ampat's best dive sites
✓ One of Indonesia's most luxurious liveaboards: the Damai I
✓ All-inclusive price: taxes, port fees, full rental gear, laundry, massages, Nitrox, beer and 1 glass of wine at dinner included (park fee excluded)
Why Travel with Bluewater?
✓ We book resorts/ liveaboards that offer the best overall value
✓ Leaders who care about their guests' experiences
✓ Great support if flight/weather issues occur
✓ "Bluewater helped me out when I needed it most, the airline wouldn't let me board because of a Visa issue. They saved my butt" - Ray Tsusuki
Trip Overview
The jewel-like islands of Raja Ampat are caressed by a convergence of swift nutrient-rich currents. Here the pulse of marine life thrives from the sea floor to the surface where the kaleidoscope of corals can start in less than a meter of water. There are sites that are so pristine and packed with growth, that a photographer is hard-pressed to find a spot to place a steadying finger. Exotic sea life and macro critters abound of course, and photo opportunities border on overwhelming. But at the end of the day, the most memorable moments for us are what can rarely be captured in digital format: the incredible experience of drifting along miles of exquisite reef brimming with hues and activity, the likes of which few have ever experienced.
Damai I has been specifically designed for cruising and diving in the tropical waters of Indonesia, with passenger well-being always the top priority. Equipped with the latest navigation, communication and safety equipment, the DIVE DAMAI fleet sets a new standard for safety as well as comfort, service and passenger amenities. Of course, even the best ship is only as good as her crew, and this is another area where DIVE DAMAI shines. Every trip is managed by a highly qualified and experienced western cruise director, complimented by an ever-helpful Indonesian crew, all of whom are dedicated to making your diving holiday the trip of a lifetime.
Marine Life to Photograph
Raja Ampat has one of the highest numbers of fish species of anywhere on the planet. Here are just a few examples of marine life you're likely to see: wobbegong sharks, jacks, barracuda, Napoleon wrasse, trevally, bumphead parrotfish, pygmy seahorses, batfish, angelfish, butterflyfish, barramundi cod, and a good variety of nudibranchs.
If you look a little deeper when the current picks up, you can see reef sharks at most sites, especially at places like Blue Magic and Sardines. These are also prime locations for schooling fish, which tend to gather when the current is running. At such times, it's not unusual to be surrounded by clouds of fusiliers and surgeonfish in mid-water, while legions of sweetlips completely obscure large coral heads below.
December Conditions
Average Raja water temperatures in Nov/Dec are in the low to mid-80s. A full 3mm wetsuit is recommended.
Read the reviews on diving Raja Ampat here.
Package Details
Inclusions
✓ All meals, snacks, soft drinks, beer, and one glass of wine at dinner. Additional wine and spirits extra.
✓ Unlimited diving, including night dives. Maximum diver to guide ratio of 4:1
✓ Full rental gear: BCD, regulator, 3mm or 5mm wetsuit, mask, fins, and computer
✓ Tanks, weights, weight belts, pony bottles (spare air) and dive torches
✓ Nitrox
✓ Laundry service
✓ Massages
✓ Land tours and group activities organized by Dive Damai during the cruise
✓ Government taxes
✓ All vessel port and harbor fees
✓ Transfers to and from Sorong airport or a local hotel on the day of embarkation and disembarkation
Exclusions
✗ Dive insurance (compulsory) - we recommend DAN!
✗ Airfare to and from Sorong. We can work with the Damai concierge team to assist in arranging your travel within Indonesia.
✗ Park fee (IDR 1,000,000) to be paid separately onboard, subject to change.
✗ Gratuity
Daily Photo Workshops
Workshops will be given daily on topics such as wide-angle underwater photography, ambient light shots, snorkeling with large animals, strobe exposure and positions, avoiding backscatter and composition.
Trip Schedule
The itinerary can be variable and will be planned according to the direction of the trip leader and cruise director on board. They will have a good idea at that time of the conditions at the various locations. This is a suggested itinerary and is subject to change.
Day 1: Arrive to Sorong
Guests will arrive in Sorong and have time to get comfortable on the boat. Damai will travel North to Manta Wai for a check out dive if the boat is able to depart in time.
EMBARKATION TIME: it is totally up to the guests, DAMAI does not have a particular time to embark and rather give guests the flexibility to opt for their most referred flights combinations.
Day 2 and 3: Kri & Dampier Straits
At the eastern end of the famous Dampier Strait there are many signature dive sites. Cape Kri is a sloping reef on the eastern end on the island of Kri; Blue Magic and Sardine reef are seamounts covered in schooling fish and cruising sharks and rays; Mioskon is a great spot for the endemic Wobbegong shark and Pontohi pygmy seahorses.
There is the potential alternative to go for an early morning walk in search of the magnificent bird of paradise.
Day 4: Manta Sandy & Arborek
Manta Sandy is a signature site for experiencing the grace of Reef Mantas. They are frequent visitors to the cleaning stations dotted along this sandy channel. Feel free to explore the sand for small critters while you are waiting for an appearance.
Arborek Jetty is part of a sloping reef in front of the island. There are schools of fish, excellent wide angle photo opportunities under the jetty itself and good critter hunting to be done along the slopes.
In the late afternoon take a stroll around the village on the island and maybe join in one of their soccer matches or buy a locally made sunhat.
Day 5: Penemu
The signature sites in Penemu are Barracuda Point; a seamount on the north point; Melissa's Garden; a beautiful example of a hard coral plateau and Keruo Channel; drift along this colourful slope watching the seascape go by.
The highlight of Penemu is a lagoon tour in the tender boats amongst these turquoise waters and limestone bays. For the energetic there is a short walk to the top of one the hills to be rewarded with an amazing view over the lagoon with Damai moored in the distance. Activities can also include kayaking in the lagoon.
Day 6: Wayilbatan
The Four Kings is a series of colourful underwater pinnacles which make an amazing dive with plenty of cool fish action. Moving later to a more sheltered spot we are in the vicinity of some great dive spots: drift along the channel at Neptune Fan Sea; explore wall at Wedding Cake or enjoy the fish action on the ridge at Barracuda Rock.
Day 7 and 8: Boo & Fiabacet
This amazing string of small islands has a colourful array of great dives sites. The signature sites in the area include Boo Windows, Nudi Rock, Tank Rock and Whale Rock. The whole place is a delight for the eyes.
Day 9: Farondi
Time for fun snorkelling in the cave and visiting the unique jellyfish lake, where thousands of stingless jellies gather. Afternoon dives in 3 sisters and /or Goa Farondi for the very last taste oh the kaleidoscopics reef of Misool
Day 10: Batanta
The last day will be entirely dedicated to "much diving". Seahorses, Octopuses, nudibranchs and rhinopias are some of the usual suspects we can find here.
Day 11: Departure
Guests will be escorted to the airport in Sorong and assisted with check in procedures, no doubt full of talk about the wonders of the most popular dive destination in the world.
DISEMBARKATION TIME is again depending on the guests. We will escort them to the airport 2 hours prior to departure. If they are staying on lnad, the transfers to the hotels are between 10am-12pm.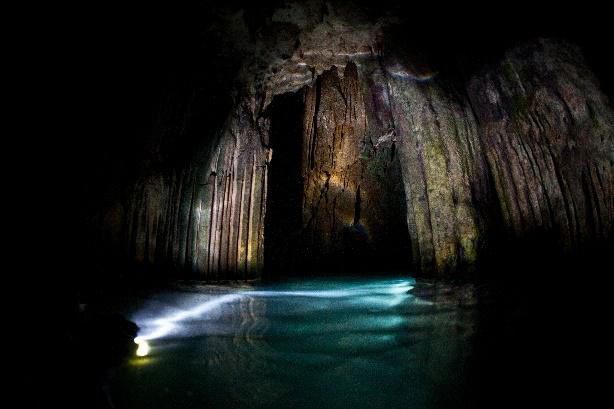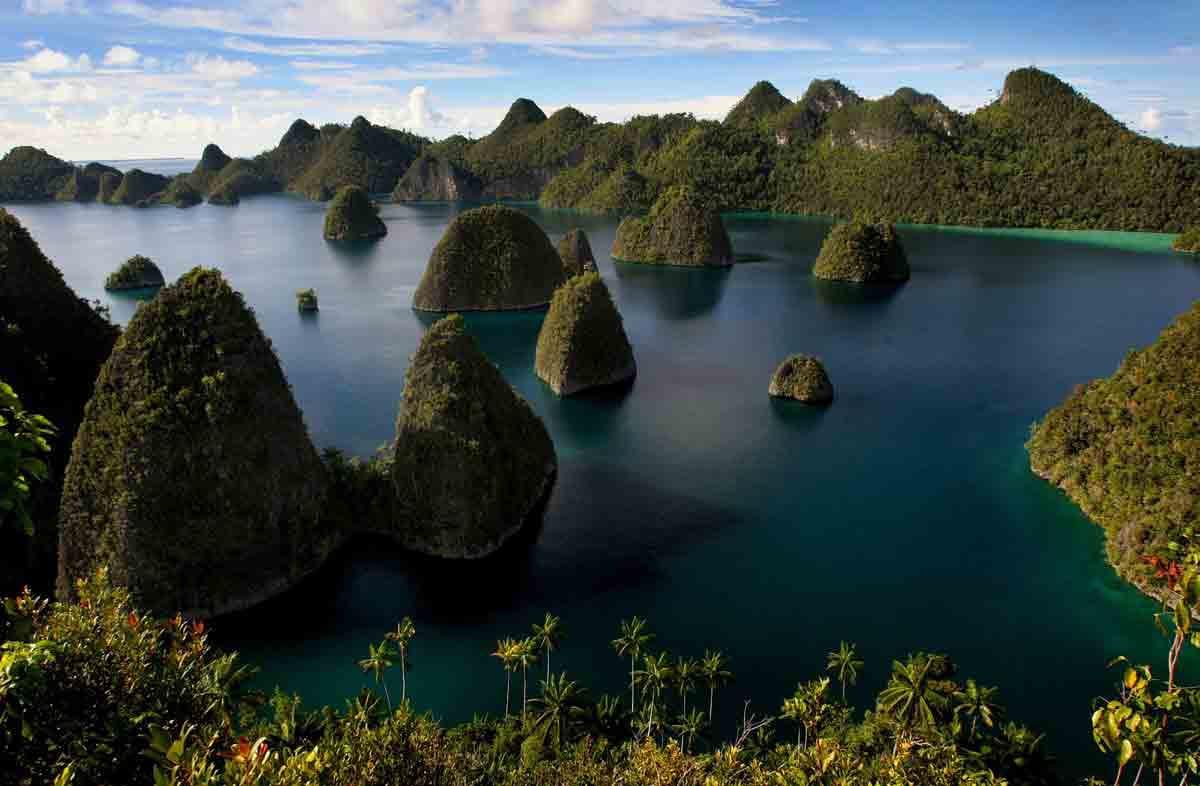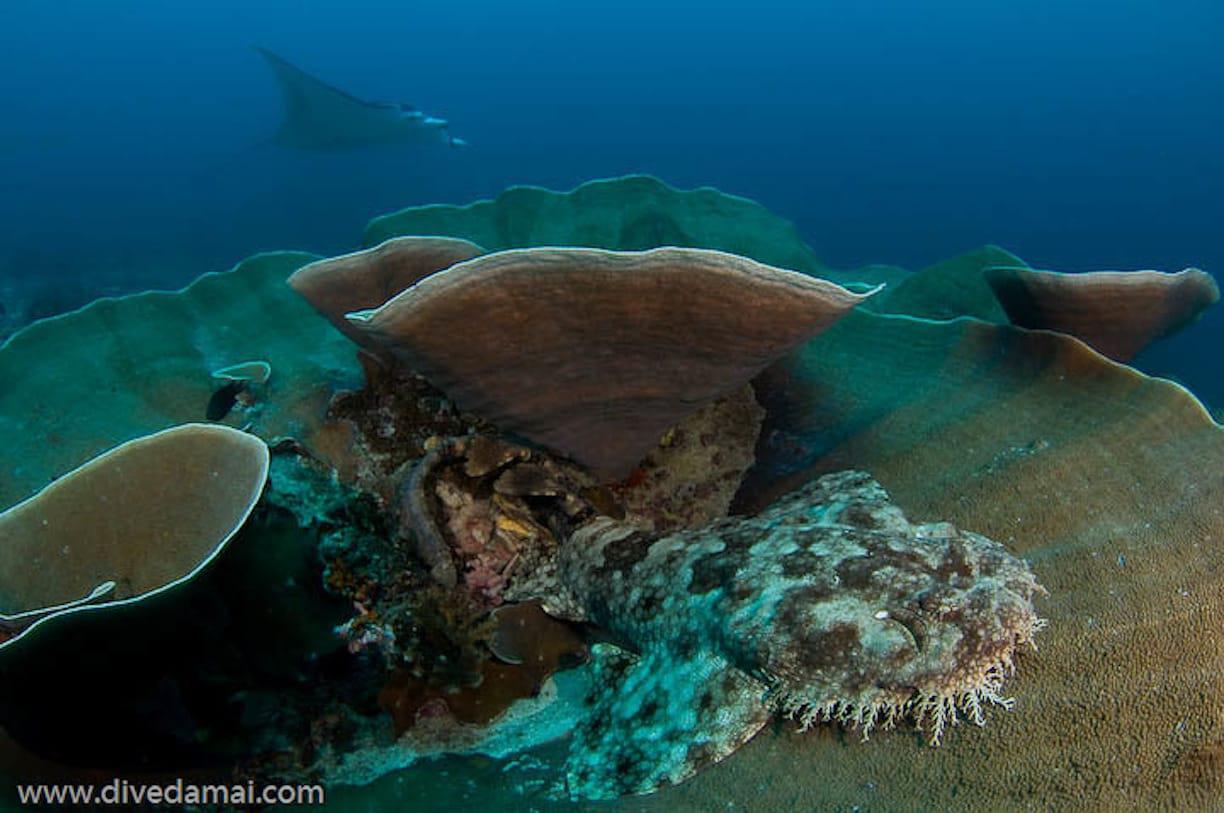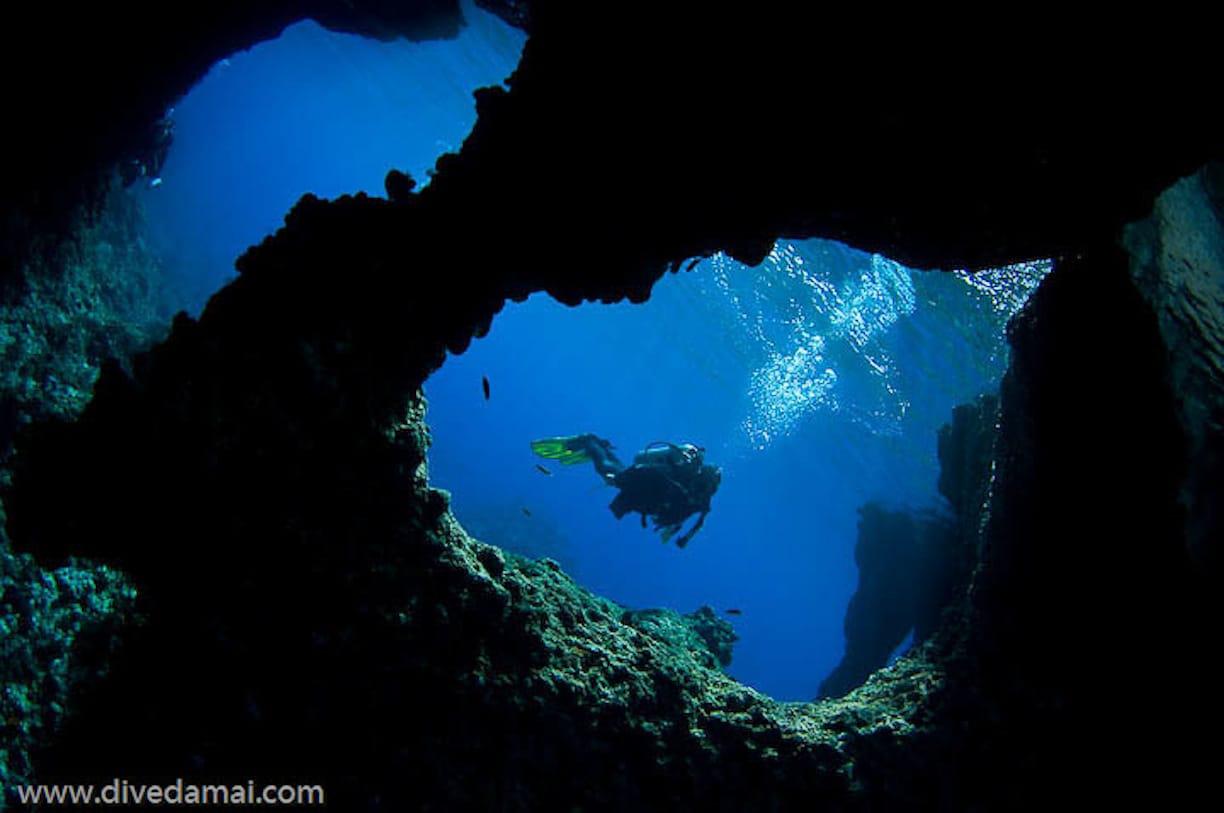 About Damai I Vessel
The vessel has been designed with three large deck areas for relaxing in both the sun or shade and for enjoying relaxing massage and spa treatments. Specifically designed for divers, the vessel offers large dive stations with individual rinse tanks and a camera room with separate camera workstations with integrated 110v and 220v charging station for each photographer.
Read the reviews of the Damai here.
Flight Information
The trip will begin and end in Sorong. We offer guests the flexibility to select their best flight connection and we will wait for everyone to be on board before departing. In a similar way, all guests will be able to stay on board until 2 hours prior their flights.
About the Trip Leader
Erik Lukas is an active diver and photographer based in Los Angeles, CA. He is a volunteer scuba diver at the Aquarium of the Pacific in Long Beach, CA. You can expect to find Erik diving many of the amazing Pacific Ocean sites of Southern California, camera in hand, at any chance he can get.
See more of Erik's photography at www.seeundersea.com or on Instagram @seeundersea.
"I am passionate about underwater photography in general and have a special love for macro subjects. For me the things that are hardest to spot hold the most interest. Documenting the commensal and symbiotic relationships is for me the most interesting…the smaller and more bizarre the better. I also have a passion for sharing my knowledge with others. My goal with all of my workshops is to ensure each guest leaves with a group of images that they are proud to share."
Payment & Booking
Payment Schedule
> Deposit: 15%
> Payment 2: 15%, Due 11/1/18
> Payment 3: 30%, Due 3/1/19
> Payment 4: Balance, Due 6/1/19
Got Questions? Ready to Book?
Call Bluewater Travel at 310-915-6677 or email info@bluewaterdivetravel.com and let them book your dream vacation at the best price!
Underwater Images
Raja Ampat Underwater Photos from Previous Trip
SUPPORT THE UNDERWATER PHOTOGRAPHY GUIDE:
The Best Service & Prices on u/w Photo Gear
Visit Bluewater Photo & Video for all your underwater photography and video gear. Click, or call the team at (310) 633-5052 for expert advice!
---
The Best Pricing, Service & Expert Advice to Book your Dive Trips
Bluewater Travel is your full-service scuba travel agency. Let our expert advisers plan and book your next dive vacation. Run by divers, for divers.
---