Nauticam Canon 5D Mark IV Housing Available
Nauticam releases underwater housing for the much awaited Canon 5D Mark IV
Nauticam has announced their much-anticipated housing for the Canon 5D Mark IV DSLR. This is the first housing available for the new camera and sure to be popular with underwater photo and video shooters.
The Canon 5D Mk IV is the successor to the ever popular 5D Mark III, delivering excellent full-frame image quality. The 5D Mk IV incorporates Canon's dual-pixel autofocus technology for lightning-fast AF in the viewfinder. The dual-pixel AF also creates the fastest live view AF that we've seen in a DSLR, which means underwater video shooters can actually rely on it while shooting video (instead of shooting manual focus). Additionally, we see 4K resolution, faster processing, more AF points and a touch LCD screen in the new 5D Mk IV.
Read our complete Canon 5D Mk IV Camera Review.
The Nauticam NA-5DMKIV housing has been resized from their 5D S housing due to the body dimension changes in the new camera body. The housing boasts Nauticam's patented ergonomics, expansive port system and convenient flash trigger system, allowing you to shoot with fiber optic cables (even though the 5D Mk IV has no pop-up flash). Below is the press release.
Bluewater Photo will be reviewing this housing in coming weeks - stay tuned for updates on this page.
Purchase: Nauticam Canon 5D Mark IV Housing
U.S. Retail Price: $3,800
Availability: Now
---
Purchase the Nauticam Canon 5D Mark IV Housing
---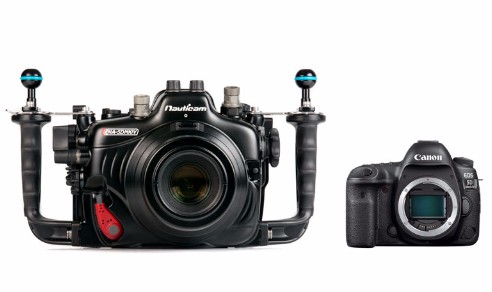 PRESS RELEASE
Introducing NA-5DMKIV
Nauticam NA-5DMKIV for Canon EOS 5D Mark IV
Model Number 17325
Available Worldwide
Nauticam is proud to announce a new underwater housing crafted specifically for the latest Canon full frame digital SLR camera, EOS-5D Mk IV.
The 5D series has an impressive record of feature set advancements. The 2005, Canon 5D was the first full frame DSLR camera available with a "standard" body size. In 2008, 5D Mark II became the first full frame DSLR capable of HD video. The new 5D Mark IV offers the highest dynamic range sensor ever released by Canon, and 4K video recording. These performance improvements are major upgrades from previous models, benefitting both still photo and motion capture!
The Canon EOS 5D Mark IV
5D Mark IV is the embodiment of a hybrid camera system, providing compelling feature sets for still photo and video capture underwater. Never before has there been a camera that excels so well at both disciplines.
Still photographers will love the 61 point autofocus system shared with 1DX Mark II for its fast acquisition and reliable tracking of moving subjects. The new 30 megapixel sensor with on chip analog to digital conversion offers plenty of resolution with high dynamic range capture ideal for pulling shadow and mid-tone detail out of strongly backlit images.
The 5D Mark IV motion capture feature set might provide even more motivation to upgrade! Previous 5D versions were acclaimed for their faithful color representation in a wide range of underwater shooting scenarios. 5D Mark IV still has that unmatched "Canon Color", and is now Capable of recording 4K at 30 fps with usable autofocus thanks to the Canon Dual Pixel AF system.
Canon 5D Mark IV Key Specification:
New 30.4MP CMOS full-frame sensor with Dual Pixel AF
DCI 4K 30/24p video using Motion JPEG + 4K Frame Grab
61-point AF system with 41 cross-type sensors (center point sensitive to -3 EV)
Dual Pixel AF (sensitive to -4EV) for continuous Servo AF in stills (first for a full-frame Canon camera) and video
ISO 100-32000 (expandable to 102400)
7 fps continuous shooting
Dual Pixel Raw (image microadjustment, bokeh shift, ghosting reduction)
150,000-pixel RGB+IR metering sensor
1.62M-dot 3.2" full-time touchscreen
Wi-Fi w/ NFC + GPS
Built-in bulb timer interval timers
Improved weather-sealing
The Nauticam NA-5DMKIV Underwater Housing
While extremely similar to the 5D Mark III and 5DS cameras that came before it, small dimensional changes in the Mark IV body forced a new housing design. The core control layout, proven by generations of existing housings in the field, is retained here. This design consistency results in immediate familiarity with the control layout for people that have used Nauticam housings before, and a thoroughly refined and field tested design for newcomers to the brand.
The new Nauticam NA-5DMIV housing incorporates technology from the Nauticam housings that came before it, but features enhanced ergonomics, more and better control access, and reduced size / weight thanks to cutting edge manufacturing processes.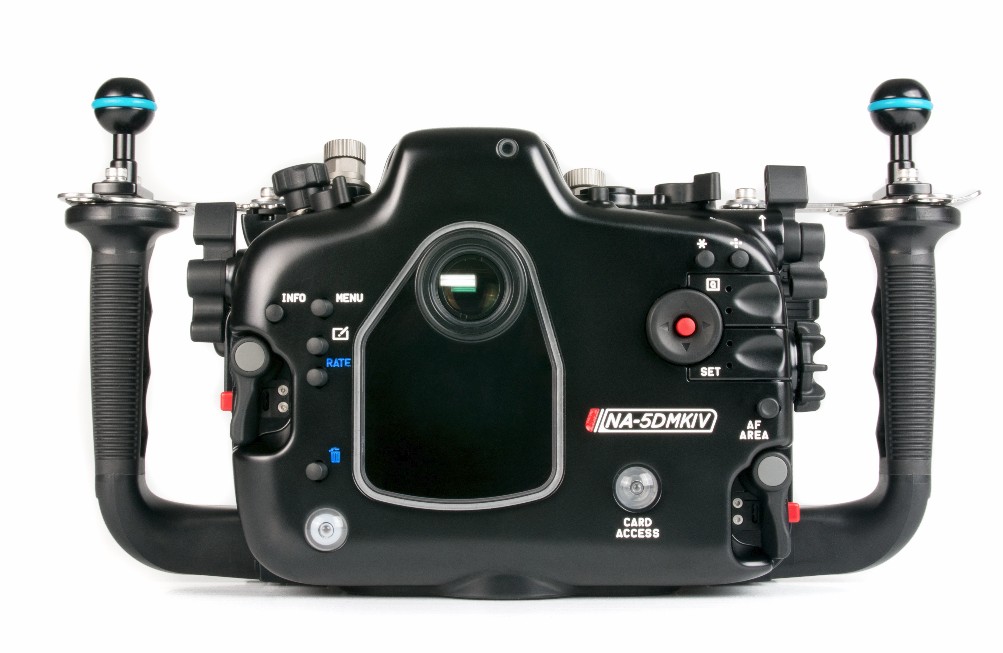 Key Features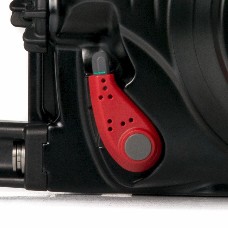 Patented Port Locking System
Unveiled on the very first Nauticam DSLR housing in 2009, this locking lever has become a signature of the Nauticam brand. No twisting or threading action is required to mount a port,and it locks securely in place with this lever. Nauticam also offers locking extension rings, meaning a dome will never twist, even when used with a long extension ring.

Housing Locking Latches
The industry's easiest to use housing closure system, requiring very little hand strength to close, secures the housing back in place. The latches are safely locked, but easy to open for a quick battery or memory card change.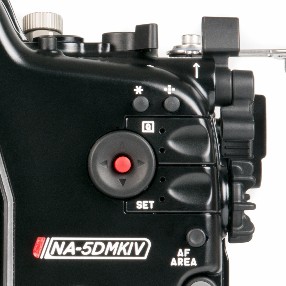 Multi Controller Pad & Piano Keys
Located within easy reach of the right thumb, ergonomically operates the 5D Mark IV Multi-controller joystick. Full directional control is available for fast focus point or menu selection. A new focus area button allows easy access to the focus area pattern.
Piano keys bring the Quick Control and SET functions out to the housing handle for quick changes.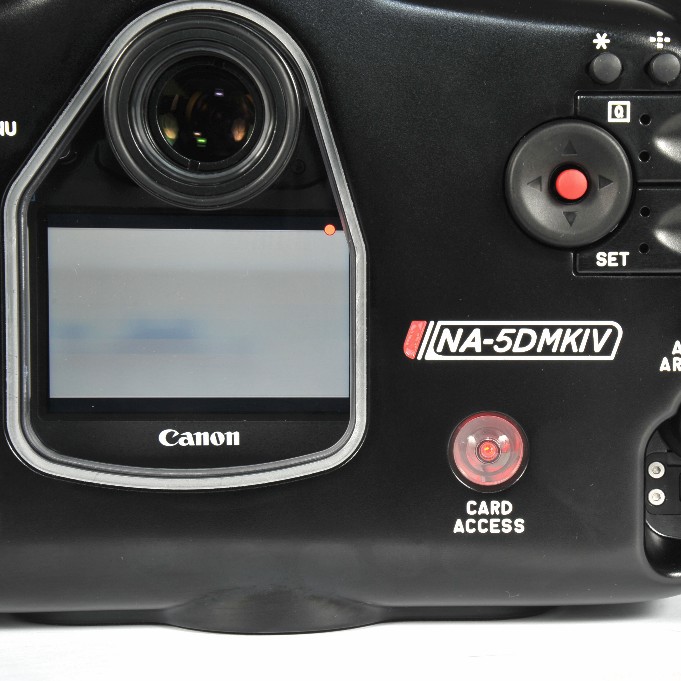 Card Access LED Window
A new window provides visibility of the camera card access LED. This can be used to indicate whether or not recording in video mode, with much better visibility than the record indicator placed in the top right corner of the lcd display.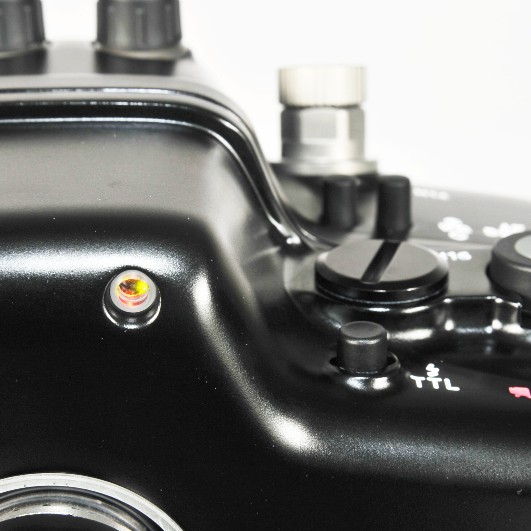 TTL Flash Trigger Integration
A pushbutton activates the optional Nauticam TTL Flash Trigger (26321), and an LED window provides important status information.
The TTL trigger enables automatic flash with compatible optically triggered strobes, including rear curtain sync.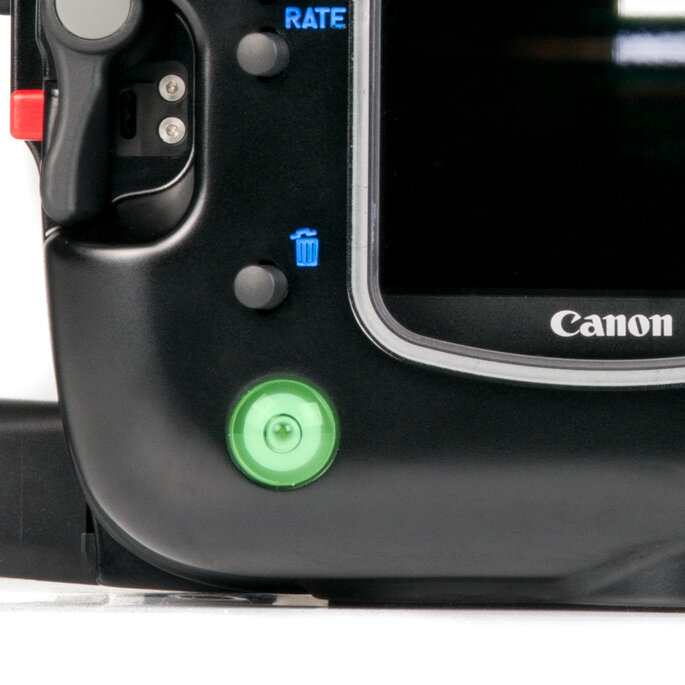 Integrated Vacuum Monitoring and Leak Detection
Circuitry included as standard equipment provides constant monitoring of water tight integrity when combined with an optional Nauticam M16 Vacuum Valve II (PN 25625).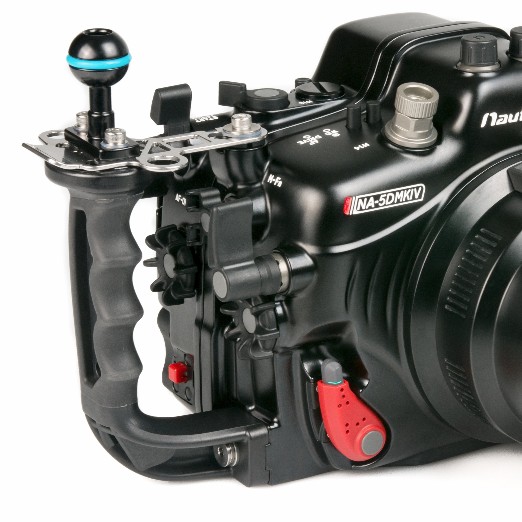 Mission Control
The right hand grip features a cluster of key camera controls, all placed ergonomically for fingertip access.
Shutter Release, AF-On, Video Record, Main Dial, Quick Control Dial, M. Fn., Flash Exposure Compensation, and ISO are all conveniently located on the right hand side of the housing, and easily accessed from the handle.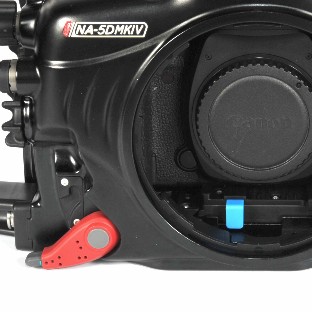 Vacuum Reset Button in Port Mount
A simple vacuum reset pushbutton placed in the port mount allows the vacuum system to be calibrated and initialized from the housing front. Ideal for quick lens swaps!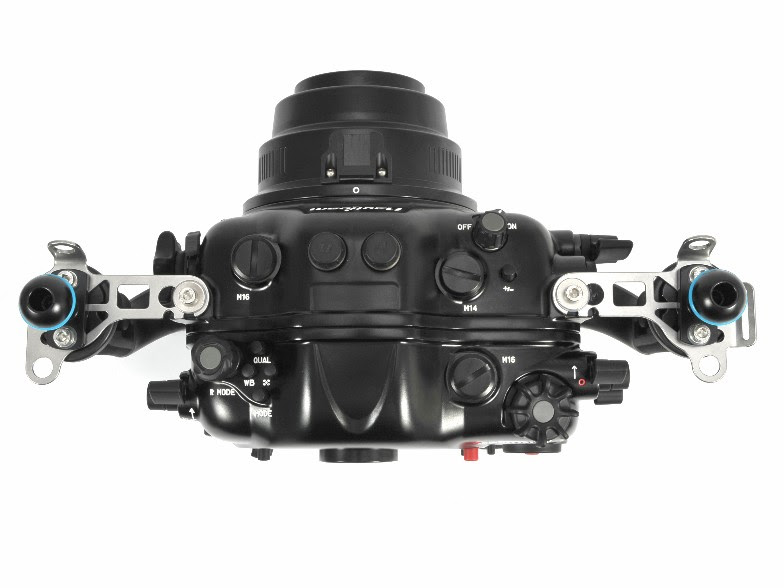 Stainless Steel Handle Brackets
Stiffening handle brackets are included with the housing. These brackets eliminate any flex or wobble when using big strobes, and provide multiple attachment points for lanyards, a hand strap, and other accessories.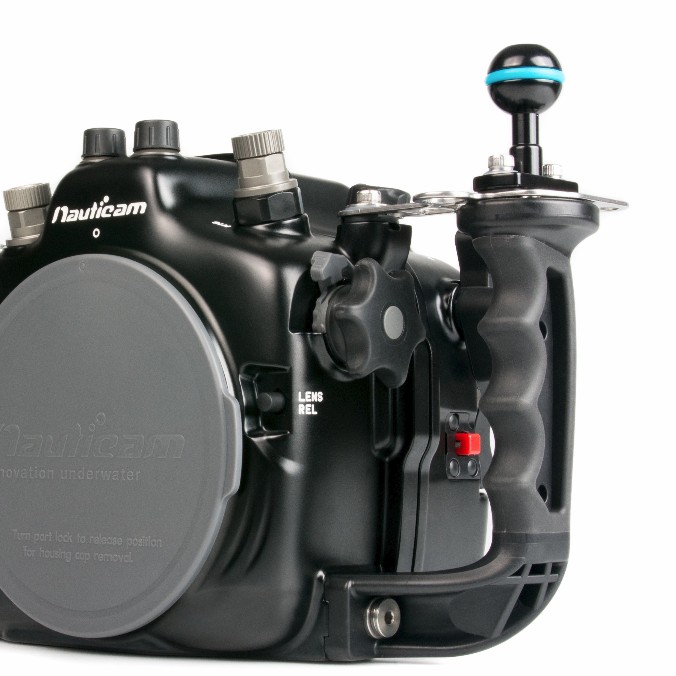 Ergonomic Rubberized Grips
Another legendary Nauticam feature, these rubberized grips have been used every Nauticam DSLR housing release, and are some of the most comfortable in the business.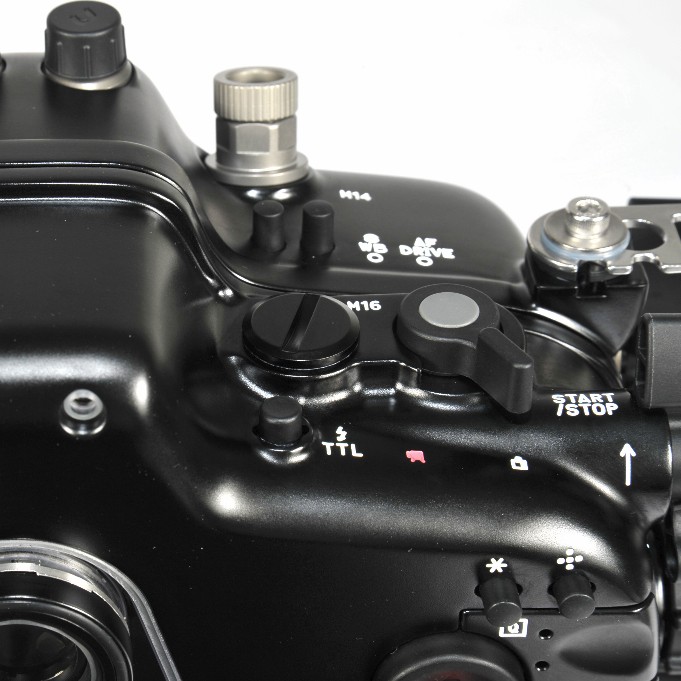 Clear Control Labeling
All camera controls are clearly labeled, allowing easy identification.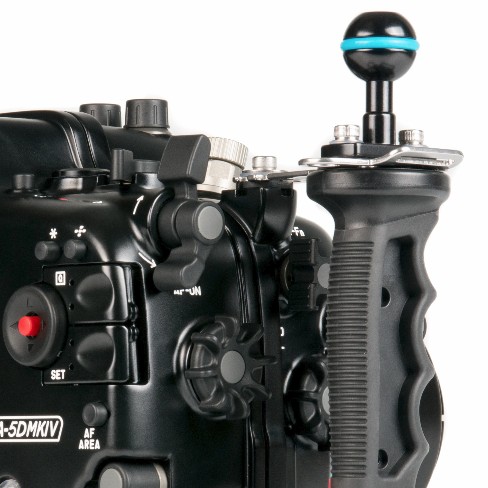 Double Thumb Lever
Oversized double thumb levers, easily reached from the housing grips, and operational while wearing cold water gloves are a nauticam signature.
These levers access AF-On, Video Rec/Live View, Info, and Playback.
Flash Firing
The NA-5DMKIV Housing comes standard with twin Nikonos flash connectors for electrical strobe triggering (pictured below).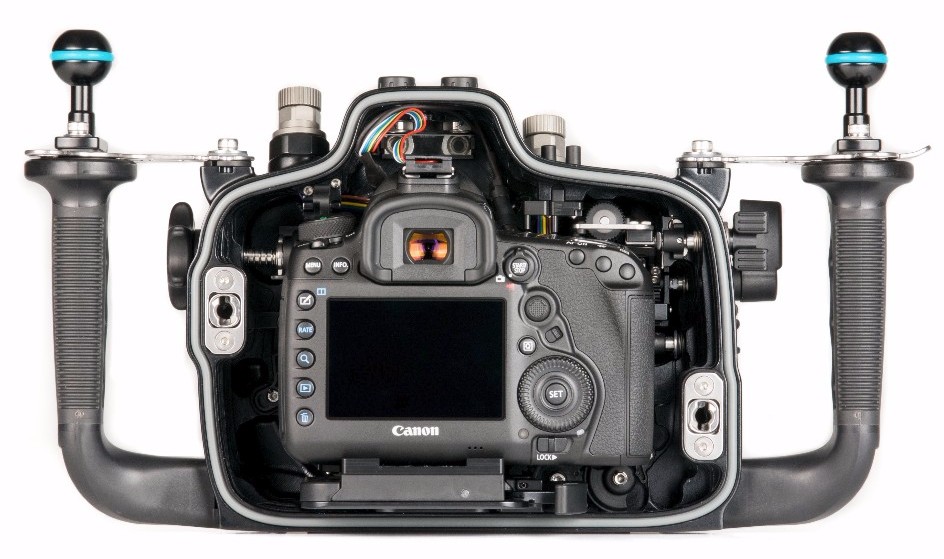 TTL Flash Trigger
An optional LED flash trigger is available for rapid fire optical triggering (manual power), and a new TTL Flash Trigger enables automatic flash exposure with compatible strobes.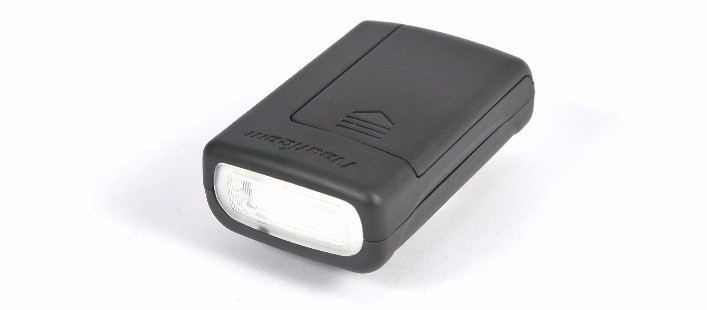 TTL Flash Trigger for Canon (Nau-26321)
The Nauticam TTL Flash Trigger is an ideal accessory for the still photographer. This hotshoe mounted optical flash trigger provides automatic TTL Flash when used with Inon S-TTL and Sea & Sea DS-TTL Strobes connected by fiber optic cables. The TTL trigger also offers manual triggering, including rear curtain sync, with any compatible slave strobe.
Accurate automatic TTL flash exposure has been a favorite feature of Nauticam photographers using cameras with pop up flashes, and the TTL Trigger unlocks this feature set in the NA-5DMKIV Housing. Powered by a single Canon NB-13L rechargeable battery, the TTL Trigger provides approximately 150 full power flashes.
New in NA-5DMKIV, a window allows the flash trigger status LED to be clearly viewed, and the housing features a power button. This LED provides important status info, and the power button allows the trigger to be activated underwater.
Housing Compatibility:
NA-1DXII, NA-1DX, NA-5DMKIV, NA-5DSR, NA-7DMKII, NA-6D, NA-5DMKIII, and NA-70D Nauticam Housings
Optical TTL Strobe Compatibility:
Inon Strobes: Inon S-2000, D-2000, and Z-240
Sea & Sea Strobes: YS-D1, YS-D2, and YS-01
Integrated Vacuum Check and Leak Detection System
The Nauticam vacuum check and leak detection system is shipped with NA-5DMIV as standard equipment. Combined with an accessory vacuum valve (PN 25625), this monitoring system provides constant updates on the water tight and safe-to-dive status of the housing. A simple color coded LED lighting system lets the user know that the vacuum is solid, or that the housing is losing vacuum. Leak detection is built into the same circuit, so if there is water intrusion, an audible and visual indication will occur.
The Nauticam system is temperature compensated, eliminating false alarms caused by a change in outside temperature, or from a camera heating up on an action packed dive.
Ease of Use
No system is easier to assemble or break down. The camera drops into the housing with a quick release camera tray. The camera tray has an extending bracket that allows the AF-M selector to be easily positioned to match the camera. No controls need to be preset, as housing functions for dials and switches align automatically (on/off, af-m, still photo/video). The large 120mm housing port opening allows even the largest popular pro Nikon wide angle lens (14-24 /2.8G) to be used, and the camera can even be mounted in the housing with this large lens attached.
Viewfinders
The standard optical glass viewfinder is very good and travel friendly, but many photographers prefer the ease of a magnified viewfinder with adjustable diopter. Nauticam produces a "straight" 180º enlarging viewfinder and a 45º angled enlarging viewfinder to enhance the ease of close quarters work often associated with macro shooting. Both viewfinders have high quality optics, and allow bright viewing of the entire image. A patented external dioptric adjustment allows personal adjustment to a sharp-as-a-tack standard underwater and viewfinder changes can be executed in less than 30 seconds without using tools. Exceptional composition and focus accuracy have never been more accessible.
Premium Professional Optics
Experienced shooters know a camera is only as good as the lens in front of it, and the same is true when choosing optics for an underwater camera system. Four optically coated glass dome ports (250mm, 230mm, 180mm, and 140mm diameters) and a series of acrylic ports support popular lenses from Nikon, Sigma, and Tokina. Port configurations are extensively tested at Nauticam to determine the ideal extension ring length for best performance.

For macro and super macro shooting, the Nauticam Super Macro Converter is a revolutionary accessory. This is an entirely in house design, optimized for use in water. The water contact correction offers the highest overall sharpness, free from chromatic aberration and purple fringing, with reproduction ratios exceeding 2:1 when used with a Nikon AF-S 105mm /2.8 VR Lens.
Recommended Accessories
Magnifying Viewfinders
180º Enhancing Viewfinder (32201)
45º Enhancing Viewfinder (32203)
Flash Triggering
TTL Flash Trigger for Canon (Nau-26321)
Flash Trigger for Canon (Nau-26301)
Other Accessories
Patent Pending Super Macro Converter (81201), providing 2.3:1 reproduction ratio with the popular EF 100mm f/2.8L IS USM Macro Lens
M16 Vacuum Valve (25625)
Complete line of flat and dome ports for all major lenses, available in acrylic and glass
Locking port extension rings from 10mm to 90mm
Monitor/Recorder Housing for Atomos Ninja2 (17902) or Shogun (17904)
Monitor Housing for SmallHD 502 Monitor (17906)
Fiber optic cables for Inon (26211) and Sea&Sea (26212)
Full line of mounting accessories for lighting, including mount balls, strobe adaptors, arms, clamps, and specialty items
Multiple styles of lanyards
Lens holders, including flip-up
Focus and Zoom gears for many Canon, Tokina, and Sigma lenses
Port Adaptors for Aquatica, Ikelite, Inon, Nexus M5 & M6, Sea & Sea NX, Seacam, Subal Version 3 & 4, and Zillion
Handle accessories including smaller handles, handle extensions for cold water diving
Spare Housing O-Ring (90121) I.D.=204mm, C.S.=4.0mm
Details and Specifications
Depth Rating: 100m
Weight: 2.91 kg

Dimensions: 358mm x 187mm x 135mm W x H x D
Model Number: 17325
USA Retail Price: $3,800
Availble Now at Bluewater Photo
---
Purchase the Nauticam Canon 5D Mark IV Housing
---
SUPPORT THE UNDERWATER PHOTOGRAPHY GUIDE:
The Best Service & Prices on u/w Photo Gear
Visit Bluewater Photo & Video for all your underwater photography and video gear. Click, or call the team at (310) 633-5052 for expert advice!
---
The Best Pricing, Service & Expert Advice to Book your Dive Trips
Bluewater Travel is your full-service scuba travel agency. Let our expert advisers plan and book your next dive vacation. Run by divers, for divers.
---