Moorea Whale Trips August/September 2019
Moorea, French Polynesia August/September 7-Night Trips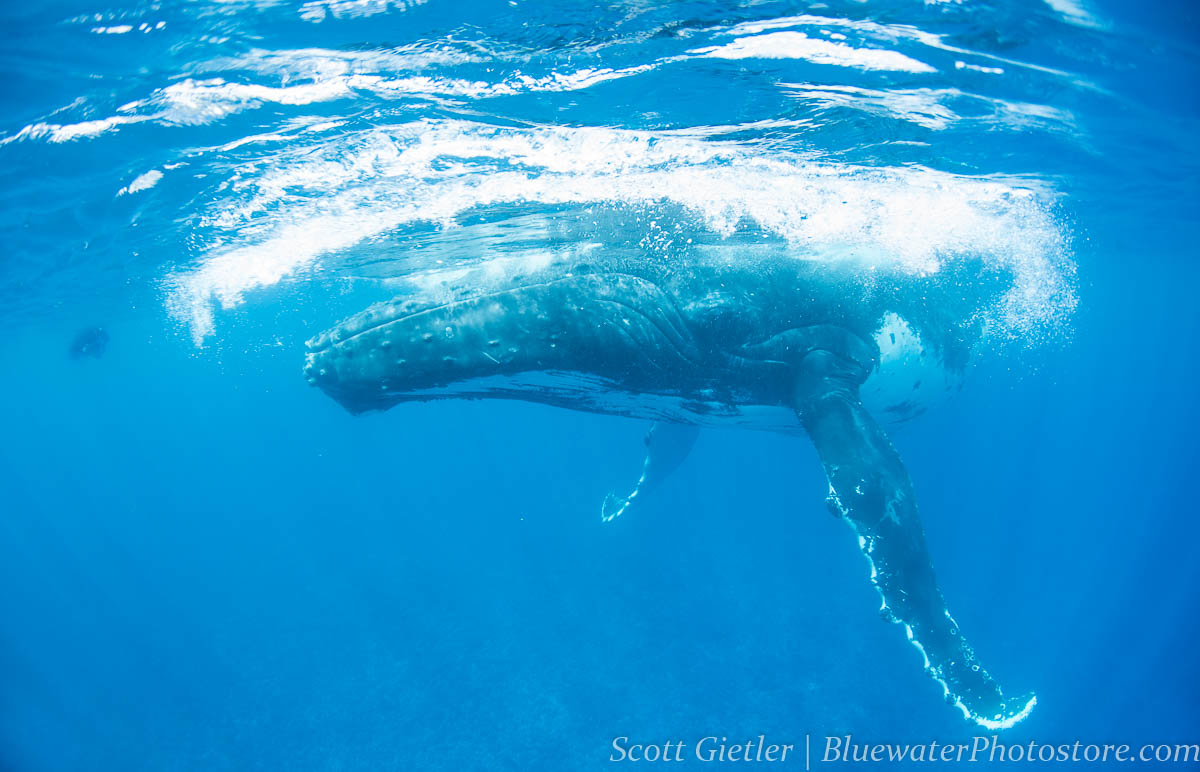 Moorea Whale Trips August/September 2019
This is why you must do this trip:
> Get picked up from a boat directly from your hotel restaurant
> Have a close encounter with a whale 10 minutes after leaving the dock
> Enjoy a location with warm, clear water and that takes 1/3 the time to get to than most other humpback whale destinations, and costs half the price
> The operator never cuts a whale encounter short
> You are in the water with a small group of people, 6 at most, compared to 20 people on the "day boats".
This is the amazing trip that Scott Gietler experienced, and has put together for you to enjoy - a trip of a lifetime. Scott had whale encounters every day he was on the water. Snorkel only, no dive certification required!
Read the exciting recap from our previous trip
Humpback whale season is from August 1st to November 1st. All trips are at the peak of the season.
All photos were taken by Scott Gietler during a 5-day trip to Moorea in 2016.
See more amazing pictures here
Aug 31 - Sept 7 / September 7 - 14
Led by Erik Lukas / Led by Mark Strickland
September 14 - 21 / September 21 - 28
Led by Tommy Stylski / Trip Leader: TBD
September 28 - October 5
Led by Tim Yeo
Only $2,995 for 7 nights
Why Book This Trip with Bluewater
✓ Our whale boat stays out all day, taking advantage of time in the early morning, mid-day, and late afternoon when the other operators (i.e. half-day boats) are not out
✓ We have selected a top-notch operator with a high level of expertise in finding whales and providing you the best chance of having a quality encounter in the water. Having an operator who knows how to get you a better whale experience is critical in Moorea.
✓ Our operator's boat has a hydrophone which not only helps us to locate the whales, but also provides you the opportunity to hear these whales singing in great detail!
Package Details
Inclusions
✓ 7 nights accommodation at Hotel Kaveka, twin occupancy
✓ Lunch provided on the boat
✓ 5 days on the water looking for whales, weather permitting, on a private boat with captain and guide. And 1 day of rest to explore or relax.
✓ Small group size (max 6 guests, incl trip leader)
Exclusions
✗ Breakfast & dinner not included. Buying food at the grocery store can be inexpensive. Most restaurants will pick you up free of charge at the hotel, but the restaurants can be pricey. There is a reasonably priced pizza place within walking distance of Hotel Kaveka.
✗ Taxi to/from Airport/Ferry and Ferry/Hotel (~$25 USD, split among passengers), 4 taxi rides total
✗ Ferry Ride to and from Moorea ~$30 USD round trip. You can also fly, though the ferries are cheap and you can buy tickets on site (i.e. they don't need to be purchased in advance.) There are two ferry companies:
✗ Transfer from the pier: There is a public bus service which leaves from the pier upon the arrival of the fast ferries, and the price is 350 CFP per person one way (roughly USD 3.5). There is also the ALBERT TRANSPORT mini-bus shuttle which is also on the pier upon arrival of the fast ferries and the price person one way for this is 700 CFP (roughly USD 6.7) and you may book online at ftino@albert-transport.net or info@albert-transport.net. Finally, there is also a taxi company located right on the pier also, and they charge 2.500 CFP for the cab that can seat up to eight passengers (roughly USD 25).
✗ Tips
✗ Trip Insurance
✗ Upgrading to a single occupancy room
Additional Information
Please bring your own wetsuit and fins. There is no rental options on the island. A full 3mm wetsuit is highly recommended; many guests skipped the wetsuit and got very cold when the weather got windy and cloudy.

We are not in the water all day non-stop. There may be long periods of time when you're on the boat, just looking for the whales.

Many guests have been getting sunburn even though there is a shade on the boat, so all skin must be covered. We suggest hat, scarf for face/lips, full skin or wetsuit and plenty of sunscreen.

Guests are required to be decent swimmers, and be physically able to get up a small boat ladder on their own.

Airbnb is getting more popular and can be recommended for a night in Tahiti.
Boat Details
Semi-inflatable 24ft / 7.5m boat.
Sample Itinerary
> Day 1: International flight arrival, take ferry to Moorea, hotel arrival
> Day 2 - 7: Look for whales 9AM - 4PM (Pickup/dropoff times are sample times and not guaranteed). With a day of rest in the middle.
> Day 8: Depart hotel, take ferry back to Tahiti
About Hotel Kaveka
Family owned and operated, The Hotel Kaveka offers incredible value for discerning travelers from around the world. Nobody knows Moorea better than the team of professionals at The Hotel Kaveka. Portable televisions with local reception are in the bungalows along with a mini refrigerator and air conditioning. The rooms included on this trip are the better rooms with air-conditioning.
About the Trip Leaders
Mark Strickland's life-long interest in the sea has included over 10,000 dives and careers as a lifeguard, boat captain, and scuba instructor. His passion for underwater photography has led him to many top dive locales, including the Virgin Islands, Australia, and Thailand, where he spent 17 years as Cruise Director on a series of liveaboards. Mark now resides in Ventura County, California.
Currently, Mark leads several dive trips each year to his favorite destinations, while working on a career-spanning large-format pictorial book. An avid marine naturalist, Mark has discovered several nudibranch species. He is co-author and principal photographer for Lonely Planet's award-winning book, "Diving and Snorkeling Thailand", and his work appears in many magazines, books and displays around the world. Currently, Mark leads several dive trips each year to his favorite destinations, while working on a career-spanning large-format pictorial book.
Tommy Stylski is an avid marine life photographer, ocean lover, and diver of over 20 years. His dad introduced him to scuba at a young age while vacationing in Tulum, Mexico. Now a certified dive master, he's led hundreds of trips and has worked with both novice and the most advanced divers. Diving has provided him opportunities to travel, visit many Caribbean destinations, lead workshops in the Philippines, photograph sharks in Fiji and explore the kelp forests of California. These experiences have instilled in him a deep respect for our oceans.
Now planted in a small beach town, Tommy enjoys a surf before work and time with his family.
Erik Lukas is an active diver and photographer based in Los Angeles, CA. He is a volunteer scuba diver at the Aquarium of the Pacific in Long Beach, CA. You can expect to find Erik diving many of the amazing Pacific Ocean sites of Southern California, camera in hand, at any chance he can get.
See more of Erik's photography at www.seeundersea.com or on Instagram @seeundersea.
"I am passionate about underwater photography in general and have a special love for macro subjects. For me the things that are hardest to spot hold the most interest. Documenting the commensal and symbiotic relationships is for me the most interesting…the smaller and more bizarre the better. I also have a passion for sharing my knowledge with others. My goal with all of my workshops is to ensure each guest leaves with a group of images that they are proud to share."
Tim Yeo grew up in tiny Singapore where driving more than an hour means you will need a passport. While traveling was always a passion of his, it wasn't until he got scuba certified in Malaysia that his addiction for dive travel really kicked in.
During Tim's undergraduate studies at UCLA he would fly home to Singapore every summer to visit his parents for a couple weeks then take off to a dive destination in Southeast Asia to satisfy his craving for warm tropical diving. As his love for dive travel grew, Tim eventually became a scuba instructor with PADI and SDI and spent time teaching in Malaysia and in Vietnam. He is currently the Lead Instructor at Eco Dive Center, the largest dive center in Los Angeles.
Payment & Booking
Payment Schedule
> Deposit: $900
> Payment 2: $1,000 2/1/18
> Payment 3: Balance 7/1/18
Got Questions? Ready to Book?
Call Bluewater Travel at 310-915-6677 or email info@bluewaterdivetravel.com and let them book your dream vacation at the best price!
Photo Gallery
Moorea Humpback Whale Photos Taken by Ron Watkins
Moorea Humpback Whale Photos Taken by Katie Yonker
Moorea Humpback Whale Photo Taken by Erik Lukas
Moorea Humpback Whale Photos Taken by Mark Strickland
SUPPORT THE UNDERWATER PHOTOGRAPHY GUIDE:
The Best Service & Prices on u/w Photo Gear
Visit Bluewater Photo & Video for all your underwater photography and video gear. Click, or call the team at (310) 633-5052 for expert advice!
---
The Best Pricing, Service & Expert Advice to Book your Dive Trips
Bluewater Travel is your full-service scuba travel agency. Let our expert advisers plan and book your next dive vacation. Run by divers, for divers.
---