2020 Grouper Spawning Photo Workshop on the French Polynesia Master
One of the world's most amazing marine life events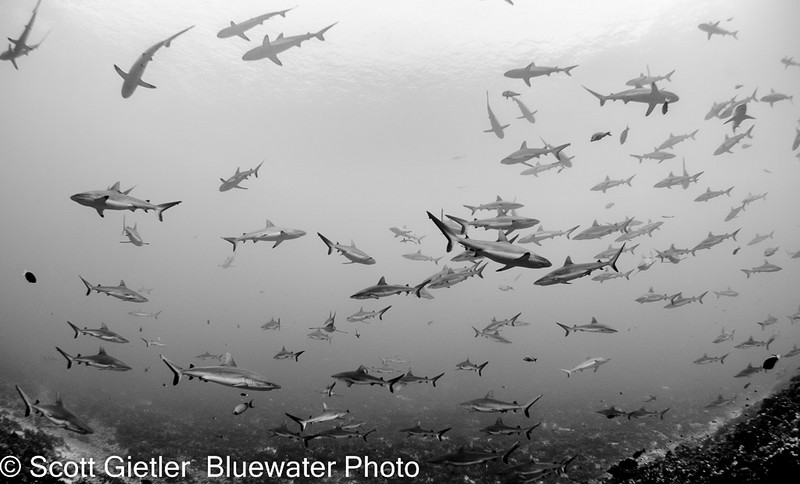 2020 French Polynesia Grouper Spawning
Underwater Photo Workshop
Witness one of nature's greatest spectacles and experience some of the best shark diving in the world.
Sail for 10 nights on French Polynesia's most luxurious liveaboards and dive with hundreds of grey reef sharks, whitetip sharks, blacktip sharks, lemon sharks, tiger sharks, silvertip sharks, and silky sharks. Non-Photographers are welcome.
July 2 - 12, 2020
Led by Scott Gietler
10 Nights for:
Lower & Middle Deck -
$6,250
(double or single)
Upper Deck -
$6,575
(double or single)
Single Cabin #8 -
$9,850
Why Join This Trip? - Dive Information - Package Details - Accommodations
How to Get There - Trip Leader - Booking & Payment - Underwater Photos
Why Join This Trip?
✓ 25% off rental photo gear from Bluewater Photo
✓ Timed for the annual grouper spawning event where thousands of marbled groupers gather
✓ One of the best destinations for sharks with regular sightings of 7 different species
✓ Hundreds of marbled groupers, huge Napoleon wrasse and bottlenose dolphins
✓ Sail and dive in comfort with the French Polynesia Master: one of the most luxurious boats in the area
✓ Daily underwater photo instruction at no extra cost
✓ Led by Bluewater Photo owner Scott Gietler
✓ Beginner photographers welcome
Trip Overview
The French Polynesia grouper spawning event is debatably one of nature's greatest shows. Every year, thousands of groupers gather to mass spawn, right around the full moon of July. All of this activity naturally attracts all kinds of predators in huge numbers, including 7 different sharks species: grey reef sharks, whitetip sharks, blacktip sharks, lemon sharks, tiger sharks, silvertip sharks, and silky sharks.
Check out Scott Gietler's photo essay from our past grouper spawning trip. There's more than just sharks in French Polynesia!
The 10 day trip sails through the Tuamotu Island chain, from Fakarava to Rangiroa. Dives with the pelagics are typically drift dives and are dependent on the incoming and outgoing tides for each island. There will also be dives with less current on outer reefs, plateaus and coral gardens within the lagoons.
The grouper spawning is expected to occur on July 2nd-3rd, as the full moon is on July 4th.
Diving Conditions in July
Water temperature will be around 75-80 degrees Fahrenheit with good visibility.
Package Details
Exclusions
✗ National Park Fees (USD 90)
✗ Nitrox (USD 150 for 10 nights)
✗ Dive rental equipment
✗ Alcoholic beverages
✗ Gratuity
About the French Polynesia Master
Built of steel, the French Polynesia Master plies the waters of this island archipelago, welcoming aboard 25 guests for 7 or 10-night dive safaris. The 4 decks provide ample space for relaxation and dive equipment and camera preparation.
The French Polynesia Master boat (LEFT) & its camera room (RIGHT)
French Polynesia Master's cabins
Check out this page to see more details and customer reviews on French Polynesia Master.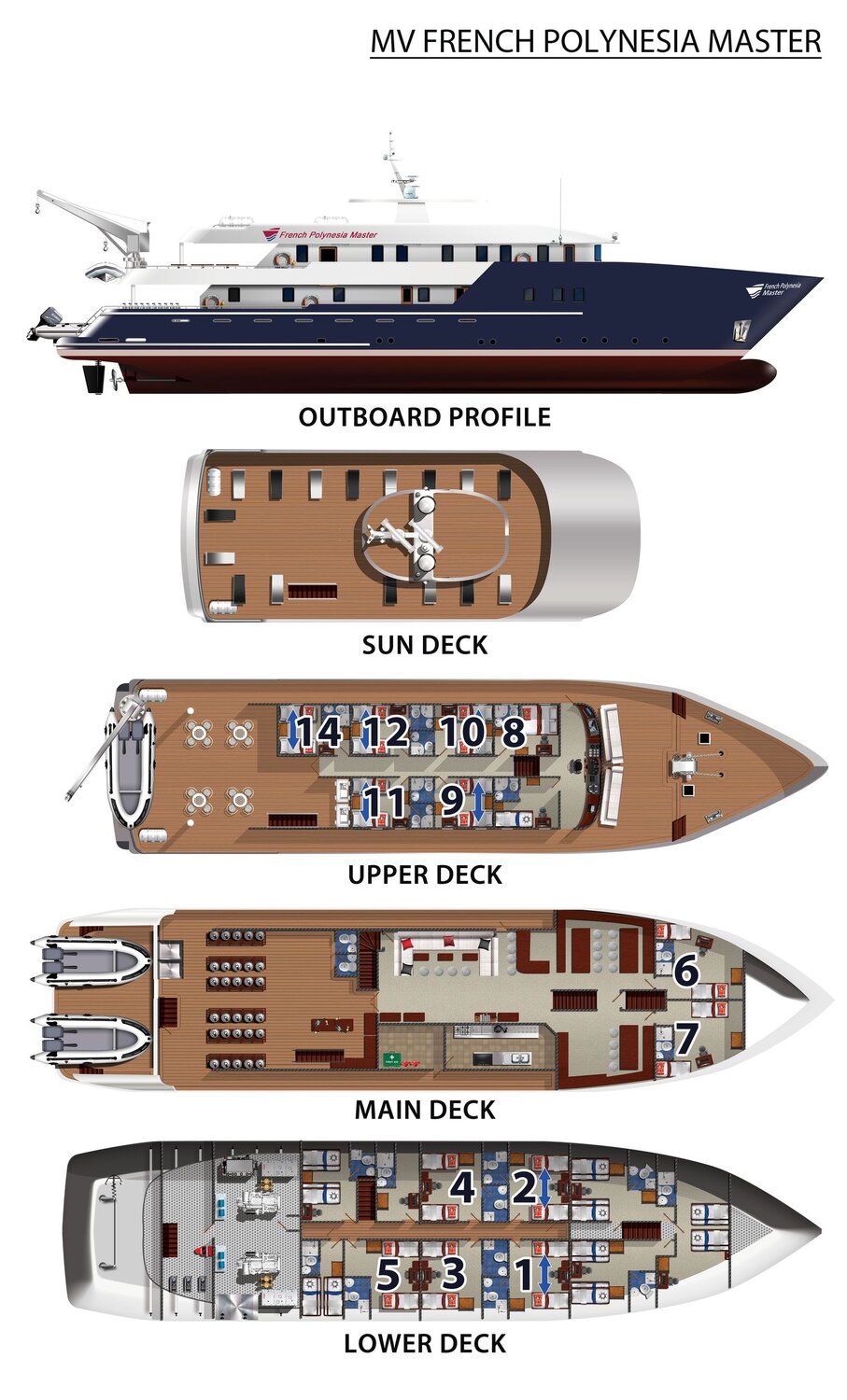 Flight Information
Trip attendees should fly into Fakarava Airport (airport code FAV) and out of Rangiroa Airport (RGI). There are multiple flights per week between Tahiti (airport code PPT) and Fakarava and daily flights between Tahiti and Rangiroa. Both flights are only 1hr in duration.
We advise divers that if possible to arrive a day earlier in French Polynesia so you are well rested before the workshop. Return flights should be made after 12pm on the last day of the trip.
Airport transfers are included.
SUPPORT THE UNDERWATER PHOTOGRAPHY GUIDE:
The Best Service & Prices on u/w Photo Gear
Visit Bluewater Photo & Video for all your underwater photography and video gear. Click, or call the team at (310) 633-5052 for expert advice!
---
The Best Pricing, Service & Expert Advice to Book your Dive Trips
Bluewater Travel is your full-service scuba travel agency. Let our expert advisers plan and book your next dive vacation. Run by divers, for divers.
---