2020 Grouper Spawning Photo Workshop on the French Polynesia Master
One of the world's most amazing marine life events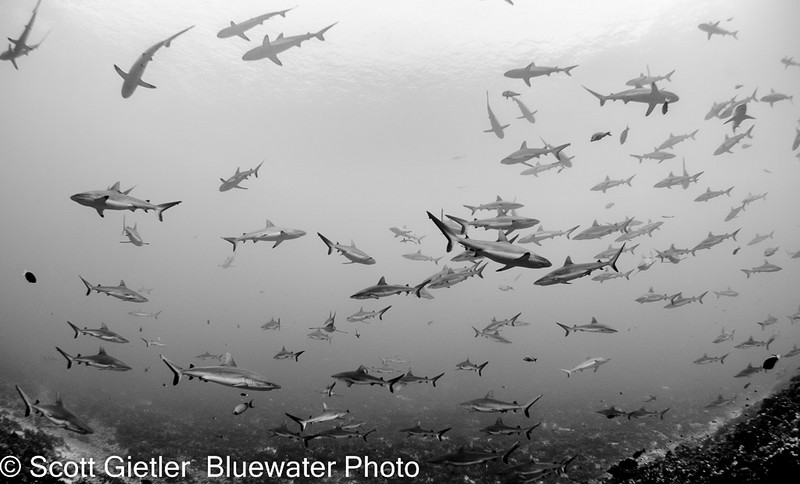 2020 French Polynesia Grouper Spawning
Underwater Photo Workshop
Witness one of nature's greatest spectacles and experience some of the best shark diving in the world.
Sail for 10 nights on French Polynesia's most luxurious liveaboards and dive with hundreds of grey reef sharks, whitetip sharks, blacktip sharks, lemon sharks, tiger sharks, silvertip sharks, and silky sharks. Non-Photographers are welcome.
July 2 - 12, 2020
Led by Scott Gietler
NOW 40% OFF!
10 Nights for:
Lower & Middle Deck -

NOW AT

$3,750

(double or single)
Upper Deck -

NOW AT

$3,945

(double or single)
Single Cabin #8 -

NOW AT

$5,910
Why Join This Trip? - Dive Information - Package Details - Accommodations
How to Get There - Trip Leader - Booking & Payment - Underwater Photos
Why Join This Trip?
✓ 25% off rental photo gear from Bluewater Photo
✓ Timed for the annual grouper spawning event where thousands of marbled groupers gather
✓ One of the best destinations for sharks with regular sightings of 7 different species
✓ Hundreds of marbled groupers, huge Napoleon wrasse and bottlenose dolphins
✓ Sail and dive in comfort with the French Polynesia Master: one of the most luxurious boats in the area
✓ Daily underwater photo instruction at no extra cost
✓ Led by Bluewater Photo owner Scott Gietler
✓ Beginner photographers welcome
Trip Overview
The French Polynesia grouper spawning event is debatably one of nature's greatest shows. Every year, thousands of groupers gather to mass spawn, right around the full moon of July. All of this activity naturally attracts all kinds of predators in huge numbers, including 7 different sharks species: grey reef sharks, whitetip sharks, blacktip sharks, lemon sharks, tiger sharks, silvertip sharks, and silky sharks.
Check out Scott Gietler's photo essay from our past grouper spawning trip. There's more than just sharks in French Polynesia!
The 10 day trip sails through the Tuamotu Island chain, from Fakarava to Rangiroa. Dives with the pelagics are typically drift dives and are dependent on the incoming and outgoing tides for each island. There will also be dives with less current on outer reefs, plateaus and coral gardens within the lagoons.
The grouper spawning is expected to occur on July 2nd-3rd, as the full moon is on July 4th.
Diving Conditions in July
Water temperature will be around 75-80 degrees Fahrenheit with good visibility.
Depth Limits
Diving regulations within French Polynesia differ slightly from many areas of the world. PADI Open Water divers, or equivalent, are limited to a maximum depth of 18m (60ft) on all dives. If a customer only carries this certification then we should advise to complete the Advanced Open Water course before joining to enjoy the diving to the full as the structure of dive groups will not always accommodate for shallow divers. Advanced Open Water divers (or equivalent) and above are limited to a maximum of 30 metres. This is irrespective of whether you carry a Deep Diver certification.
Daily Photo Workshops
Workshops will be given daily on topics such as wide-angle underwater photography, ambient light shots, snorkeling with large animals, strobe exposure and positions, avoiding backscatter and composition.
Package Details
Inclusions
✓ Transfers
✓ Full board accommodations based on double occupancy
✓ Drinking water, tea, coffee,fruit juice and soft drinks
✓ Land excursions
✓ Up to 3 dives daily
✓12L (DIN/INT) cyclinder with air fills
✓ Lead weights
TRANSFERS: The following local transfers are included free of charge on the days of embarkation and disembarkation: Between the domestic airport of Fakarava (FAV) & the liveaboard docked in Fakarava, and between the domestic airport of Rangiroa (RGI) and the liveaboard docked in Rangiroa
Exclusions
✗ National Park Fees (USD 90)
✗ Nitrox (USD 150 for 10 nights)
✗ Dive rental equipment
✗ Alcoholic beverages
✗ Gratuity
Staying Connected
T
o allow guests to keep in touch with loved ones and to be able to make friends and colleagues jealous by uploading their exploits to social media, French Polynesia Master now offers high speed wifi satellite internet access for all guests. We have three packages available and you can save by pre-booking your packages before leaving for your trip.
✓ 200MB for $60

✓ 500MB for $150

✓ 1GB for $300
About the French Polynesia Master
Built of steel, the French Polynesia Master plies the waters of this island archipelago, welcoming aboard 25 guests for 7 or 10-night dive safaris. The 4 decks provide ample space for relaxation and dive equipment and camera preparation.
The French Polynesia Master boat (LEFT) & its camera room (RIGHT)
French Polynesia Master's cabins
Check out this page to see more details and customer reviews on French Polynesia Master.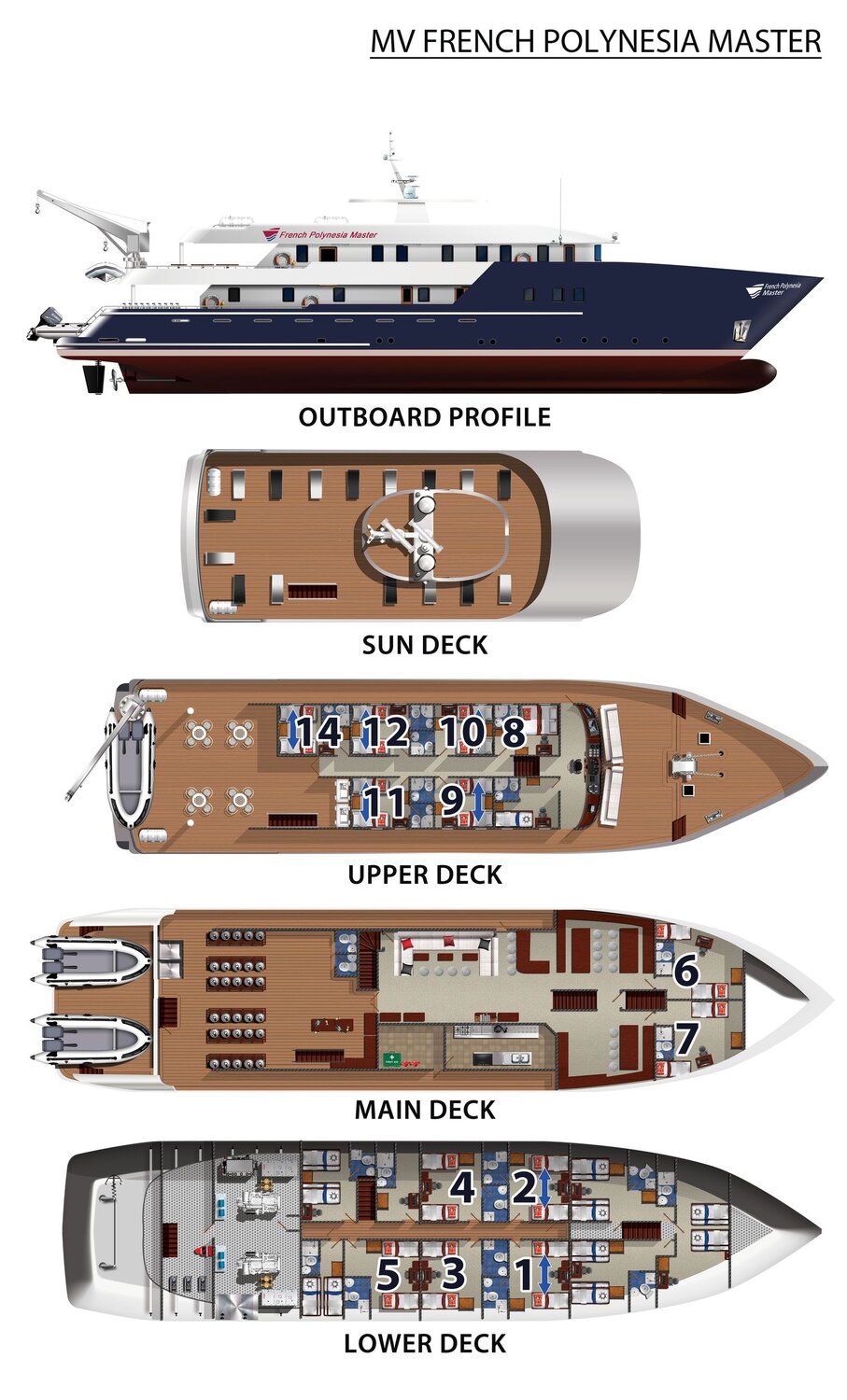 Flight Information
Trip attendees should fly into Fakarava Airport (airport code FAV) and out of Rangiroa Airport (RGI). There are multiple flights per week between Tahiti (airport code PPT) and Fakarava and daily flights between Tahiti and Rangiroa. Both flights are only 1hr in duration.
We advise divers that if possible to arrive a day earlier in French Polynesia so you are well rested before the workshop. Return flights should be made after 12pm on the last day of the trip.
Airport transfers are included.
Embarkation & Disembarkation
Embarkation Port: Rotoava Dock, Fakarava at 15.00
Disembarkation Port: Quai D' Ohotu, Rangiroa at 09.00
Arrival Airport: Fakarava (FAV)
Departure Airport: Rangiroa (RGT)
About the Trip Leader
Scott Gietler is the owner of Bluewater Travel. Scott's areas of expertise include Indonesia, Mexico, Philippines, French Polynesia, and the United States.
Scott is the founder of the Underwater Photography Guide and Bluewater Photo. What started out as a small project has grown to a point where it is starting to interfere with Scott's sleep. When it interferes with his diving, then it will be a problem.
An avid marine naturalist, Scott is the author of the Field Guide to Southern California Marine Life. He was the LAUPS photographer of the year for 2009, and his photos have appeared in magazines, coffee table & marine life books, museums, galleries and aquariums throughout California. He enjoys teaching photography underwater and in workshops.
Webinar About Fakarava/Rangiroa
Payment & Booking
Payment Schedule
Deposit: $800
2nd Payment: $1,600 due 6/1/19
3rd Payment: $2,200 Due 11/1/19
Balance Due 3/1/20
Got Questions? Ready to Book?
Call Bluewater Travel at 310-915-6677 or email info@bluewaterdivetravel.com and let them book your dream vacation at the best price!
Underwater Images
French Polynesia Underwater Photos by Craig Dietrich
French Polynesia Underwater Photos by Scott Gietler
SUPPORT THE UNDERWATER PHOTOGRAPHY GUIDE:
The Best Service & Prices on u/w Photo Gear
Visit Bluewater Photo & Video for all your underwater photography and video gear. Click, or call the team at (310) 633-5052 for expert advice!
---
The Best Pricing, Service & Expert Advice to Book your Dive Trips
Bluewater Travel is your full-service scuba travel agency. Let our expert advisers plan and book your next dive vacation. Run by divers, for divers.
---