Fiji Photo Workshop October 2020
Bluewater Photos's Fiji underwater photo workshop at Volivoli Beach Resort in October 2020.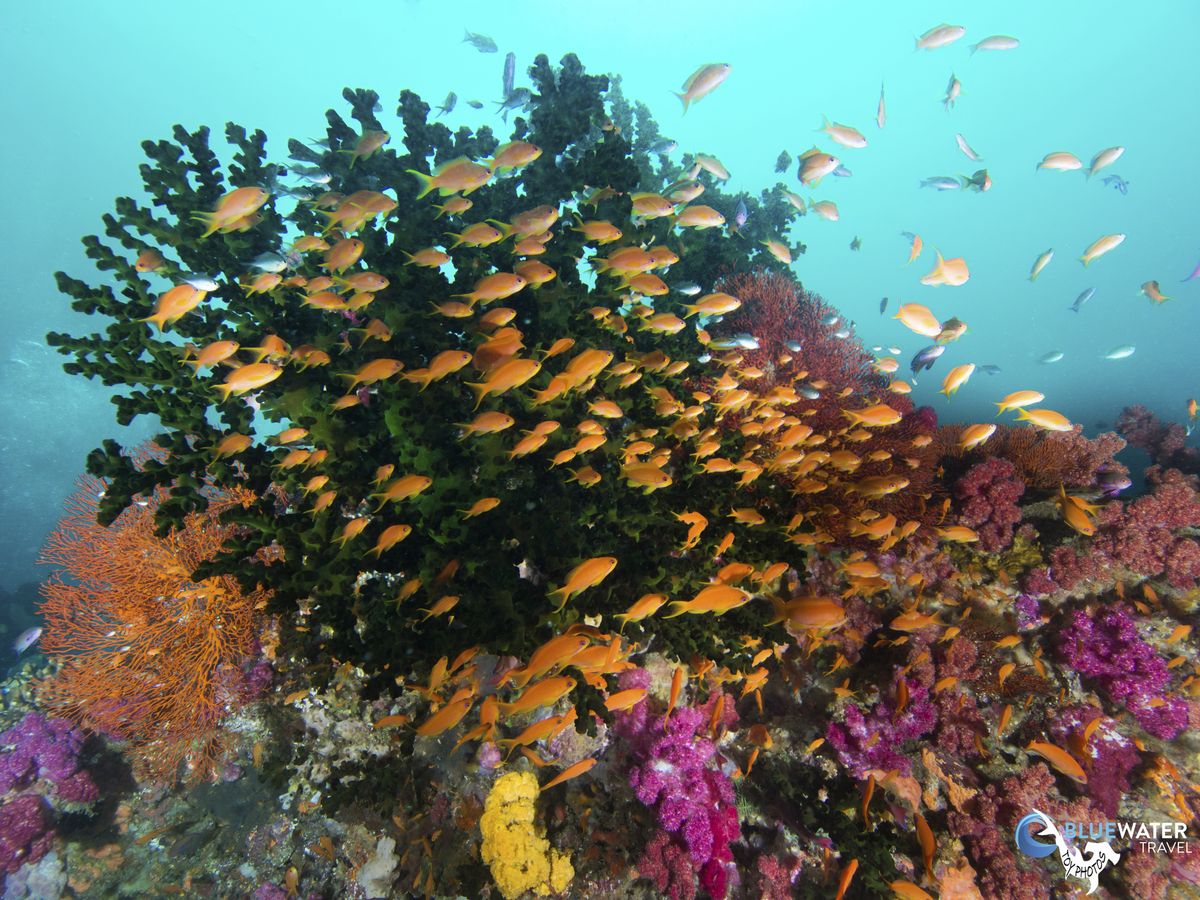 Fiji Photo Workshop 2020
Join us in the soft coral capital of the world! This trip spends 7 nights at Volivoli Beach Resort, the ultimate paradise in Fiji for divers.
October 25 - November 1, 2020
Trip Leader: Helen Brierley
7 Nights
Standard Room -

$2,402

now

$2,167 pp
Deluxe Room -

$2,529

now $2,294 pp
Premium Room -

$2,657

now $2,422 pp
Why Join this Trip? - Trip Information - Package Details
Important Information - Accommodations - Trip Leader - Daily Workshops
How to Get There - Payment & Booking - Underwater Photos
Why Join This Trip?
✓ 25% off rental photo gear from Bluewater Photo
✓ World-class destination aka the soft coral capital of the world
✓ Amazing beachfront resort (Volivoli Beach Resort) with 50+ dive sites no more than 20 minute boat ride away
✓ Unlimited shore diving on dive days
✓ All-inclusive price: accommodation, diving, all meals, transfers, and taxes included
Why Travel with Bluewater?
✓ We book resorts/ liveaboards that offer the best overall value
✓ Leaders who care about their guests' experiences
✓ Great support if flight/weather issues occur
✓ "Bluewater helped me out when I needed it most, the airline wouldn't let me board because of a Visa issue. They saved my butt" - Ray Tsusuki
Trip Overview
In Fiji, it's all about the corals. The colors are so incredibly vibrant and the anthias so plentiful that it's hard to ever look away. Around every corner is the next world class image. Remember to get in the current. One of the main draws of diving Fiji are the reef scenes - they are quite spectacular!
The gorgeous, lush, color-splashed images of Fiji that you see in dive publications are courtesy of a soft coral called dendronephthya. Few other places in the world offer such an abundance of this coral, nor the wide spectrum of colors, ranging from pink, purple, orange, yellow and fiery red. Dendronephthya soft coral needs current. With little current present, the soft corals are muted, but as the current increases, they inflate with water and their color really begins to glow. As the current picks up, planktivores such as beautifully colored scalefin anthias spring up off the reef in polarized schools. Together, this forms a rich pageantry of color. Underwater photographers will want to shoot when some current is present, making a dramatic difference in the color of underwater imagery.
One of the best places for soft coral in Fiji is the Bligh Waters between Viti Levu and Vanua Levu where there are numerous reefs and pinnacles. The reefs in the surrounding Bligh Waters, also known as The Vatu-I-Ra Passage, are some of the healthiest in the world, with very little pollution and few boats, so you'll be able to see an array of marine life including anemone fish, turtles, colorful soft coral and reef sharks.
Volivoli Beach Resort is known for their proximity to Bligh Waters. There are over 50 superb dive sites no more than 20 minutes boat ride away, and some of the most popular ones are in the fascinating Bligh Waters.
Marine Life to Photograph
You're going to see the healthiest soft coral in the world, more colors than you can imagine, and some extremely rare macro creatures—like the ornate ghost pipefish, orangutan crabs, frogfish, nudibranch, seahorses, schools of barracuda, trevally, giant groupers, —and in all likelihood, turtles, moray eels, grey, black and white tip reef sharks, and the occasional tiger shark.
Read the reviews on diving Fiji here.
Diving Conditions in October
June through October is the dry season. During that time, the water is clearest (100'+) but it can be windy and water temps can drop into the mid-70s. Most likely sightings during this month include sharks, eagle rays, whales, and turtles.
Package Details
Inclusions
✓ 7 nights accommodation at Volivoli Beach Resort
✓ 2 days of 3 tank boat diving & 3 days of 2 tank boat diving– inc tanks, weights, and guide
✓ Unlimited shore diving on dive days (reserve tanks 24 hours prior)
✓ Full meal plan – 3 meals daily with juice, milk, rain water, coffee, and tea at breakfast.
✓ Round trip Nadi airport/resort transfers
✓ Beach BBQ
✓ Free use of kayaks and participation in a variety of complimentary resort activities
✓ Resort and Government taxes (9%VAT, 10% SST, & 6% ELT)
✓ Traditional Meke performance
Exclusions
✗ Nitrox ($100 USD when prepaid)
✗ Beverages
✗ Lobster and Crab menu items (Market price)
✗ Personal dive equipment
✗ Dive Courses
✗ Extra dives & night dives (154FJD per tank; pay direct)
✗ Dive and Travel Insurance (diving insurance is MANDATORY)
✗ Wifi ($100 FJD unlimited for 2 devices)
About Volivoli Beach Resort
Volivoli Beach Resort is the ultimate diving paradise in Fiji for beginners and advanced divers alike, located in one of Fiji's best diving destinations. They offer 32 comfortable rooms with panoramic beach and ocean views.
Resort Amenities
✓ 2x licensed restaurants and 3x bars
✓ Large swimming pool with swim up bar
✓ Onsite dive operation – RA Divers
✓ Airport transfer service
✓ Multiple happy hours
✓ Large screen TV for sports events
✓ Hammocks
✓ Poolside furniture
✓ Day spa
✓ Beachside bar
✓ Beach towels
✓ Beachfront location
✓ Lush tropical gardens
✓ 24 hour main grid power
✓ Onsite backup generator
✓ Reception and day room facilities
✓ All tide swimming beach
✓ Weekly beach BBQ
See more about Volivoli Beach Resort here.
About the Trip Leader
With a lifelong passion for anything water related, Helen has been an avid scuba diver for over 30 years. Her first underwater camera was a Nikonos V, back in the days of film, but these days she never jumps in without her Nikon DSLR in hand. Currently based in Los Angeles, she races sailboats at every opportunity and is board chair of the international marine conservation foundation, Reef Check. She has won awards for her photographs and published articles on dive travel and photography.
Examples of her work can be found at www.HelenBrierley.com
Daily Photo Workshops
Workshops will be given daily on topics such as macro composition, camera settings, creative lighting, super macro, and more. Help underwater is also given.
Travel Information
International flights: Guests should fly into and out of Nadi international airport (code: NAN).
Airport transfers on arrival and departure: Round trip Nadi airport/resort transfers are included in the price. The resort is a two hour and a half to three-hour drive from Nadi International Airport.
SUPPORT THE UNDERWATER PHOTOGRAPHY GUIDE:
The Best Service & Prices on u/w Photo Gear
Visit Bluewater Photo & Video for all your underwater photography and video gear. Click, or call the team at (310) 633-5052 for expert advice!
---
The Best Pricing, Service & Expert Advice to Book your Dive Trips
Bluewater Travel is your full-service scuba travel agency. Let our expert advisers plan and book your next dive vacation. Run by divers, for divers.
---