2022 Explore Baja Underwater Photo Workshop
Explore Baja Underwater Photo Workshop, Oct 22 - Nov 3, 2022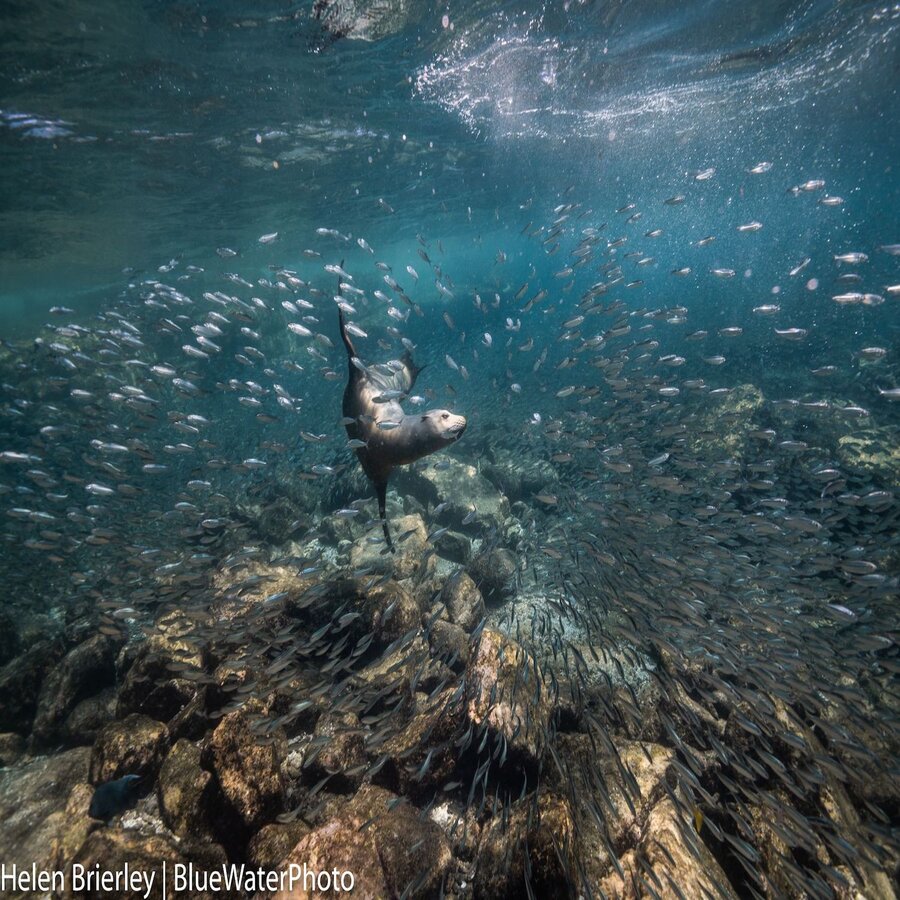 2022 Explore Baja Underwater Photo Workshop
Join us from October 22 - November 3, 2022 aboard the Rocio del Mar.
Trip Leader: TBA

12 Nights for only $4,495
Jump to:
Why Join This Trip? - Trip Overview - Inclusions & Exclusions
Accommodations - Daily Workshops - How to Get There - Payment Schedule
Why Join This Trip?
25% off rental photo gear from Bluewater Photo

Daily photography workshops by photo pro at no extra cost, suitable for beginners and experienced photographers alike

Trip designed to shoot photos - We select liveaboards that provide photographer-friendly facilities. The dive guides are also there to enable you to get photos, not just show you the reef

Unique itinerary sailing the entire length of the Sea of Cortez from south to north

See the unexpected in remote locations: dolphins, sea lions, whales, mantas etc

Sail with one of the best liveaboards in the Sea of Cortez, the Rocio Del Mar

Easy travel: fly into San Jose del Cabo to start the trip and end in Phoenix, Arizona
Trip Overview
Experience what very few people have. A journey where there are no roads, very few people, and almost no boats. At night you hear something splashing. It could be anything - dolphins, marlin, a school of bonitos? Then you hear a huge sound of blowing and water spouting. It's a whale! You can't see him, but he sounds big. At a distance, you hear sea lions and pelicans. What a splendid way to end a magnificent day.
There will be a maximum of 20 divers on the trip, including hosts. During the day we move from one island to the next, diving 3 to 4 times daily. If you wish to hike the remote islands during surface intervals, there is always a dinghy available to take you to shore. Kayaks are also always available for a serene cruise around the islands.
Exploring one island to the next is a magical experience - one that will linger in your memory for years to come. The Sea of Cortez remains a secret oasis where the desert meets the sea.
Read the exciting report from our previous Explore Baja trip.
The bio-diversity between the Northern and Southern Sea of Cortez is incredible. The sea life we witness on the surface from the boat, dinghies or snorkeling is fantastic. Potential to see dolphins, sea lions, pilot, humpback, blue, fin, sei, orca and sperm whales. Also, flying mantas, blue and brown-footed boobies, cormorants, frigate birds, and the endemic yellow-footed gull.
Average water temperatures in October are in the low to mid-80s. A full 3mm wetsuit is recommended. Although the conditions in the Sea of Cortez are mostly calm, there are times that the sea is rough. Please be prepared for this type of situation and bring seasickness medication if necessary.
Here's a sample day-by-day itinerary of this trip:
Day 1 - Check in at boat at 5:00pm - Puerto Penasco (October 22, 2020)
Day 2 - 105-mile crossing to Puerto Refugio in Angel de la Guarda Island. Check-out dive at Lolo's Cove. Great macro dive at La Vela and La Muela. Sunset cruise at a sea lion colony.
Day 3 - Bahía de los Angeles. Morning dive at El Pescador and Paraíso. Lunch and then snorkeling with the whale sharks. Depending on timing and conditions, sunset hike at La Gringa or just relax after heavy swimming with the whale sharks.
Day 4 - Morning dive at Punta Don Juan or Elias Point and then whale watching on the "Canal de Ballenas" heading south to Sal Si Puedes. 3 pm dive at Lavadero followed by a great night dive at the same location. Lavadero is located at Las Animas Island in the chain of San Lorenzo - Las Animas - Sal Si Puedes.
Day 5 - San Pedro Martir Island. Enjoy 1 or 2 days of fabulous diving with sea lions, incredible black coral fields and some of the best macro of the Midriff Islands (3-4 dives).
Day 6 - If staying at San Pedro Martir, we do 3 dives. If not, day 6 will be at San Ildelfonso Island where we will do 4 dives. Don't miss the Green Moray City!
Day 7 - Parque Nacional Bahía de Loreto, visiting Coronado Island: macro and sea lions. We do 3 dives and then a nice evening with dinner in Loreto.
Day 8 - Danzante Island, part of Parque Nacional Bahía de Loreto. Dive at Submarino, Silouette and the artificial wreck, C-54 Agustin Melgar. Afternoon hike at Honeymoon Beach.
Day 9 - Las Animas, near San José Island. Great dives on the east and north pinnacles and afternoon diving at San Dieguito for a 3 pm dive followed by a night dive.
Day 10 - Los Islotes, in the northern part of Espiritu Santo Island. Dive with the friendliest sea lion colony in the Sea of Cortez. Depending on weather and ocean conditions (visibility and current), we hope to dive to dive "El Bajo", known for big schools of hammerheads. At night we will do the spectacular mobula night dive!
Day 11 - Dive at La Reyna – a great spot for sea lions, school of barracuda and occasionally oceanic manta rays.Day 12 - Angel Island
Day 12 - Last day at San Lorenzo Channel, diving the Fan Ming wreck, Salvaterra wreck and Suani Reef.
Day 13 - Arrival to San José del Cabo, disembark 8:30 am. (Nov. 3)
You can read the reviews on diving the Sea of Cortez here.
Inclusions
12 nights accommodations, double occupancy

Full board meals, snacks

Beverages including soft drinks, juice, domestic beer & wine

3-4 dives per day; tanks, weights, weight belts

16% Mexican tax

Port fees
Exclusions
National park fees ($28)

Airport transfers ($90 per person for the arranged group shuttle from PHX airport to Puerto Penasco and about $20 per person for a taxi arranged on your own from the ship to SJD airport.)

Nitrox, optional ($120)

Gratuity

Fuel surcharge, if applicable ($100). Only applicable if fuel surpasses 20 pesos per litre.

Dive insurance

Travel Insurance: click here to learn more about our preferred plan
About the Rocio Del Mar
Rocio Del Mar is one of the best liveaboards sailing in the area, offering 10 comfortable cabins for up to max. 20 divers. All have private bathrooms with hot shower stalls, Western-style toilets, lavatories, and above height window. Each cabin is carpeted and air-conditioned. There are room length windows with privacy curtains and convenient gear and clothes storage drawers beneath the beds.
Check out this page to see more details and customer reviews on the Rocio Del Mar



DAILY PHOTO WORKSHOPS
Throughout the trip, several workshops will be given, covering topics such as wide-angle shooting, ambient light photography, snorkeling with large animals, use of strobes, avoiding backscatter, creative macro photography and photo editing. Individual help with equipment, technique, and editing will also be offered and there will be daily photo reviews and discussion.
Check out this page for more information on what to expect from our photography workshops as well as some testimonials!
FLIGHT INFORMATION
ARRIVAL: Passengers must arrive at Phoenix Sky Harbor airport no later than 11 am on the trip departure date. If you choose the shuttle service, Head Out to Rocky Point will pick up all passengers between 12 noon and 1 pm at Terminal 4, door #5 on the south side. Meet the shuttle curbside. All passengers must have reached the Marina and be aboard the Rocio Del Mar between 5 pm and 6 pm. Departure from Puerto Peñasco occurs at approximately 6 pm. Dinner is served at 7 pm.
RETURN: Explore Baja North to South trips will end in San Jose del Cabo (SJD). The boat returns to the Marina during the evening and passengers will be ready to depart the morning of the last day of your trip. A continental breakfast will be provided the last morning of the trip and guest must disembark by 8:30 am on the last day of our trip. At the end of your trip, the crew can call taxis to return everyone to the airport or hotel depending on where you want to go. Departure flights from Cabo (SJD) are any time after 1pm.
PAYMENT SCHEDULE
Deposit: $500
Payment 2: $1,100 - due Oct 1, 2021
Payment 3: $1,400 - due Apr 1, 2022
Payment 4: $1,495- due Jul 1, 2022
---
WANT TO EXTEND YOUR TRIP?
We can help with that! See more of Mexico before or after your workshop with Bluewater in Sea of Cortez. Flying all that way merits a multi-destination vacation! La Paz is an amazing destination nearby that offers a range of additional unique experiences. Here are some examples of packages we can add on to your workshop reservation:
*Rates are subject to change at any time; please contact us for the most updated pricing.
7 NIGHTS AT THE 5 STAR COSTA BAJA RESORT & SPA
Price: $2,087 per person based upon double occupancy.
The Hotel CostaBaja Resort & Spa is the first and only luxury hotel & spa in the city of La Paz. This boutique hotel offers a selection of ocean, mountain and marina views. North of the hotel is Espiritu Santo Island, where you will find the greatest marine life in the world and the best sport fishing within Baja Sur.
7 nights in a king or twin room

Full buffet breakfasts

5 days of 3 tank dives

Lunches & drinks on the boat

National park permit fees

Roundtrip Cabo transfers

Free WiFi: Yes

Swimming Pool: Yes
7 NIGHTS AT THE 3 STAR LA CONCHA BEACH RESORT
Price: $1,803 per person based upon double occupancy.
A beach resort offering a peaceful and mellow atmosphere on the Sea of Cortez. Over a hundred sea view rooms are featured in La Concha Beach Resort. Located in front of the ocean and with full view to the beach and pool, the accommodations include from essential details to luxury amenities.
7 nights in a king or twin sea view room

Full American breakfasts

5 days of 3 tank dives

Lunches & drinks on the boat

National park permit fees

Roundtrip Cabo transfers

Free WiFi: Yes

Swimming Pool: Yes
7 NIGHTS AT THE 4 STAR HOTEL CATEDRAL
Price: $1,670 per person based upon double occupancy.
Hotel Catedral La Paz is a new concept of accommodation to suit the needs of today's travelers. It is part of the historic center of the city, surrounded by major attractions next to Our Cathedral Lady of La Paz. With its sophisticated contemporary modernist architecture, Hotel Catedral La Paz it focuses on every detail to offer its guests an excellent service and quality, both in the rooms and its gourmet restaurant.
7 nights in a king or twin sea view room

Full breakfasts

5 days of 3 tank dives

Lunches & drinks on the boat

National park permit fees

Roundtrip Cabo transfers

Free WiFi: Yes

Swimming Pool: Yes
Photo Gallery

---
Underwater Photos from Previous Trips
SUPPORT THE UNDERWATER PHOTOGRAPHY GUIDE:
The Best Service & Prices on u/w Photo Gear
Visit Bluewater Photo & Video for all your underwater photography and video gear. Click, or call the team at (310) 633-5052 for expert advice!
---
The Best Pricing, Service & Expert Advice to Book your Dive Trips
Bluewater Travel is your full-service scuba travel agency. Let our expert advisers plan and book your next dive vacation. Run by divers, for divers.
---