2019 Papua New Guinea Photo Workshop
Papua New Guinea Trip on October 28 - November 10, 2019, MV FeBrina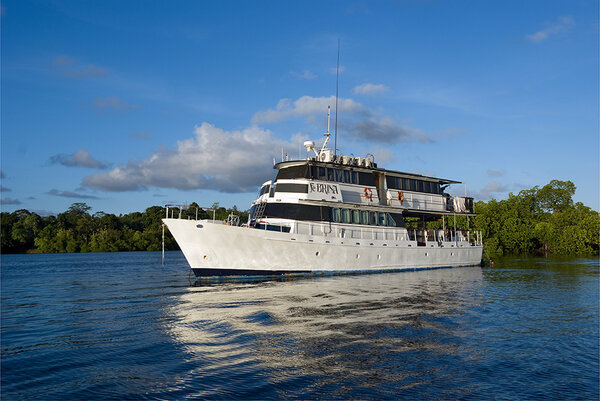 2019 Papua New Guinea Photo Workshop
Join us on this amazing trip to Kimbe Bay, Witu Islands, and the Fathers Reefs via MV FeBrina liveaboard followed by a cultural land extension to visit local tribes! Trip led by Mark Strickland
Oct 28 - Nov 6 (liveaboard) & Nov 6 - 10, 2019 (land extension)
Price:
Double Occupancy

$3,726 + $2,133 land extension p.p.*
Single Occupancy

$4,875 + $2,133 land extension p.p.*
*Rates are per person. Single occupancy accommodations for the land-based part of the trip are available.
*Domestic & international flights are not included.
The land tour is optional and it's possible to do the liveaboard only, though we strongly recommend doing the land tour to get a complete PNG experience!
Why Join This Trip? - Trip Information - Inclusions & Exclusions - Schedule -
Accommodations - Trip Leader - Booking & Payment - Photos - FAQ
Why Join This Trip?
✓ 25% off rental photo gear from Bluewater Photo
✓ FREE daily photo workshops by dive and photo expert Mark Strickland
✓ Fantastic itinerary covering the best dive sites around Kimbe Bay, Witu Islands, and the Fathers Reefs area
✓ Stunning and highly diverse diving: lush coral gardens, dramatic seamounts, schools of fish, sharks, muck diving, etc
✓ Spacious boat (MV Febrina) - custom-built for scuba diving
✓ See the local tribes: Join the 4-night all-inclusive land extension to visit the highlands and see the way of life the Melpa and Huli tribes
Trip Overview
Start by spending 9 nights aboard the MV FeBrina liveaboard diving three areas on the Northern Coast of New Britain Island. Working out of Walindi Resort in the best weather months, FeBrina visits the "must dive" sites in Kimbe Bay, at Witu Islands and also the Fathers Reefs area. This itinerary gives a fantastic cross-section of many different dive types, from coral gardens, seamounts, reef walls, arches, and overhanging ledges, to muck diving in rubbly black sand bays, watching from the water as dolphins play in the FeBrina bow wave or interacting with the ever curious turtles. After that, enjoy a 4-night land tour to visit the highlands and see the way of life of the Melpa and Huli tribes.
Diving Kimbe Bay, Witu Islands & Fathers Reefs
Kimbe Bay is home to stunning reefs with those brilliant coral formations you see in all the classic Walindi pics. Beautiful and dramatic seamounts, coral laden walls and lush coral gardens are all a feature of Kimbe Bay diving, along with myriad fish and invertebrate life the reefs sustain.
Witu Islands are a group of islands, volcanic in origin, situated to the northwest of Kimbe Bay. The diving is a mixture of seamounts rising from deep waters to within meters of the surface (such as Lama shoals), beautiful coral arches and great night dives in the black sand bays of the islands. Lots of interaction with the locals trading fresh fruit and veg out of their canoes too.
Fathers Reefs are a series of offshore reefs, also volcanic in origin. The underwater topography is startlingly different with dramatic reefscapes, arches, and swim-throughs. Being offshore, these reefs also attract pelagic activity such as sharks, rays, turtles, schools of barracuda, jacks etc.
Inclusions & Exclusions
Included in the 14 day/13 night package:
✓ 9 nights ensuite accommodation on board MV FeBrina as reserved
✓ All meals and snacks
✓ Unlimited tea and coffee
✓ Final night dinner at Walindi Plantation Resort
✓ 7.5 days diving
✓ 4 or 5 dives per day
✓ Filled tanks
✓ Weight belt and weights
✓ Return airport transfers to and from Hoskins airport/Walindi
✓ Light laundry service daily
✓ 4 nights accommodations at Rondon Ridge
✓ All meals for land-based extension starting with dinner on Nov 6, ending with breakfast on Nov 10
✓ Airport transfers for land-based trip
✓ English speaking local tour guides
✓ Luggage storage in Port Moresby during land extension
Excluded in the 14 day/13 night package:
✗ International airfare to/from Port Moresby
✗ Domestic airfare as follows: Port Moresby to Hoskins on October 28, Hoskins to Mount Hagen via Port Moresby on Nov 6, and Mount Hagen to Port Moresby on Nov 10 (approximate cost of all domestic flights = $600-650)
✗ Any meals taken at Walindi prior to boarding MV FeBrina or after disembarkation from the boat
✗ Souvenirs or items of a personal nature
✗ Gratuities
✗ Environmental and Safety Fees - US$54 per person, to be paid with trip cost in advance of arrival.
✗ Nitrox – available as a package for all dives during the trip = US$270 per person (ex GST) or US$10 per casual fill.
✗ Equipment Hire – Limited dive equipment and sizes are kept on board for hire.
✗ Alcohol/Bar – Local beers are available on board for a cost of PGK8 (SP) and PGK9 (SP Export). Soft drinks are available at a cost of PGK5 each (please advise in advance if you have any preferences). Wine is available by the bottle or glass (costs depend on wine type). We recommend that you bring your favorite spirit duty-free for consumption on board, some spirits are available however they are quite expensive in Papua New Guinea.
Trip Schedule
Daily Itinerary
Day 1 (October 28): The closest airport to the departure point is Hoskins airport (HKN) and there are daily flights with Air Niugini and PNG Air from Port Moresby to Hoskins. Upon arrival in Hoskins airport from Ports Moresby, guests will be met by the Walindi Resort shuttle bus and guests transferred to FeBrina at the Walindi Wharf.
Day 2 (October 29): Unlimited diving.
Day 3 (October 30): Same as day #2.
Day 4 (October 31): Same as day #2.
Day 5 (November 1): Same as day #2. Day 6 (November 2): Same as day #2.
Day 7 (November 3): Same as day #2.
Day 8 (November 4): Same as day #2.
Day 9 (November 5): Same as day #2. Diving stops 24 hours before flight departure.
Day 10 (November 6): We'll disembark in the morning and take a flight to Port Moresby. In Port Moresby, we'll be met by a Trans Niugini Tours staff member who will assist us with luggage storage for unneeded dive bags and check in for our flight to Mount Hagen. Fly from Port Moresby (code: POM) to Mount Hagen (code: HGU) on Air Niugini PX186 departing POM at 3:15pm and arriving HGU at 4:15pm. Mount Hagen Town is in the upper Wahgi Valley - a valley with some of the oldest evidence of agriculture in the world. Perched high on Mount Kuta is Rondon Ridge, with unbelievable views of the Wahgi Valley.
Overnight: RONDON RIDGE.
Day 11 - 13 (November 7 - 9): Three full days are spent exploring the Hagen Area and Wahgi Valley. The Mount Hagen area is the home of the Melpa people, a people with a strong culture, who in the face of modernity, still live largely traditional subsistence lifestyles. In the mountains surrounding the Wahgi Valley lives a stunning array of bird, orchid and plant life.
Tours will also include a visit to a local Huli Village in Mount Hagen. These Highland people employ as their art, body decoration, face painting and human hair decorated with feathers, flowers, and moss. The Huli culture is the most vibrant intact and colorful to be experienced anywhere.
Overnight: RONDON RIDGE
Day 14 (November 10): After breakfast you will be transferred to Kagamuga Airport for your domestic PX181 flight, departing Mount Hagen at 10:00am, landing Port Moresby at 11:00am. Upon arrival in Port Moresby, you will be met by Trans Niugini Tours staff and transferred to your ongoing flight.
Liveaboard Schedule
With an eight to ten hour steam between all three areas, you will be truly getting away from it all on this itinerary departure. Diving will start on the morning after departure and the last dive will be the dive prior to lunch on the day before disembarkation. MV FeBrina will return to port after the last dive, arriving back at Walindi early afternoon. A typical diving day is scheduled as follows:
In general, the dive day will start at 6:30am. You will be woken by the crew with a knock on your cabin door (unless you request otherwise) at around 6:00am. A continental breakfast, tea, and coffee will be available if you would like to have something light before diving. If you would prefer to skip the first dive on any day, simply advise the crew of this or put the "do not disturb" sign on your door handle.
Usual dive times are 6:30am, 9:00am and 11:30am (three dives before lunch), then an afternoon dive at 3:30pm and if the boat is not steaming, a night dive before dinner at 6:30pm. Dive briefings are held 15 minutes prior to the dive time. Dive times may change depending on weather and tide, and you will be advised accordingly of any dive time changes. Note that the dive plan for the day can change at any time, depending on weather, tides, currents etc. For this reason, we do not have a written schedule of dives.
Please be assured that the Captain and crew always endeavor to dive on sites under optimum conditions, which sometimes means that planned dives/times may change at the last minute.
About MV FeBrina
The MV FeBrina has been designed specifically as a scuba diving liveaboard with several different room/bed arrangements in 7 cabins, multiple decks, spacious dive deck and more. Guests may choose between a double cabin, four twin cabins or two single cabins, providing flexibility for both individual and group travelers.
Check out this page to see more details and customer reviews on the MV FeBrina.
About the Trip Leader
Mark Strickland's life-long interest in the sea has included over 10,000 dives and careers as a lifeguard, boat captain, and scuba instructor. His passion for underwater photography has led him to many top dive locales, including the Virgin Islands, Australia, and Thailand, where he spent 17 years as Cruise Director on a series of liveaboards. Mark now resides in Ventura County, California.
Currently, Mark leads several dive trips each year to his favorite destinations, while working on a career-spanning large-format pictorial book. An avid marine naturalist, Mark has discovered several nudibranch species. He is co-author and principal photographer for Lonely Planet's award-winning book, "Diving and Snorkeling Thailand", and his work appears in many magazines, books and displays around the world. Currently, Mark leads several dive trips each year to his favorite destinations, while working on a career-spanning large-format pictorial book.
Mark's photos and articles have appeared in magazines and books around the world, including Action Asia, BBC Wildlife, National Geographic World, Natural History, Scuba Diving, Skin Diver, Sport Diver, Sportdiving, Unterwasser, and many others. In addition to representation by several stock photo agencies, Mark operates his own photo library, Mark Strickland Photography, www.markstrickland.com.
Trip Leader Testimonials
"What an amazing trip! Mark made it for us, and I so much appreciate that. I can't thank him enough. We really enjoyed meeting him and spending time with him, and learning from him. He is a wonderful instructor and his sessions were great. You can be assured that we will cross paths again on another workshop." - Greg Clifton, Fiji October 2018 photo workshop guest
"Thanks to Mark for a great trip. It was a lot of fun sharing the Naia and all the diving with him. His workshop presentations are incredible, I cannot believe the scope and depth he presents. He's really good at it, I'm impressed." - Phillip Colla, Fiji October 2018 photo workshop guest
"Over many decades of diving, I've gone on a number of photo workshops on liveaboard trips, but none come close to the standard set by Mark Strickland! Every day we had an hour or more discussion about some aspect of underwater photography, including some specialized topics that helped a lot, plus an image review of three or four shots each diver had taken that day. Mark's critiques were always constructive and our photos got steadily better. Mark is also a great guy, fun to travel with, fun to dive with. He never minded being asked for help, either! All in all one of the best trips ever! And we for sure will go on another of his trips soon!" - Tom Baker
"I'm a better shooter as a result of Mark's instruction" - Mark Hatter
"Mark was patient, knowledgeable, organized, and friendly. He had a concern for all of us--travel-wise and photography-wise. He was one of the best." and "Mark and Adam made me a tremendous fan of Blue Water Travel and will absolutely guarantee that I will book another trip with them again. You guys more than rock." - Dr. Ray T.
Payment & Booking
Payment Information
> $800 per person deposit due to confirm your spot on this trip.
Got Questions? Ready to Book?
Call Bluewater Travel at 310-915-6677 or email info@bluewaterdivetravel.com and let them book your dream vacation at the best price!
Photos
PNG Underwater Photos
Photos provided by Nate Lovas, Steve Jones, Cheyne Benjamin, Darek Sepiolo, Franco Banfi & Marcelo Krause.
Rondon Ridge and Mount Hagen:
A few of the birds of PNG:
FREQUENTLY ASKED QUESTIONS
Q: Is Papua New Guinea Safe?
A: In a nutshell, yes! The majority of crime happens in the urban area of Port Moresby. The areas we visit are not high crime areas, and currently, there are no US State Department travel warnings for Papua New Guinea.
Q: What are the passport and visa requirements?
A: You must be in possession of a passport valid for at least 6 months beyond the date of proposed departure with at least 1 blank page. United States citizens are required to have a visa that can be obtained on arrival for free in Port Moresby, valid for stays up to 60 days. For more information and a list of free visa on arrival countries, see here.
Q: What dive equipment should I bring?
A: Divers should bring all their own personal equipment including BC, regulator, mask, fins, snorkel, computer, and gauges. The vessel supplies tanks, weights, and weight belts. Limited equipment is available to rent for an additional charge.
Q: Is nitrox available?
A: Yes, nitrox is available as an option
Q: How many people does the boat take?
A: The boat accommodates a maximum of 12 guests.
Q: Are the tanks DIN or yoke?
A: Both are available.
Q: What are the average water temperatures?
A: Water temps are between 79 - 82 F. Most people wear a 3mm or 5mm wetsuit.
Q: What are the average air temperatures for the land-based extension?
A: The climate in PNG is tropical and pleasant. There are two distinct types of climate:
The lowland and coastal areas are hot having a temperature range of 75 - 95 F with high humidity.
The highlands regions are cooler, having a temperature range of 54 - 82 F with less humidity. Mount Hagen and Tari are both located in the highlands.
Q: Do I need an electrical adapter?
A: Yes. Papua New Guinea uses plug type I, which is the same as Australia.
Q: Do I need any special vaccines?
A: Papua New Guinea does carry the risk of malaria and Zika, although the risk is small. The CDC currently recommends travelers be up to date on standard vaccinations, and also suggests Hepatitis A and Typhoid, which are commonly recommended for any international travel. For more information, you can check the CDC website for recommended vaccines for travel to Papua New Guinea here, and/or check with your physician.
Q: Will I get seasick?
A: If you tend to get seasick, we recommend you take Dramamine, Bonine, or another seasickness medication.
Q: Is there WiFi?
A: There is no wifi on the liveaboard. There is a weak cellular data connection at the lodges, but no wifi. SIM cards can be purchased for K15.00 for usage on an unlocked phone. Data can be purchased at K42.00 per GB. SIM cards should be purchased on arrival at Port Moresby.
Q: What tour company are you using for land visits? What exactly will we be doing on our land tours?
A: We are using Trans Niugini Tours for our land extension. With over 35 years experience, Trans Niugini
Tours
is
the only inbound tour operator that not only owns and manages the wilderness
lodges,
but also owns their own charter aircraft. They are a very reputable company held to the highest standards of safety and reliability.
Village visits can be changed very last minute due to events that may happen in the village such as deaths or weddings. Tourists are not allowed to visit when this happens. Village visits are usually planned a few days in advance, therefore it's difficult to advise which exact villages will be visited.
Q: Do the boat and lodges take credit cards?
A: MV Febrina accepts AUD, USD, Euro,
and
Kina as well as all major credit cards (MasterCard/ Visa/ Amex). The wilderness lodges accept cash, Visa, MasterCard, and American Express. Aside from your expenses on the liveaboard, you should plan to bring about K500 - K700 (approximately $155 - $215 USD) in local currency for shopping and souvenirs.
SUPPORT THE UNDERWATER PHOTOGRAPHY GUIDE:
The Best Service & Prices on u/w Photo Gear
Visit Bluewater Photo & Video for all your underwater photography and video gear. Click, or call the team at (310) 633-5052 for expert advice!
---
The Best Pricing, Service & Expert Advice to Book your Dive Trips
Bluewater Travel is your full-service scuba travel agency. Let our expert advisers plan and book your next dive vacation. Run by divers, for divers.
---