2022 COCOS ISLAND UNDERWATER PHOTO WORKSHOP
An amazing 10-night Cocos Island underwater photo workshop featuring whale sharks, schooling hammerheads, white-tips, and more!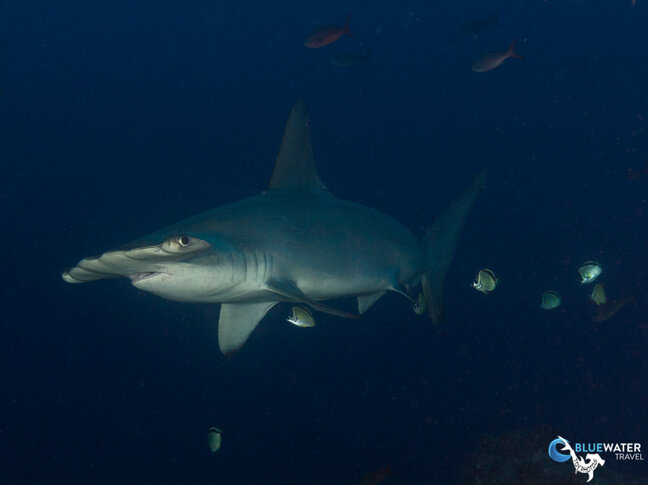 2022 Cocos Island Underwater Photo Workshop
Take a trip with us on the Okeanos Aggressor I to one of the most amazing dive destinations around the globe, featuring whale sharks, schooling hammerheads, white-tips, tuna, manta rays, turtles and giant frogfish. With occasional dolphins, sailfish, eagle rays, false killer whales --- the list never ends!
July 20 - 30, 2022
EARLY BIRD SPECIAL: $1,200 OFF!
10 Nights for:
Quad Cabin -

$5,399

$4,199
Twin Cabin -

$5,499

$4,299
Twin/Double Deluxe Cabin -

$5,799

$4,599
Why Join This Trip? - Why Travel with Bluewater?
Trip Information - Package Details - Itinerary - Accommodations
How to Get There - Booking & Payment - Underwater Photos
Why Join This Trip?
✓ 25% off rental photo gear from Bluewater Photo
✓ FREE Daily photo workshops
✓ One of the best big animal dive destinations
✓ See whale sharks, schooling hammerheads, mantas, turtles, and much more
✓ Spacious & photographer-friendly liveaboard: the Okeanos Aggressor I
✓ Local beer and wine included
Why Travel with Bluewater?
✓ We book resorts/ liveaboards that offer the best overall value
✓ Fun, engaged leaders who care about the guest experiences
✓ Great support if flight/weather issues occur
✓"Bluewater helped me out when I needed it most, the airline wouldn't let me board because of a Visa issue. They saved my butt" - Ray Tsusuki
Trip Overview
Escape to Cocos Island on a liveaboard scuba diving trip in Costa Rica! Cocos is a lush, green uninhabited island resting 342 miles off Costa Rica's Pacific coast. Rocky pinnacles surrounding Cocos are beacons for big animals and big action. Schooling hammerheads, countless white-tip sharks, mantas, tuna, and even whale sharks call Cocos home. The ten-day trip offers seven days of Costa Rica liveaboard scuba diving.
To get a little insight as to what the trip is like, read the reports from our previous trips here and here.
Check out this great video!
Dive Overview
You'll be diving in water temperatures between 72-82 degrees.
Alcyone - A 600' long submerged mountain, the top of the mountain is 75' from the surface. Schooling Hammerheads, Mantas and schooling fish. Possible Sailfish or Marlin.
Big Dos Amigos - This islet features a 45-foot-high arch and 60-foot pinnacle off the southeast side. Look for Rainbow Runners, Yellowtail Snapper, Bigeye Jacks and lobster. Hammerheads swim between the pinnacle and arch.
Bird Island, Chatham Bay - Dove from Chatham Bay, southeast of Manuelita, this site provides a variety of marine life including Frog Fish, lobsters, morays, rays, White Tip Sharks and Hammerheads. There is even a cleaning station.
Dirty Rock - A large island with schools of Marble Rays and Hammerheads. /Lone Stone - Schooling Marble Rays and Mobula Rays.
Manuelita - The northeast corner has a sheer wall. Lots of White Tips, Marble Rays, and schools of Creoles.
Special Sightings - Whale Sharks, mating Eagle Rays, Sail Fish, mating White Tip Sharks, False Killer Whales.
Ubing Rock, Wafer Bay - This 300' rock begins at 20' and drops to a 110' sandy bottom. The southeast slope attracts schooling Hammerheads.
Package Details
Inclusions
✓ Accommodations aboard the yacht
✓ Daily photo workshops
✓ All meals and snacks, non-alcoholic beverages, local beer and wine
✓ 3-4 dives per day
✓ A variety of nightly entertainment including diving, marine life identification presentations, movies, games and more
✓ Compressed air tanks, weights & belts
✓ Airport transfers
Exclusions
✗ Airfare (international and domestic)
✗ Insurance
✗ Equipment rentals
✗ Nitrox (unlimited Nitrox is $150 for 10 nights)
✗ Certification or specialty courses
✗ Hotel stays/day rooms
✗ Dinner on final evening
✗ Crew gratuity
✗ USD $490 Park Fee
✗ $30 Emergency Evacuation Plan
✗ All onboard sales/services have a 13% tax
Daily Photo Workshops
Workshops will be given daily on topics such as wide-angle underwater photography, ambient light shots, snorkeling with large animals, strobe exposure, and positions, avoiding backscatter and composition.
About Okeanos Aggressor I
The Okeanos Aggressor I is a 110-foot yacht with a spacious dive deck. Comfortable accommodations for 22 guests include 9 double cabins and a quad cabin. Each cabin features a private head and shower, and storage space for your luggage. The Okeanos Aggressor has a spacious salon, 40 feet of sun deck, chaise lounges, deck chairs, bar, grill, and a complete photo center.
Flight Information
Most major airlines fly into San Jose, Costa Rica: American, Iberia, United, Delta, Lacsa, Taca. An overnight stay in San Jose is usually required prior to the trip due to airline schedules. Recommended hotels are the host hotels, Holiday Inn Escazu and Holiday Inn Express Forum (formerly Indigo Hotel) in San Jose where group transfers are provided from.
After a full seven days of diving, the Okeanos Aggressor I returns back to the dock in Puntarenas, Costa Rica. Check-out is Tuesday morning at 7:30 am. Transportation is provided back to the host hotels or San Jose (SJO) airport from the yacht at the end of the charter. Book flights after 12:30 pm.
SUPPORT THE UNDERWATER PHOTOGRAPHY GUIDE:
The Best Service & Prices on u/w Photo Gear
Visit Bluewater Photo & Video for all your underwater photography and video gear. Click, or call the team at (310) 633-5052 for expert advice!
---
The Best Pricing, Service & Expert Advice to Book your Dive Trips
Bluewater Travel is your full-service scuba travel agency. Let our expert advisers plan and book your next dive vacation. Run by divers, for divers.
---