View topic - S95 or G12...and what equipment??
Moderators: bvanant, CompuDude, James
Hi all! First off, thanks so much for the great site and info! Unfortunately, I'm still having trouble weeding through all the options...so maybe one of you can help.

I'm having trouble deciding between the S95 or the G12. They both seem like excellent cameras, and I think it's coming down to equipment...and macros.

I currently use a Kodak Easyshare Z7590, and I really think the camera is limiting me. I love photography, but don't feel ready for a full-blown DSLR (nor do I feel like dropping the money on that). But, I'd like this setup to grow with me (and would like to be able to use wet lenses).

I'm an avid reefkeeper - keep various species of Acropora, Montipora, Acanthastrea, etc. So, obviously I love taking photos of my aquariums and corals in them. I've read the S95 doesn't do macro shots very well, so this concerns me as I love to focus on the detail of coral polyps. But, I've done fairly well with my Kodak, so for all I know, the S95 could be leaps and bounds better with macros but still not be great compared to newer cameras.

As far as scuba goes, I'm fairly new...still working more on buoyancy control than photography! I've made it through the PADI advanced open water course, and have logged ~15 dives total (Curacao and Jamaica). I had one of those cheapo disposable underwater cameras (that I accidentally took down to 110ft...and it survived!) and I mainly focused on the small things, like seahorses, nudibranchs, a baby octopus (not a dwarf), etc.

So with all my background discussed, which camera would be best suited for me? I don't care about a dry external flash...just want a strobe underwater. I plan to purchase an underwater housing (obviously), a single strobe, and possibly a wide angle lens (or other lenses). All the equipment seems more expensive for the G12, so is it worth it to go that route? Which equipment brands should I go with? I don't think I'm willing to drop the money on the FisheyeFIX housings (Canon housings don't sound bad, but can I use various lenses easily with them?) What about strobes?

Ok, I think I've dropped enough questions on you all. Thanks in advance!
Posts: 4
Joined: Sat Feb 05, 2011 10:02 am
---
Your question is so long it is confusing.

The "not bad" Canon OEM housings are indeed not bad but not very rugged and very limiting in many respects.

The S95 is a "newer" camera.

For wide angle, the S series wins with the FIX/Recsea housing options, for macro the G12 wins with the Canon or much better FIX/Recsea housings.

No, the G series Canon OEM housing cannot take a wide angle lens but can via several bizarre adapters utilize Inon macro lenses.

The S series Canon OEM housing can take the Inon WAL100LD lens and adapter kit and it can take the Inon macro lenses via the same adapter kit.

An external flash is "dry" I hope or it will not work very long. The Inon adapter kit for the S series Canon OEM housing comes with the optical adapter for Inon strobes, there is no Inon kit for the Canon G12 OEM housing so you would have to use duct tape, Velcro, chewing gum etc to affix the optical cable.

The S series really is the way to go, IMO.

James
Swim down, swim around, swim back up

Canon S90 with FIX90 housing, 2X Inon D2000 strobes, DIY tray, Inon UFL165AD, Inon UCL165AD, Inon UWL100-67 with dome kit, ordered Fisheye UWL-04
Posts: 139
Joined: Thu May 13, 2010 7:18 am
---
James, thanks for your post. I apologize my post was lengthy to the point of confusing (just tried to provide as much detail as possible).

I'm leaning toward the G12 due to its macro capability (really love taking dry macro shots, so the S95 would limit me). What about the Fisheye FIX Wide Air Lens for the G12? Their website says it will work for the Canon housing? I'm sure it won't work as well as the S95 WA capability.

I can't bring myself to pay more for an underwater housing than I did for the camera, so I'm ruling out the FisheyeFIX and RecSea housings. Are the Ikelite's worth the extra cost over the OEM housings?

Thanks for the advice on strobes - I haven't gotten there in my research yet, but will definitely look into the Inon.
Posts: 4
Joined: Sat Feb 05, 2011 10:02 am
---
Ok, I answered my own question on the Fisheye Fix Wide Air Lens. Hum...no true WA capability for the G12 definitely is a negative. I don't like the lack of macro capability of the S95, but at least I can add some macro lenses (and WA lenses). So, I'm leaning back toward the S95 as suggested.

James, I couldn't find the INON WAL100LD as suggested - the only search term that appeared was our thread.

I'm also leaning toward the Sea & Sea YS-01 vs the Inon S-2000 unless anyone says otherwise. Seem about the same with the YS-01 having the modeling light.

Just FYI, I found an Inon adapter for the XIT 404 adapter for the G12 OEM housing (no duct tape!)

I don't understand how the strobes work with the camera (especially in the case of the S95). What does a lack of a hot shoe cause? Getting confused too about TTL & slave.

Sorry for my ignorance. I've been reading all day for pretty much the past 3 days trying to learn everything I can...just need some seasoned knowledge!
Posts: 4
Joined: Sat Feb 05, 2011 10:02 am
---
Reefed-up
The S95 has the same sensor as the G12, and offers excellent wide-angle and macro wet lens options. we have the Recsea, Ikelite and Canon housings for the S95 in stock, feel free to call us at
Bluewater Photo
to discuss the options on the phone.
The Sea & Sea YS-01 is my favorite strobe for compact cameras.
Scot
Site Admin
Posts: 491
Joined: Sun May 09, 2010 10:31 am
Location: Marina del rey, CA
---
Reefed, the LD series Inon lens is new and is what the new Inon Canon OEM housing kit for the S95 will fit. Look through this page:
http://inonnews.blogspot.com/2010/12/ac ... t-s95.html
If macro is your main interest I understand your wanting the G series, it seems to have slightly better macro capability but
James
Swim down, swim around, swim back up

Canon S90 with FIX90 housing, 2X Inon D2000 strobes, DIY tray, Inon UFL165AD, Inon UCL165AD, Inon UWL100-67 with dome kit, ordered Fisheye UWL-04
Posts: 139
Joined: Thu May 13, 2010 7:18 am
---
Just thought I'd update so y'all knew I didn't take the info and ditch!
I went with the S95. Initially I was very disappointed with the Macro setting, but once I started playing with the manual focus, I started liking it.
Now time to buy the housing/strobe/etc. I decided to go with the Canon housing and no lenses for now...just to see how much I like UW photography. If I really get into it, I may upgrade at some point to the RecSea housing with lenses (and only be out about $175 for the Canon housing).
Now the eye candy. These are just from my aquarium, but it's better than nothing! Please be gentle...still learning the camera! Thanks for all the help!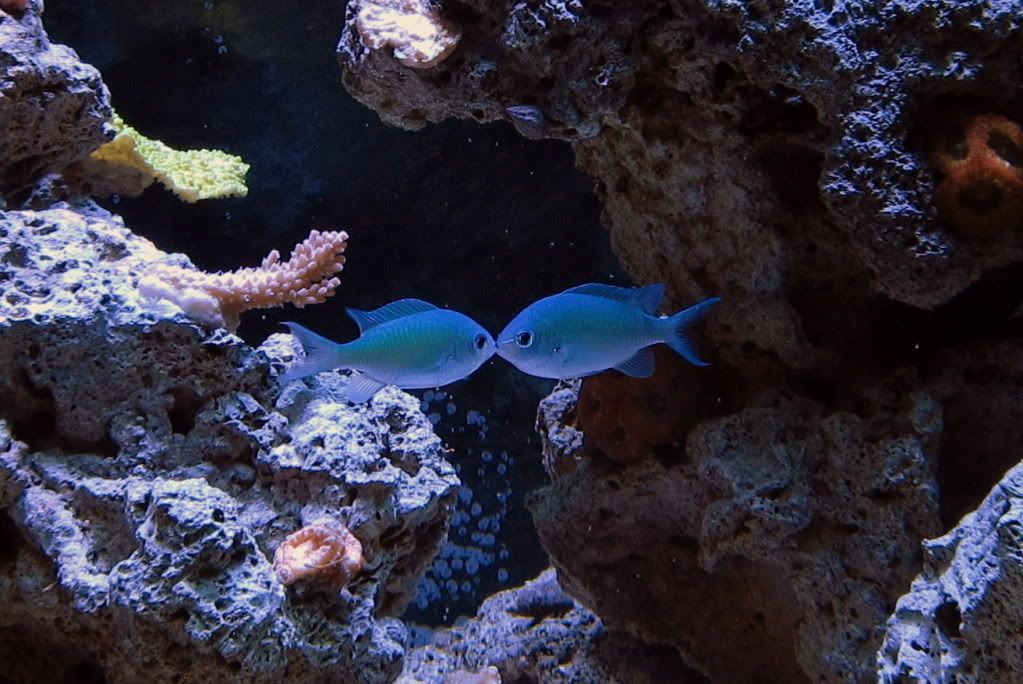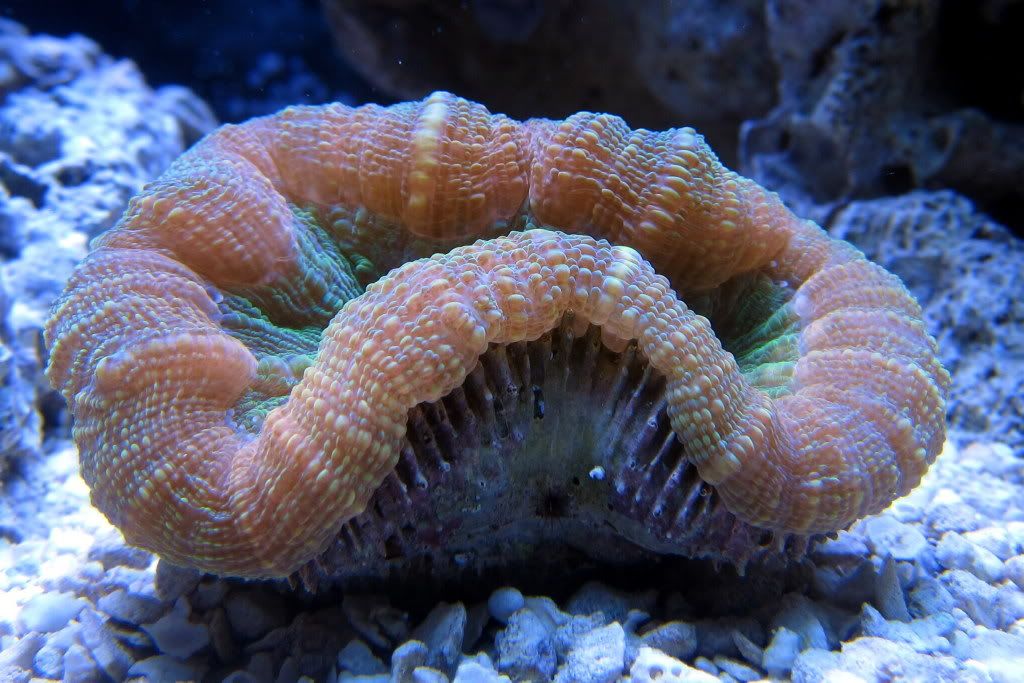 Posts: 4
Joined: Sat Feb 05, 2011 10:02 am
---
Thanks for sharing. I once had a salt water aquarium. I had this peppermint shrimp that killed everything until he was then eaten by a grouper that killed everything. Then one day I gave up and took up an easier hobby, like shooting nails into my forehead and pulling them out with a pair of pliers just for fun to see if it hurt.

James
Swim down, swim around, swim back up

Canon S90 with FIX90 housing, 2X Inon D2000 strobes, DIY tray, Inon UFL165AD, Inon UCL165AD, Inon UWL100-67 with dome kit, ordered Fisheye UWL-04
Posts: 139
Joined: Thu May 13, 2010 7:18 am
---
---
Return to Compact Camera Corner
Who is online
Users browsing this forum: No registered users and 3 guests