View topic - Tell us what setup you have!
Moderators: bvanant, CompuDude, James
James wrote:I guess I got used to my old Nikonos rigs with dial strobes and such as I find the FIX90 even with my two D2000 quite nice. Yes, it is negative but with the exception of the UWL100 and dome, the rig balances nicely and is delightful to shoot. I think anyways.
I'm used to the weight of my rig, too, it doesn't bother me much, although I do notice it's a lot heavier than my previous S80 rig.
The real eye-opener moment for me was when Scott and I traded cameras for a few shots once. I passed him my tiny S90 rig, and he handed me his huge dual strobe D300 DSLR rig. His rig was so light and balanced compared to mine! I was expecting this heavy weight as this huge thing came over to me, and instead it was super light, nearly dead neutral and just a hair negative for handling. (good job balancing, btw, Scott, if I didn't say so before) When I took mine back it was WHAM so very heavy again, by comparison, when I had never really thought about it before.
The S90 (particularly with the tiny aluminum Fix housing) is a beautiful little rig, but after handling a well-balanced and properly-weighted system that was much bigger, I really realized just how heavy that little S90 rig really is. I of course completely forget about this while I'm actually shooting, but in transit I'm noticing it now more than I ever did before. Some floats are definitely in my future.
-CompuDude
Photographer
Canon S90, Fisheye FIX housing, Inon D2000 strobe, Fisheye FIX Mini LED Focus Light, Inon UCL-165AD Macro Lenses x2, ULCS arms, Ikelite Handle/Tray with custom adapter plate
Posts: 48
Joined: Mon May 10, 2010 11:49 am
Location: Studio City, CA, USA
---
UPDATE: Well, I've gone totally to the dark side
two strobes, two wet lenses. Compact new Sea & Sea YS-01, (the black one) which I'll hook up as a primary, while the YS-110 (the orange one), set to TTL, is attached as a slave to the 01. So hopefully I'll only have to adjust the 01, and the 110 will faithfully obey. They have similar stats (except recycle time), so they might just play nice together. The FIX fibre-optic connector fitted to the housing seems to fire the strobes much better from one of the two provided S&S slots - when both strobes are connected directly to the housing (via S&S L-type FO cable), only one seems to fire consistently.
The rig seems ungainly in air, hopefully better in the water. Pushes the scales at 4kg. As mentioned above, flotation seems likely in my future, as well as baggage complications on island-hopper airplanes. I may remove the shorter perforated arm section to better match the flexy side (and drop a few hundred grams), and carry the wide angle lens in a pouch when it's not mounted.
I think I can stuff it all in a Lowepro backpack, with room for a toothbrush and one sock.
Canon S90, FIX S90 housing, Inon UFL-165AD, Inon UCL-165AD, S&S YS-01
Posts: 62
Joined: Fri May 21, 2010 5:06 am
Location: Falcon, Western Australia
---
Well, I finally got around to taking some shots of my current rig.
Canon PowerShot S90
Fix S90 Housing
Fix 28AD Lens adapter
Ikelite Handle and Tray (with custom adapter plate to S90 housing)
i-Torch VDO Focus Light
Inon D2000 Strobe with 0.5 diffuser
Inon UCL-165AD Macro Lenses (x2)
Inon AD Lens Caddy
ULCS Arms (3"+5") and Clamps
I need to replace the 3" arm with another 5" arm, so I can add a Stix float to help lighten the rig underwater a bit, at some point.
Here's a shot from the business end (what I see while using it):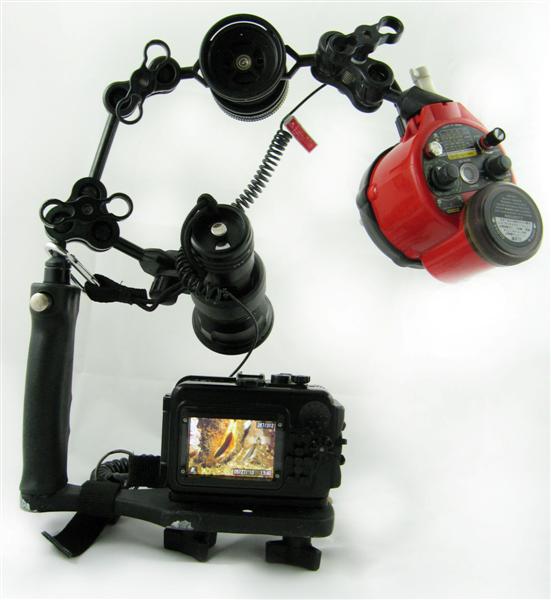 Here I've attached the macro lenses to front of the camera: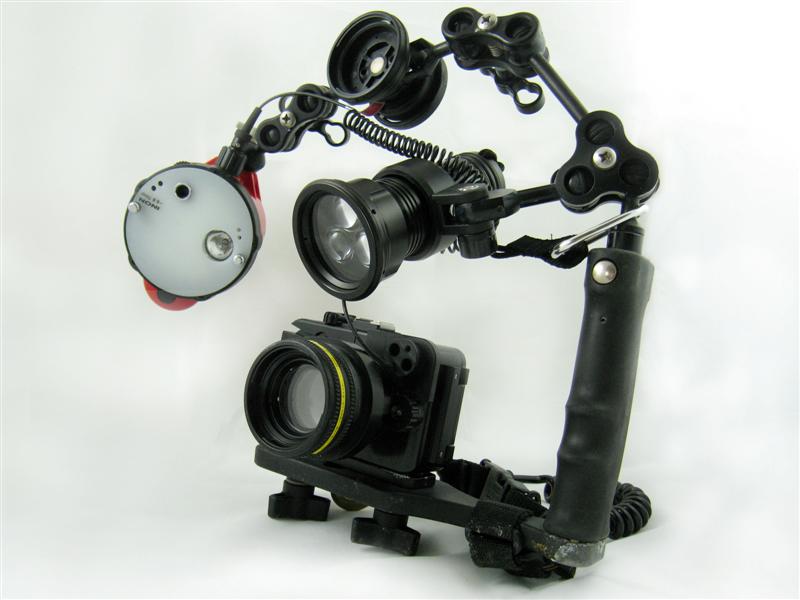 Here's a closer shot of the focus light assembly:
Now I just need to pick up that UFL-165AD lens to complete the kit... just in time to go DSLR! LOL
-CompuDude
Photographer
Canon S90, Fisheye FIX housing, Inon D2000 strobe, Fisheye FIX Mini LED Focus Light, Inon UCL-165AD Macro Lenses x2, ULCS arms, Ikelite Handle/Tray with custom adapter plate
Posts: 48
Joined: Mon May 10, 2010 11:49 am
Location: Studio City, CA, USA
---
---
---
---
---
Return to Compact Camera Corner
Who is online
Users browsing this forum: No registered users and 2 guests